The Syrian regime continued to deploy in Daraa province over the weekend following the withdrawal of armed opposition groups, a local activist said Monday (July 16th).
Meanwhile, the evacuation of opposition fighters and their families who refuse to remain in the province also has begun, per the terms of a reconciliation agreement with the regime, said Daraa-based activist Jumaa al-Masalama.
"Up to 500 people who refused to remain in the southern province after the reconciliation agreement went into effect are being transported to the northern province of Idlib," he told Diyaruna.
Among their number are 50 former regime soldiers who had defected in past years, 300 fighters from various opposition groups and their family members and the "sharia officials" of some Islamist groups, he said.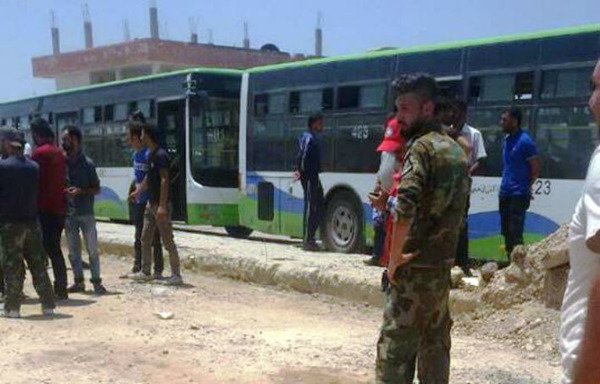 The head of the Court of Justice in Daraa, Osmat al-Absi, also left the area.
Most of the opposition elements who opted to leave the area were allowed to take their personal weapons and some ammunition with them, he said, and most were from al-Bunyan al-Marsous.
Al-Bunyan al-Marsous is part of the newly formed Army of the South operations room, established earlier this month by 11 opposition factions seeking to repel the regime's assault on the area, al-Masalama said.
The evacuation took place after those opting to leave the province assembled in the Sajna district in Daraa al-Balad and boarded 15 buses, he added.
Russian military police searched the buses and verified the names of those departing based on lists of names submitted by the negotiations committee, and searched baggage to ensure that no unapproved weapons were taken along.
"Syrian regime forces continued to deploy throughout the province and in positions vacated by opposition factions, which handed over the heavy weapons and ammunition that were in their possession," he said.
'Quick advance' in western Daraa
The Syrian Observatory for Human Rights said Monday that regime units and allied fighters had made a "quick advance" against opposition fighters in the western part of Daraa, AFP reported.
"Syrian regime forces captured the town of al-Hara, as well as Samlin, al-Tiha and Zimrin," said Observatory chief Rami Abdel Rahman.
He said regime forces had ousted opposition fighters from al-Tiha in a military advance, while opposition forces in al-Hara had agreed to a surrender deal.
Fighters in a nearby town, Nawa, were in talks for a similar agreement, he added.
Under such agreements, opposition forces hand over territory as well as their heavy and medium weapons to government troops in exchange for a halt to bombing.
But extremists holding a hilltop adjacent to al-Hara refused to agree to a handover, said the Observatory.
The regime and Russia responded by heavily bombing the hilltop, killing 30 fighters from the Tahrir al-Sham alliance.
Regime forces briefly overran the hilltop on Monday but a Tahrir al-Sham ambush left 12 regime forces dead and forced them to retreat, Abdel Rahman said.
In neighbouring Quneitra province, some towns are coming under heavy regime shelling, with regime forces entering the town of Mashara on Sunday (July 15th) after opposition fighters withdrew.