Iraq's Sunni Endowment Authority on Thursday (May 3rd) signed an agreement with the UN Educational, Scientific and Cultural Organisation (UNESCO) to rebuild the Grand al-Nuri Mosque and its iconic al-Hadba minaret in Mosul.
The agreement complements a memorandum of understanding signed by the Iraqi Culture Ministry with its UAE counterpart and UNESCO on April 23rd whereby the UAE will fund the restoration of the mosque over a period of five years.
The "Islamic State of Iraq and Syria" (ISIS) blew up Mosul's al-Nuri Mosque and its distinctive 12th century leaning minaret on June 21st before withdrawing from it as Iraqi forces closed in.
The group's leader, Abu Bakr al-Baghdadi made his first public appearance at the mosque's pulpit on July 4th, 2014, announcing the establishment of a "caliphate" and declaring himself "Caliph of all Muslims".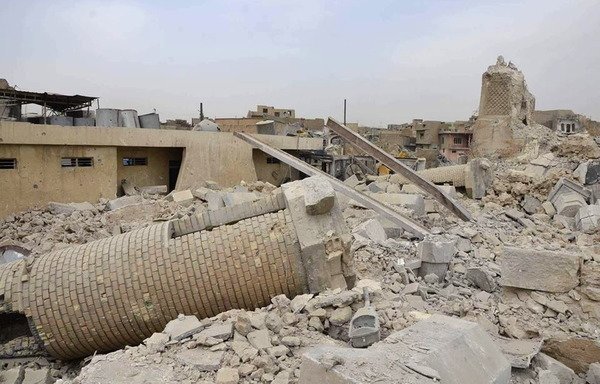 The leaning minaret of the mosque, named for Sultan Nureddin al-Zanki and completed in 1172 AD, has long been a symbol of Mosul's cultural identity.
Mosque to be fully restored
The Sunni Endowment will co-operate with UNESCO to rebuild the two ancient monuments, said endowment head in Ninawa province Abu Bakr Kanaan.
A UN technical team six days ago "visited the site of the explosion to take samples of the stones and materials the mosque and minaret were built of and to carry out technical tests required for restoration", he told Diyaruna.
A fence had been erected around the site to prevent looting and the loss of any remaining antiquities, he said.
The UAE "will be financing the reconstruction project, which is expected to start this month," Kanaan said, noting that the project will be executed over five years under the supervision of Italian experts.
The UAE has allocated $50.4 million to finance the al-Nuri Mosque and its al-Hadba minaret reconstruction project, Iraqi Ministry of Culture spokesman Omran al-Obeidi told Diyaruna.
The amount was announced by UAE's Culture Minister Noura al-Kaabi during a recent visit to Baghdad.
The memorandum of understanding with the UAE is a "great step towards rebuilding all historical and archaeological monuments destroyed by the terrorists", al-Obeidi said.
It also signals an "international sense of responsibility to preserve Iraq's cultural heritage", he said.
"We are co-operating with other countries to help gather information about historic areas that have been destroyed by [terror groups in Iraq], in order to assess the damage they sustained, and to train Iraqi personnel in restoration work," he said.