The race for Iraq's upcoming parliamentary elections is drawing candidates from outside the traditional political arena, which candidates and voters say could usher in a new era of change and reform.
A total of 7,367 candidates are competing in the May 12th elections for 329 seats in parliament.
Candidates from the cultural and athletic fields account for about a third of the field, most of whom are running on civil electoral lists and coalitions.
Iraq's future requires "a new political dynamic" in which public figures have a strong presence, said actor Mazen Mohammed Mustafa, a candidate with the State of Law coalition.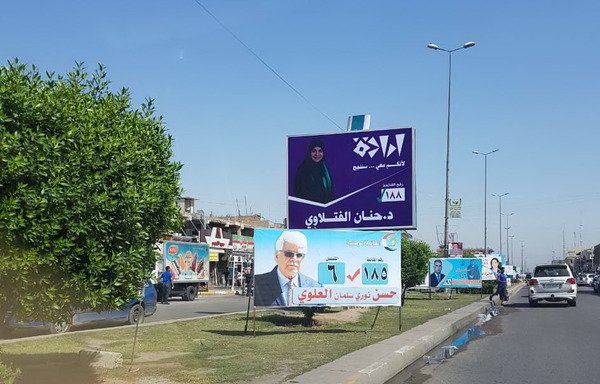 In prior years, politics has been the primary reserve of those representing political parties, he told Diyaruna, noting that "our participation today as artists will create a new political map".
"People want change and to overcome the multitude of crises we suffer from through elections," he said. "The kind of change we would like to bring about through the right to vote will make that happen."
'Significant responsibilities'
Winning a seat in parliament entails significant responsibilities, Mustafa said, foremost protecting citizens' rights, fighting sectarianism and corruption and improving government performance across all service sectors.
"Security and terrorism have been the focus of all successive governments and they are very important responsibilities," he said.
"However, we think that culture has to receive more support and attention," he said. "We will not be able to fight terrorists with weapons alone but also with art and intellect."
"We have a lot to do for a brighter future," he added.
Sarmad Abdul-Ilah, a former swimmer who is running as part of the Victory Coalition, said parliamentary representation "should include people who are qualified and experienced, so they can do their jobs efficiently".
Iraq's parliament is comprised of various committees, each of which is tasked with overseeing the affairs of a specific sector, he said.
"Through the sports and youth committees, we are trying to advance the sports sector in the country," he said. "We aspire to issue legislation that serves athletes, nurtures young talent and looks after more professional athletes."
The committee seeks to protect the rights of professional athletes, in addition to developing sports clubs and teams and the sports infrastructure, he said.
Making room for newcomers
The participation of a diverse slate of candidates in the upcoming elections is akin to "throwing a stone into stagnant waters", Abdul-Ilah said.
"Making room for competent newcomers with integrity to the political scene has become a must," he added.
Journalist Hadi Jalou Merhi, who is running on the Civil Party list, said he seeks to be part of a "resistance bloc" in parliament that wards off any sort of deviation from building and managing the state.
"[This] is a moment of reckoning to bring about seismic political reforms and solve intractable issues such as corruption, poor public services and stalled economic development," he told Diyaruna.
All political parties are raising the slogan of reform and upholding it in their campaigns as an urgent goal, he said, cautioning however that some are using it for the sole purpose of achieving victory.
If elected, Merhi said, he hopes to improve the lives of all Iraqis, including journalists and media professionals.
"We want to push for new legislation that truly protects this segment and allows them to practice freedom of expression," he said.
"There are around 50 journalists from Ninawa province alone that were killed by terrorists and dozens more that have been missing," he noted.