Syrian regime forces have threatened to storm al-Rastan in northern Homs province if the city does not accept a ceasefire and full truce, activists told Diyaruna.
The threat was delivered one day after Tahrir al-Sham elements left the area, following protests in the city demanding that they leave.
Representatives of the regime informed a northern Homs delegation tasked with negotiating the truce of the regime's acceptance of a renewal of the ceasefire, Aleppo media activist Faisal al-Ahmad told Diyaruna.
The truce, which applied to the area extending from al-Dar al-Kabira, Ter Maela and al-Ghantu to al-Rastan and its surrounding area, had been set to expire on Tuesday (February 13th), he said.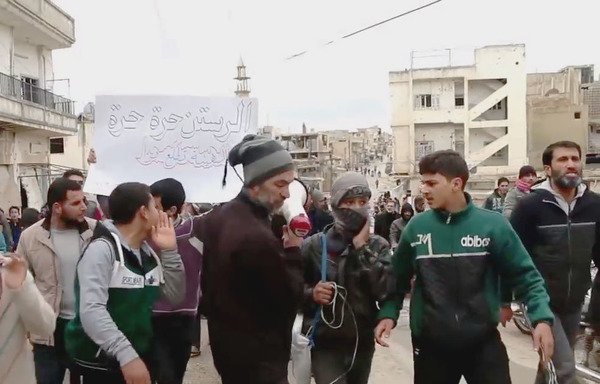 Thursday evening was set as a new deadline, he said, with an accompanying threat that if the area rejects the offer it will come under all-out shelling and will be stormed by regime forces and allied militias in the area.
"If the regime acts on its threat and Free Syrian Army (FSA) factions do not withdraw, surrender their weapons and accept a truce agreement with the regime, civilians will be the hardest hit," al-Ahmad said.
Protests against Tahrir al-Sham
The regime's pronouncement comes after protesters in al-Rastan demanded that extremist alliance Tahrir al-Sham leave the area, after two of its elements killed a member of the delegation negotiating an electricity agreement with the regime, al-Ahmad said.
This called for the repair of main high voltage transmission lines, he added.
The delegation member who was killed, a civilian by the name of Fayez al-Madani, was a retired pilot and owned a gold shop at al-Shalhoum roundabout in al-Rastan, al-Ahmad said.
He was shot dead by two Tahrir al-Sham elements. They were pursued by an FSA patrol that killed one of them and detained the other, who admitted to being a member of Tahrir al-Sham and killing al-Madani with the other element.
Al-Ahmad said the killer is being held at the city's court.
Soon after the crime was committed, demonstrations were held in the city to call on Tahrir al-Sham to leave, and the alliance did in fact leave, he noted, "driven out by the intense pressure exerted on it by city residents".