Iraqi forces on Thursday (October 26th) launched a military operation to liberate the cities of Rawa and al-Qaim on the westernmost edge of Anbar province.
Prime Minister Haidar al-Abadi on Thursday announced the battle is under way to uproot the "Islamic State of Iraq and Syria" (ISIS) from the group's last stronghold in Iraq and secure the border with Syria.
"Here are the legions of heroism and sacrifice moving out to eliminate the last stronghold of terrorism in Iraq and to liberate al-Qaim, Rawa and villages and towns in western Anbar," he said in a statement.
"We repeat what we have said before, that our battles have become the basis for victory and for defeat for ISIS, and the ISIS elements' only choice is to either die or surrender," he said.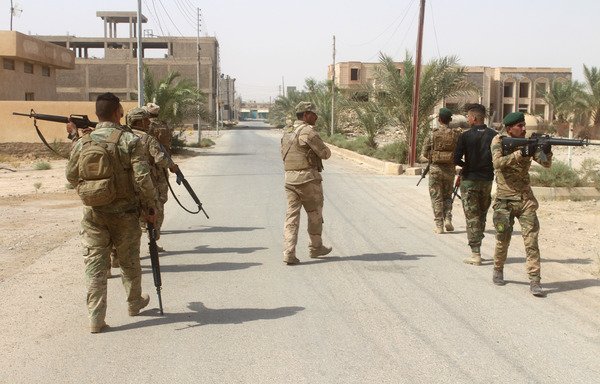 Multi-pronged attack
Units from the Anbar and Jazeera operations commands, federal and local police, and tribal and popular mobilisation forces are taking part in the fighting, Joint Operations Command spokesman Brig. Yahya Rasul told Diyaruna.
The new assault comes "after all the military and logistical preparations have been completed", Rasul said.
"The operation was launched from several directions," he said. "Units were given exact missions in order to weaken the enemy's ranks and paralyse its ability to move, manoeuver and hide."
Jazeera operations commander Maj. Gen. Qassem al-Mohammedi told AFP that Iraqi forces are advancing from the east, southeast, north and south.
In addition to Rawa and al-Qaim, the operation seeks to liberate surrounding areas and villages, including al-Obaidi, Saada, al-Karabla, and an area known as T1, as well as local phosphate and cement factories, Rasul told Diyaruna.
"Our forces today have enough experience and readiness to fight in the most difficult circumstances," he said.
"We will not allow terrorist elements to take advantage of the fighting zones' desert environment," he added. "Our plan takes into account all challenges and natural obstacles".
"Victory will be on our side."
Iraqi and coalition airstrikes
Provincial Operations Commander Gen. Mahmud al-Fellahi said both Iraqi and coalition warplanes were carrying out heavy strikes, AFP reported.
Rasul told Diyaruna the Iraqi air force is playing a key role in the ongoing battle by tracking down and striking ISIS hideouts and bases.
Ahead of the current operation, he said, Iraqi warplanes on October 21st carried out intensive air raids in the western desert near the border with Syria.
The strikes killed 25 armed ISIS fighters and destroyed two of the group's camps and 13 vehicles, including a truck loaded with equipment, he added.
Prior to the attack, thousands of leaflets were dropped on the targeted areas.
These included guidelines and instructions for civilians and demands that armed ISIS elements surrender, he said.