"Congratulations, God bless," was the message Iraqi soldier Salam Radi received from his relatives and friends after announcing his engagement to a Sunni girl from the Ninawa province city of Mosul.
Salam, 33, who comes from a family in Baghdad's al-Doura, said he never thought he would find his life partner in the city where he has been fighting to rescue residents from the "Islamic State of Iraq and the Levant" (ISIL).
"The battle for Mosul's liberation has brought freedom to thousands of citizens who have been burned by the terrorists' fire," he told Diyaruna. "But on the personal level, it completely changed the course of my life."
"Thoughts about choosing a life partner were low on my list of priorities," he said. "Being a soldier, most of my attention focused on fighting the terrorists and driving them out of my country."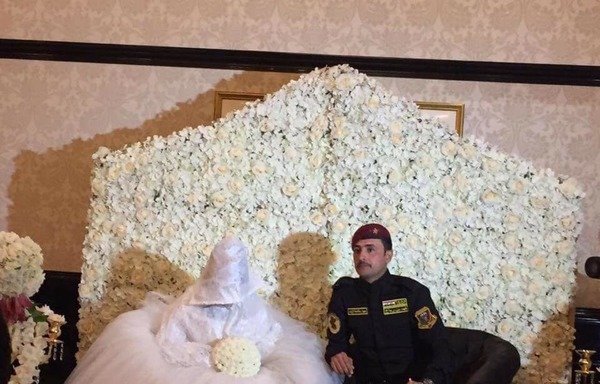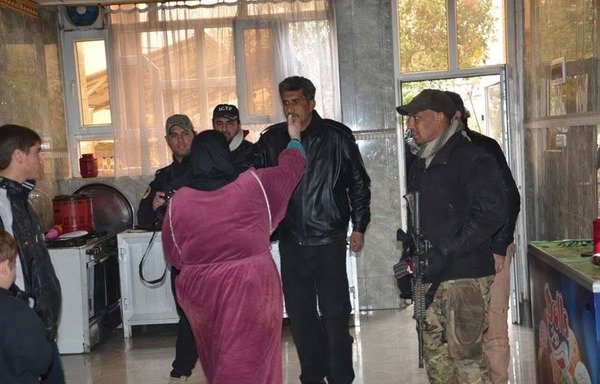 "My parents always asked me why I was reluctant to get married and I gave them my famous answer, 'I am married to my gun'," he added jokingly.
But a new chapter in Radi's life began early last month after Iraqi forces stormed Somar, a southern suburb of Mosul, and recaptured it from ISIL.
"After we liberated the neighbourhood, the residents were very happy with our arrival," Radi said. "We exchanged food with them. We helped them, and they helped us. Relations tightened, we became like brothers to them, and they became like family to us."
Among them was his fiancee's father, Abdul Razzaq, who opened his home to Radi, where they spent most of his off time speaking about many things.
"One day I decided to break the fear barrier and proposed to marry his daughter, and after consulting her and seeing that she consents, he agreed in principle," Radi said, adding that he told his parents all the details over the phone, and they were happy with every step he was taking.
"I am waiting until Mosul is fully liberated to bring all of my family members and friends over to sign the marriage contract and hold a big wedding," he said. "My joy will certainly be double, once for the liberation and final victory over terrorism and another time for getting married."
Stories of Iraqi unity
The battle to retake Mosul yields numerous human stories every day that show the Iraqi people's unity and mutual bonds.
"There have been marriages of soldiers to girls from Mosul families," said Ninawa operations command spokesman Brig. Gen. Firas Bashar Sabri.
"One soldier from al-Nasiriya province got attached to a girl from al-Arabi neighbourhood in eastern Mosul whom he got to know after giving medical assistance to her mother, who suffers from kidney failure," he said.
A romantic relationship ensued that culminated in marriage, Sabri told Diyaruna.
"This case, and many others, shows the level of national unity among Iraqi people of all backgrounds, their love of life, and their constant hope for a tomorrow in which there is no room for terrorism," he added.
When the operation to liberate Mosul began, the army raised the slogan, "One hand fighting terrorism, one hand helping people", Sabri noted.
This "harmony between fighting and providing help has enhanced the people's love and faith in the liberating forces", he said.
"I have witnessed many stories that highlight this harmony, including about soldiers offering half of the food they get to poor and affected families," he said. "Or how they helped aid and rescue citizens who have been hit by ISIL sniper fire when taking to the streets and celebrating the liberation in defiance of all risks."
"In this spirit and mentality, we will free all the rest of the neighbourhoods in Mosul and defeat our enemies," Sabri said.
Hopes for tomorrow
The growing ties of marriage between the people of Mosul and the soldiers fighting to liberate their city are "a joyful thing that reflects a beautiful image of society", second deputy governor of Ninawa Hassan Allaf told Diyaruna.
"This is a clear message to the terrorists that Mosul society is impervious to their attempts to poison the minds of its people with their sick ideas and deviant behaviour," he said.
After being saved from ISIL's oppression, Mosul is showing it will continue to be a society of co-existence, seeking peace and freedom, rooted in history and a cultural identity whose foundations cannot be easily destroyed, he said.
"Many people have named their newborn children after military leaders currently participating in their country's liberation in order to express their pride in those commanders," Allaf said.
One popular name is Abdul Wahab, in honour of Lt. Gen. Abdul Wahab al-Saadi, who led the battle to liberate Fallujah, he said.
"Wherever officers and commanders of the liberation forces go in Mosul, youths rush to take selfies with them," he added. "These examples and others embody the deep positive interaction between the Mosul citizen and the liberating forces."