Security
|
2017-01-06
Wadi Barada shelling threatens Syria ceasefire
By Nohad Topalian in Beirut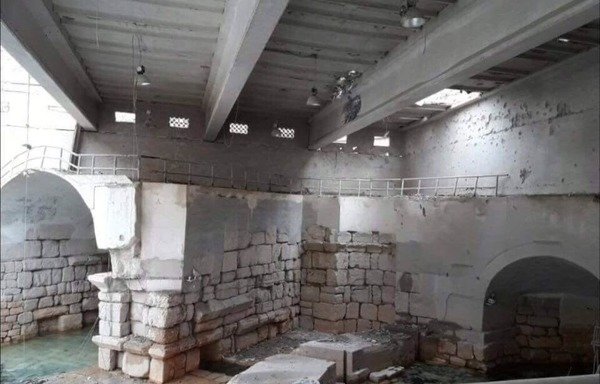 The villages of Wadi Barada to the north-west of Damascus have come under daily shelling, activists tell Diyaruna, threatening a nationwide ceasefire brokered by Turkey and Russia that went into effect just a week ago.
Since the ceasefire went into effect at midnight on December 30th , Hizbullah and Syrian regime forces have continued to shell the area, which is the Syrian capital's main source of water, media activists and local residents said.
The Damascus water supply has been cut since December 22nd, AFP reported, with regime and opposition fighters trading accusations over responsibility.
The UN said on Thursday (January 5th) that 5.5 million people had been affected, warning that sabotaging water supplies was a war crime.
Water processing facilities at Ayn al-Fijeh have been destroyed in the shelling, activists told Diyaruna.
"The valley's villages have been coming under artillery fire for the past 10 days as part of a campaign led by the Hizbullah militia and regime forces," Wadi Barada media committee director Abu Mohammed al-Baradawi told Diyaruna.
This is intended to expel opposition fighters from the area or force them to "strike a reconciliation agreement whereby they would join the ranks of the regime", he said.
The opposition rejected the deal, which led the regime to launch "a wide-scale military campaign against Wadi Barada villages using barrel bombs, tank and artillery fire, heavy machine gun fire and airstrikes", he said.
Extensive damage to infrastructure
The constant shelling halted the services provided by the power and water plants and damaged telephone land line and Internet services, al-Baradawi said.
There also have been many casualties among local residents and opposition fighters, who fended off the repeated attacks, he added.
From the first day of the campaign against Wadi Barada, he said, regime-allied forces struck Ayn al-Fijeh with barrel bombs, but blamed the attacks on opposition fighters.
"But we, the media committee, documented everything," al-Baradawi said. "The spring has been under the control of the Free Syrian Army (FSA) and opposition forces for years, and they oversee the sterilisation process and delivery of water to Damascus, so why would they bomb it now?"
"The local committee commissioned by residents of Wadi Barada towns and villages facilitated the entry of maintenance teams on December 15th," he said.
They went to repair a water line under the protection of armed opposition groups, he said, but immediately after the conclusion of the repair work, five barrel bombs were dropped in the vicinity of Ayn al-Fijeh's mineral water wells.
These caused heavy damage, he said.
Forced displacement of residents
Wadi Barada has come under fire as part of a long-standing regime plan to effect the "displacement of residents and continuation of the plan to bring about demographic change ", said activist Omar al-Shami of Ayn al-Fijeh.
In mid-2015, he told Diyaruna, Hizbullah and Syrian regime forces "began cracking down on Wadi Barada villages and displacing their inhabitants".
This began in Daraya, Barhalia, Qudsaya and al-Tall, he said, adding that Hizbullah and regime forces forcibly displaced opposition fighters and their families in Wadi Barada to northern Syria.
Since the opposition rejected the reconciliation initiative, Hizbullah and the regime have been waging a war on the villages of Wadi Barada, using medium and heavy weapons to achieve their goal, he said.
"Hizbullah and the regime believe that by seizing control of Wadi Barada villages, Hizbullah's militia corridor would be complete and would provide it with a regular route from its stronghold [in Lebanon's southern suburbs] to Damascus," al-Shami said.
The second objective of the military campaign "relates to the displacement of the valley's residents to clear space for housing Hizbullah and regime personnel family members in the villages of Wadi Barada", he added.
IRGC-allied forces shelling villages
Since the latest ceasefire went into effect, Wadi Barada villages have been coming under constant shelling, activist Ahmed Alaa of Kfeir Zayt told Diyaruna.
The villages under fire include Bassima, Ayn al-Fijeh, Afra, Harira, Souk Wadi Barada, Kfeir Zayt and Barhalia, he said.
Those involved in shelling Wadi Barada villages include Hizbullah and the regime-allied National Defence Forces (NDF), under the supervision of Iran's Islamic Revolutionary Guard Corps (IRGC), Alaa said.
According to a local council census conducted at the end of November, he said, "the population of the towns and villages of Wadi Barada is more than 90,000".
Most residents are internally displaced persons from the cities of al-Zabadani, Douma and Jobar, Harira village and other areas in rural Damascus, he said.
The shelling is targeting Ayn al-Fijeh, which supplies 65% of the water consumed by the city of Damascus, he said.
This has "destroyed all the water plant's facilities, putting Damascus at risk of a real disaster as a consequence of the cut-off of the water supply", Alaa said.
"All medical centres are out of service, and no centre is able to treat the injured, wounded and sick," he said. "There are more than 10 critical medical cases that must be transported to hospitals and undergo urgent surgery."
"These villages have been under siege for a year and a half," he added, with food and medical supplies scarce in local markets and high demand driving up their price beyond what most residents can afford.
"The tragedy is immense in the valley, and unless basic food items are made available, we will face a huge catastrophe," he said.