Serkirdeyê nû yê "Dewleta Îslamî" (DAIŞ) Emîr Mihemed Saîd Ebdul Rehman Mewla, xwedî navûdengîyeke hovane ye, lê hîna heya astekê mezin dimîne mamikek.
Mewla şûna Ebû Bekir Bexdadî digire, ku serkirdeyê rêxistina tundrew bû û Cotmehê di êrîşekê li Sûrîyayê de ji alîyê hêzên taybet ên Amerîkayê ve hate kuştin.
Destpêkê DAIŞê ew weke Ebû Ibrahîm Qureşî da nasîn, ku ew kesayetek nepen û ne gelekî naskirî ye, lê paşê berpirsine Amerîkî got ku Qureşî navê Mewla bixwe bû.
Di nava DAIŞê de jî ew bi gelek navan tê naskirin weke "Profesor" û "Wêranker".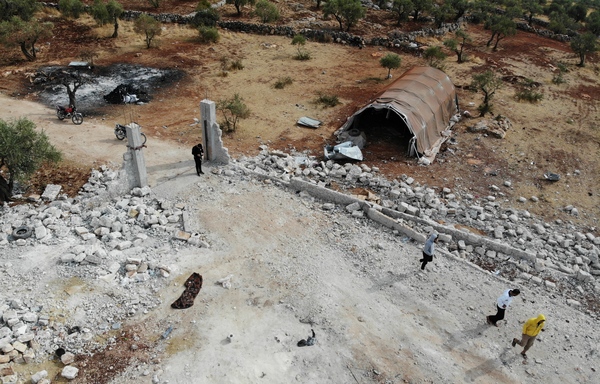 Wezareta Derve ya Amerîkî ew xiste lîsteya Terorîstên Cîhanî ya Taybet û di 24ê Hezîranê de padaşta pêşkêşkirina agahîyan derbarê wî de duqat kir û kir heya 10 milyon dolarî.
Egerî heye tilîya Mewla di rêvekirina li ber qelandina Êzidîyên Îraqî de hebe ew jî di rêya komkujî, qewitandin û koletîya zayendî re, li gorî şirovekarê tundrewan di Zanîngeha Sciences Po ya Parîsê de Jean-Pierre Filiu.
Têkilîyên bi Bexdadî re
Egerî heye ew di 1976an de li Tel Eferê ku 70 km ji Mûsilê bi dûr e ji malbateke Turkmen re ji dayîk bûbe, ku kêm kesên ne Ereb dikarin bigihên refên bilind ên DAIŞê, û paşê Fakulteya Zanistên Îslamî li Mûsilê xwend.
Koka wî ya nijadî hişt NY di raporta xwe ya Kanûna Duyem de pêşbîn bike ku dibe ew "bijarteyeke demkî be heta rêxistin 'emîrekî' rewatir bibîne".
Dê ev kes nevîyê yekser ji êla Qureyş a Haşmî be, ku li ser bingeha vê yekê dikare "fermandarîya piştevanîya giştî ya parêzgehên dûr bike".
Efserekî berî yê di artêşa Sedam Husên de, di 2003an de tevlî refên Qayîdayê bûbû, li gorî Projeya Dijî Tundrewîyê (CEP), ku karê nûnerê olî û feqeyê şerîta giştî dikir.
Wî di 2004an de Bexdadî dît, ku herdu li girtîgeha Kampa Buca li başûrê Îraqê girtî bûn.
Mewla paşê li kêleka Bexdadî xebitî ku yê dawî rişma şaxê Îraqê yê Qayîdayê di 2010an de bi rê ve bir, di pişt re veqetîya û dewleta Îslamî ya Îraqê (DAI) ava kir ku niha bi navê DAIŞê tê naskirin.
Li gorî CEP, di 2014an de, Mewla Bexdadî li Mûsilê pêşwazî kir "berî ji Qayîdayê derkeve, û soza dilsozî û piştevanîya tekûz a bi peymana radîkal re da, û piştevîya DAIŞê bike da bilez bajêr kontrol bike".
"Sîyasetdanerê hov"
Li gorî CEP, Mewla "bixar xwe ava kir" di nava refên payebilind ên DAIŞê de", û bi nasnavên "Profesor" û "Wêranker" dihat naskirin.
Di hundirê DAIŞê de jî bi navê "sîyasetdanerê hov" dihat nasîn û berpirsê têkbirina wan kesên ku li dijî birêvebirina Bexdadî derdiketin bû".
Şarazayê karûbarên tundrewan ê Îraqî Hişam Haşimî yê vê mehê li Bexdayê hat kuştin vê dawîyê qezencên rêxistinên yên mehane li Îraqê yên weberanîn û bacên ku kom dike, bi derdora 7 milyon dolarî teqdîr kiribûn.
"Tevî têkçûyînên wê yên dijwar di milê erd û hêza mirovî de, hîna dikare pirsgirêkên darayî afrînerî û kujer çareser bike, û bawerîya wî têrê dike "ku gefê li van kesên rêgezên wê binpê dikin bixwe", şirovekarê Navenda Sîyasî ya Navdewletî Ebdullah Xedawî got.
Ev tê wateya ku Mewla xwedî hander û alavên ku xwe belî bike ye, lê gelek pirs derbarê karîn û şîyana wî ya birêvebirina rêxistinê de hene.
"Gilî derbarê wî de hene ji meydanê, hîna jî pirsin derbarê cureya rêxistina ku dê bi rê ve bibe hene, herwiha dê ew birêveberekî çawa be," Ji Navenda Lêkolînên Stratejîk û Navdewletî li Waşingtonê Seth Jones anî ziman.
"Dê gelek berhengarî bên pêşîya wî heya qadê bi alî xwe ve bîne lê divê dûrî kuştinê be jî mîna Bexdadî ," Jones got.