Endamên "Dewleta Îslamî" (DAIŞ) Stada Olîmpîk a Enbarê li Remadîyê di Tîrmeha sala 2015an de teqandin, bi vî awayî stada Mezin hate xwar û kavil li şûn stadê ma.
Berpirs dibêjin ku aniha DAIŞ ji Enbarê hatiye derkirin û jêrxaneya sereke ku wê wêran kir hate çaksazkirin, planek bo nûavakirina stadê, ligel sazîyên werzişê yên din li parêzgehê tê bicihanîn.
Stad hîn bi awayekî tam nehatibû temamkirin dema ku DAIŞê girte ser parêzgehê di havîna sala 2014an de, vê yekê hişt ku avakirin were rawestandin. Di pişt re rêxistinê ew wêran kir.
"Stad projeyeke mezin bû, projeya ku teqrîben bi dawî bûbû, lê DAIŞê di sala 2015an de ew bombebaran kir," şaredarê Remadîyê Brahîm Cenabî ji Diyaruna re ragihand.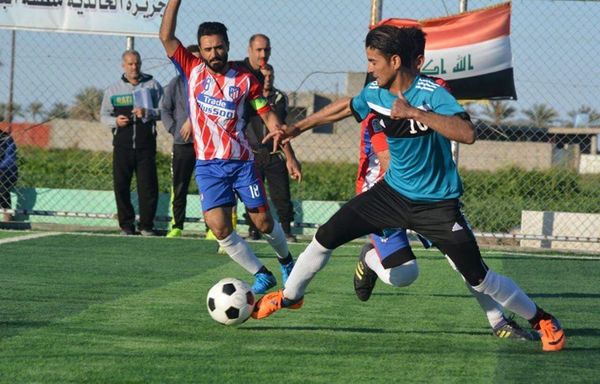 Wî got, "piştî me careke din bajar kontrol kir, me giranî da zincîreke projeyên jêrxaneyê yên sereke da ku em pêdivîyên sereke dabîn bikin, da ku malbatên bêwar karibin vegerin malên xwe jîyaneke normal bijîn".
Aniha, wî got, "herwekî ku parêzgeha me careke din bi ser xwe ve hat û ewlehî lê baş bûye, pêwîst e ku em careke din dest bi projeyên avakirinê bikin yên ji bo jîyaneke normal girîng in".
Wî got ku bajar bi Wezareta Ciwanan û Werzişê re kar dike daku careke din Stada Olîmpîk a Enbarê ava bikin û not kir ku desteyên kar dest pê kirine molozan radikin weke amadekarî ji destpêkirina karê nûavakirinê re.
Pêşxistina sektorê werzişê
"Stad weke gundekî werzişan ê tevgir tê reçavkirin, ji ber otêlek, du yarîgehên rahînanê yê rêza duyem, rêyeke bezê û meydaneke vala û sazîyên xizmetguzarîyan yên din dihundirîne," Cenabî got.
Wî anî ziman ku "dema ew bi dawî bibe, ew dê bibe cihekî şaristanîyê yê navdar yê sereke û dê meydaneke guncan be ji lehengîyên fotbolê yên xwecihî û navdewletî re be".
Stada ku li devera Kîlo-7 li rojavayê Remadîyêdikeve, dikare heta 30,000 temaşevanan bihewêne, berpirsê di birêveberîya Ciwanan û Werzişê ya Enbarê Îmad Meşhedanî ji Diyaruna re ragihand.
Wî got ku tê pêşbînikirin ku avakirin du sal û nîvan dirêj bide, dora 112 mîlyar dînarên Îraqî (94 milyon dolar) lê herin.
Avakirina stadê "xebatên Wezareta ciwanan, hikûmeta Enbarê û desthilatdarîyên xwecihî yên din araste dike da ku sektorê sporê pêş bixin piştî çend salan ji paşguhkirinê û nebûna bûyerên sporê ji ber terorîzmê", wî got.
"Me girtiye ser milên xwe ku em dest bi hemû projeyên avakirinê yên derengmayî bikin û planên arezûdar bi cih bînin da ku em sektorê sporê pêş bixin û da ku em giranîyê bidine ciwan û daxwazên wan," wî got.
Ji bo vê yekê "em hewl didin ku em 10 stadên sereke ji bo sporên cuda ava bikin, ji bilî fotbolê û em plan dikin ku em wan li gelek navçeyên parêzgehê ava bikin ", Meşhedanî got.
Birêveberîya Ciwanan û Werzişê ya Enbarê di 9ê Adarê de bingeha stadeke fotbolê li navçeya Kermayê ya li rojhilatî danî, ev stada yekem e li wê deverê û tê pêşbînkirin ku 5,000 temaşevanan bihewîne.
"Bi serbestî û bê tirs"
Enbar dikare hejmareke pêkanînan destnîşan bike di warê şîyankirin û nûavakirina jêxaneyên ku ji alîyê DAIŞê ve hatin wêrankirin û di şerên derkirina rêxistinê de, endamê encumena parêzgehê yê berê Î'îd Emaş ji Diyaruna re ragihand.
Wî got, "me dest bi projeyên di sektorên tendirustî, perwerde, şarederî û xizmetguzarîyên giştî de kirin û aniha bûye dema ku em giranîyê bidine werzişê û piştgirîya ciwanên behredar bikin".
"DAIŞê hewl da ku bala ciwanan bikişîne, wan bi fikreyên tundrew bixapîne û nehêle ku werziş û arezûyîyên xwe yên din pêk bînin, bi behaneya ku olê ew qedexekirin," Emaş got.
"Piştî ku rêxistin hat derkirin û jîyana asayî vegerîya bajarên me, ciwanên me dest bi çalakîyên ku ji wan hes dikin kirin, bi serbestî û bê tirs," wî got.
"Îroj, divê em piştgirîyê bidin van çalakîyan hewl bidin ku gerekdarî û xwestekên ciwanan dabîn bikin, bo ew ji rê der neçin û nekevin li jêr bandora terorîstan," wî got.
Şênîyekê Remadîyê bi navê Luey Mehmûd ji Diyaruna re got ku ew piranîya dema xwe ya vala bi temaşkirina fotbolê diqedîne -- ku ev ye di heyama DAIŞê de ne pêkan bû.
Wî dîyar kir ku nûavakirina stadê li Ramedî gaveke erênî ye, û da zanîn ku ew dê kêfxweş be ku bibîne yarîyên lîga Îraqî û qehremanîyên navewletî li bajarê wî werin lidarxistin.