"Dewleta Îslamî" (DAIŞ) mirina serkirdeyê Ebû Bekir Bexdadî teqez kir di daxuyanîyekê de Pêncşemê (31ê Cotmehê) û "Ebû Brahîm Haşimî el-Qureşî" weke xelefê wî bi nav kir.
Daxuyanîya ku bi rêya tomareke deng ya ku bi rêya ajansa Amaq ya propegandayê hat belavkirin, hat xwendin ji alîyê peyvdarê nû yê rêxistinê "Ebû Hemza el-Qureşî" ve.
Daxuyanîyê "Ebû Brahîm Haşimî el-Qureşî" weke xelefê Bexdadî îlan kir û mirina peyvdarê DAIŞê yê berê Ebû Hesen Muhacir teqez kir.
Bûyîna ji êla Qureyş -- heman êla Pêxember Muhemed -- mercekî girîng e ku ew kes bibe serkirdeyê DAIŞê.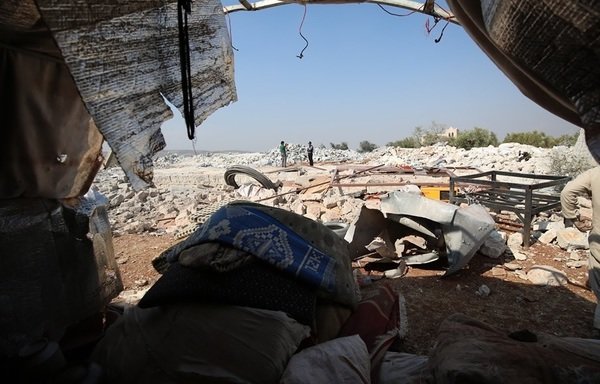 Bexdadî, yê ku DAIŞ ji sala 2014an ve bi rê ve dibir û yek ji kesên herî gelek ku dihat xwestin li ser asta cîhanê, di êrîşeke hêzên taybet ên Amerîkî de şeva Yekşemê li ser veşartgeha wî li gundê Barîşayê li parêzgeha Idlibê ya Sûrîyayê xwe teqand.
Li gorî daxuyanîya ku heft xulekan dirêj kir, desteya qanûnî û ya şêwirmendî ya rêxistinê civînek li dar xist piştî mirina serokê DAIŞê yê Îraqî yê 48 salî û wan li ser xelefê wî li hev kir.
Kêm agahî derbarê Haşimî tên naskirin, ê ku kêm caran behsa navê wî hatiye kirin weke xelefê Bexdadî di salên dawî de, heta eger gelek texmîn di van heftîyên dawî hebûn jî.
"Em gelek agahîyan derbarê wî nas nakin ji bilî ku ew dadgerê DAIŞê yê sereke bû û serokê komîteya 'şerîetê' bû," Hîşam Haşimî, pisporekî Îraqî di warê DAIŞê de, got.
Şirovekar dibêjin gengaz e ku ew navekî cengê be û ew dibînin ku dibe mirina Bexdadî bibe sedema parçebûna rêxistinê, tevî ku wan xelefê wî bi nav kir.
"Hewldaneke bêhêvî bo dîsan bidestxistina destpêşxerîyê"
Piştî ku DAIŞê parçeyê erdê yê dawî yê li jêt kontrola wê ji dest da di Adarê de li gundê dûrdest ê Baxozê yê li rojhilatê Sûrîyayê, rêxistin kete binerdê û dest bi tektîkên cenga gerîlayî kir.
DAIŞ xwedan heykelekî asoyî yê berfireh e, li gorî şirovekaran, û dibe ku bandora derbeyeke serjêkirinê sembolîk be bêhtir ji ku emelî ye.
Pisporê rêxistinên terorê Yehya Mihemed Elî ji Diyaruna re got ku binavkirina DAIŞê ji xelef re tenê "hewldaneke bêhêvî ye da ku destpêşxerîyê vegerînin piştî zincîrên xesarên cezakarî yên ku ew rastî wan hat, xesarên ku gihane lûtkeyê bi mirina serkirdeyê wê re".
Wî daxuyand ku ev îlana yekem a DAIŞê ye ji çaxê mirina Bexdadî ve.
Elî got ku xelefê Bexdadî kesayeteke nenaskirî ye di medyayê de, û anî ziman ku dibe ne yek ji navên ku vê dawîyê hatin texmînkirin be.
Elî daxuyand ku di nava navên ku berê hatine pêşniyarkirin, Ebû Salih Cezrawî, Ebû Osman Tûnisî û Ebdulah Qerdaş, naznavê wî "Pofesor".