Cîhan hat rizgarkirin piştî çend salan di dîlgeha tundrewan de, lê aniha ew rastî qedereke azardar tê: destberdan ji sê zarokên xwe yên biçûk ku bavên wan çekdarekî "Dewleta Îslamî" (DAIŞ) e yan jî ew dê ji alîyê komelgeha xwe ve bê redkirin û derkirin.
"Teqez min nikarî wan bînim mal. Ew zarokên DAIŞê ne," Cîhan Qasim dayika qederê, ya ku di heykelekî çemento yê vekirî rûniştibû û jê re dibêje mal, wiha got.
"Ez çawa dikarim, dema hîn sê birayên min di destên DAIŞê de ne?," wê got, û wê ronî avêt ser rojgara zehmet a ku ev zarok durist dikin, ji ber ku ew bîranîneke berdewam in ji hovîtîya ku civaka Êzîdî, ya girtî, li ser destê DAIŞê rastî hat.
Bi dehan jin û keçên Êzîdî yên ku bi awayekî sîstematîk destdirêjîya seksî li wan hat kirin, û ew hatin firoştin û bo tundrewan hatin zewicandin piştî ku DAIŞê ew ji malên wan li Şengalê di 2014an de revandin, rastî heman pirsgirêka azardar tên. Wê çarenivîsa zarokên ku ji vê zewaca bi zorê çi be?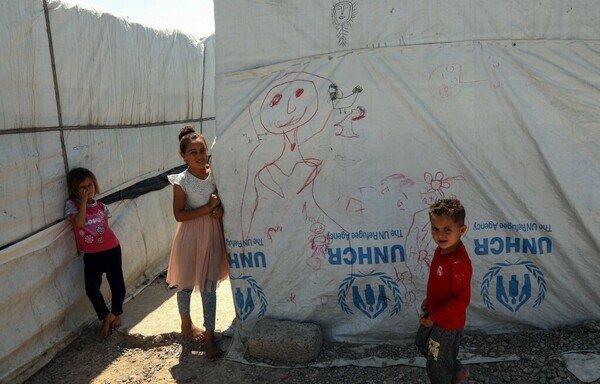 Wan got ku jinên hatine rizgarkirin, bêhêvî ne ku ji êşên ku hindikahîya muhafizkar tûşî wan dibe rihet bibin -- lê xwedîkirina dûndeya tundrew dê vê yekê estem bike.
Cîhana ku di 13 salî de hat revandin, hat neçarkirin ku ligel çekdarekî Tûnisî yê DAIŞê di temenê 15 salî de bizewice pişt re ew bi wî û sê zarokên xwe re ji Baxozê, asêgeha DAIŞê li Sûrîyayê ya dihat bombebarankirin berî çar mehan revîyan.
Dema ku hêzên Amerîkî piştevanîya wan dikin zanîn ew Êzîdî ne, wan ew tev kurê wê yê du salî, keça wê ya yek salî, û dergûşa wê ya çar-mehî bo wargehekê li bakurê-rojhilatê Sûrîyayê, ku dayikên din ên Êzîdî vedihewîne, veguhestin.
Mala vehewanê, ya bi navê Mala Êzîdîyan, wêneya wê li ser Facebookê belav kir, birayê wê yê jê mezintir Saman ku li bakurê Îraqê ye, xwişka xwe ya ji zû de wendayî bû nas kir.
Wî xwest ew vegere mal. Lê bê zarok.
Piştî çend rojan ji xirecirê, Cîhan biryar da zarokên xwe ji desthilatên Kurdî yên li Sûrîyayê re bihêle û vegera malbata xwe ya rasteqîn, weke wê anî ziman.
"Ew gelek biçûk bûn. Ew pir bi min ve girêdayî bûne û ez jî herwiha... lê ew zarokên DAIŞê ne," wê wiha bi dengekî nizim got.
Wê got ku tu wêneyên zarokên wê li ba wê tune ne, û ew naxwaze ku ew bên bîra wê.
"Roja yekem zehmet e, lê hin bi hin, em wan jibîr dikin," wê got.
"Kes li wan napirse"
Bi dehsalan, Êzîdîyên ji derveyî tayifê dizewicîn -- eger ne bi vîna wan be jî -- dihatin derkirin.
Keçên ku DAIŞê ew di sala 2014an de biribûn rastî heman çarenivîsê tên, lê zagoneke ku rêberê rûhî yê Êzîdîyan, Baba Şêx, got ku divê kesên sax ji destdirêjîya seksî ya DAIŞê cihê rûmetê bin di civakê de.
Lê vê dilovanîyê zarokên wan nedan ber xwe.
Di Nîsanê, Encumena Rûhî ya Bilind a Êzîdîyan zagonek der xist û pêşwazî li "zarokên zindîyan," kir, vê yekê jî hêvîyeke bi rêformeke duyem bo qebûlkirina zarokên ji dayikên Êzîdî û bavên DAIŞî re çêkir.
Lê karvedaneke tund ji hêla Êzîdîyên muhafizkar vehişt ku Encumen zelal bike ku tiştek nehatiye guhertin: ew dê bi tenê pêşwazî li zarokên ku dêûbavên wan Êzîdî ne bikin.
Her rêformek weke gefekê dihat dîtin, û dergehên lehîya guhertinê di rûyê komelgeheke birîndar de vedikir, Telal Mûrad, çalakgerekî Êzîdî ye wiha got.
"Eger tiştek di bawerîyê de were guhertin, wê çaxê gelek tişt dê bên guhertin -- dê şikestinek rû bide, û dê ola Êzîdî bi temamî biherife," Mûrad, birêveberê Ezidi 24, ku karûbarên Êzîdîyan rûmal dike, got.
Nûnerê encumenê Elî Xidir ji AFP re ragihand ku gengeşe ne bi tenê li dor rêformeke dogmatîk bû.
"Di serî de, li gorî yasaya Îraqî, her zarokeke ku bavê wî wendayî be weke Musilman tê navnivîsîn, Xidir li baregehên Encumenê li Şêxanê ragihand.
Yasaya Îslamî, ku makzagona Îraqî li ser bingeha wê hatiye dariştin, dibêje ku ol ji ola bav tê wergirtin.
Xidir got ku ji hêla derûnî ve jî, civaka Êzîdî pir di tirsê de ye ji ber revandina ji mêj de ya zarokên wan, lewra ew nikarin zarokên kesên tadarî li wan kirine xweyî bikin.
"Heta aniha, bi hezaran keç û jinên Êzîdî di destên DAIŞê de ne. Kes li wan napirse. Ew li çarenivîsa çend zarokan dipirsin, ku mirov dikare wan li ser tilîyan bihejmêre," Xidir got.
Encumenê got ku ew amarên jinên Êzîdî, yên tev zarokên ku ji destdirêjîya seksî çêbûne vegerane, li ba xwe nahêlin.
Goşt, xwîne, û hêsir
Di demekê de ku piranîya Êzîdîyan zarokên xwe li Mala Êzîdîyan li Sûrîyayê dihêlin, hinek ji wan dergûşên ji DAIŞîyan çêbûne vedigerînin Îraqê. Ew hevpeyvînan ji ber hestyarîya babetê red dikin.
Jinekê ji malbata xwe ya Êzîdî xwest ku ew dê zaroka xwe ya yek salî, ku bavê wê çekdarekî DAIŞê ye, xweyî bike, lê belê ew ji vê yekê vegerîya dema wê zanî ku ew nikare kaxezên nasnameya Îraqî jê re derxîne ji ber ku bav ne hazir e.
Wê ew bo tebenîkirinê da, li gorî doktorê wê.
Jineke din a 18-salî di Biharê de gihişt Îraqê pişt ew hat rizgarkirin, lê ew ji dîlkerê xwe yê DAIŞî dûcan bû, li gorî lêkolînerekî civakî ku ji rewşa wê agahdar bû.
Wê çend heftî li maleke ewleh qedandin bêyî agahdarbûna malbata xwe, heta ku zaroka wê çêbû, paşê wê zaroka xwe bi dûr şand û tevlî malbata xwe li kampeke bêwaran bû.
Sala par, pênc zarokên ku ji dayikên Êzîdî û bavên DAIŞî re ji dayik bûne bo sêwîgeheke li Mûsilê hatin radestkirin, sêwîgeha ku rê dide malbatên Musilman ku wan tebenî bikin, li gorî birêvebera karûbarên jin û zarokan, Sukeyna Yûnis.
Ew weke Musilman hatine navnivîsîn.
Bandora derûnî ya vê veqetanê dê demdirêj be. Cîhan bi xwe hîna ne li ser xwe ye.
Berî çend heftîyan, wê ji lêkolînerekî civakî re gotibû ku ew "goşt û xwîna wê ne," û ew bêrîya wan dike.
Di demekê de ku ew bêhtir bi veqetanê êşayî dihat xuyakirin dema ku ew ligel AFP diaxêvî, girnijîneke şermîn xwe avête rûyê wê dema ew hatin bîra wê. Dema ku ew dûrî çavê birayê xwe ket, ew bi dengekî kêm girîya.
"Eger bi kêfa min baye, min dê ew ligel xwe anîbane," wê got.