Tirseke mezin di dilê niştecîyên sivîl de heye li parêzgehên Heleb, Hema û Idlibê yên Sûrîyayê ku komên tundrew li herêmê dê hewl bidin ku hevalbendeke nû çêkin, çalakên Sûrî û pispor ji Diyaruna re ragihand.
Tirsa ji ber hevalbenda nû bi serkêşîya Tehrîr el-Şam, bermayîyên "Dewleta Îslamî" (DAIŞ) û Qaidê dihêlin ku alozî li herêmê hebe, tevî kuagirbesta ku vê dawîyê hat îlankirin û damezrandina zoneke veqetîner.
Ev çend meh in Tehrîr el-Şam têkilî bi hemû komên tundrew ên din re li deverên Idlib, Hema, Heleb û Laziqîyayê dike bi armanca ku hevbendîyeke nû çêke weke amadebûnê bo çi êrîşa gengaz, çalakê Idlibî Miseb Esaf ji Diyaruna re eşkere kir.
Xebatên Tehrîr el-Şam serkeftineke mezin bi dest xistin," wî got, "û vê yekê tirs xiste dilê sivîlan de dibe ku gengaz be ku herêm rastî êrîşeke tund û hovane were da ku van koman tine bikin."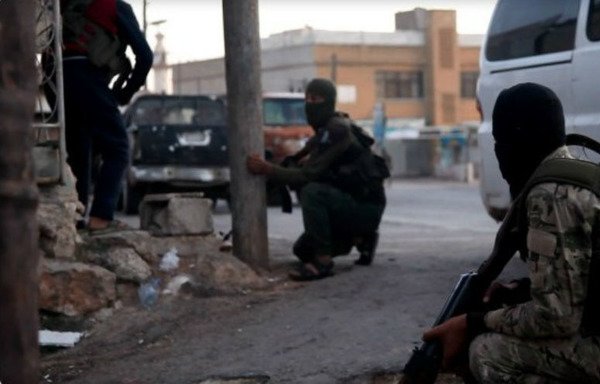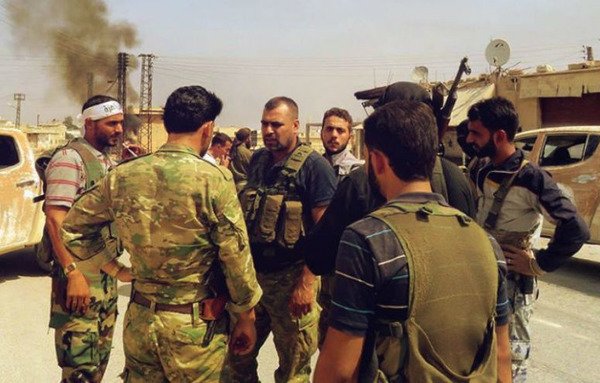 Herwiha niştecîyên sivîl ên deverê ditirsin ku şerekî navxweyî di nav van koman de biqewime û di nav Tehrîr el-Şam û komên Artêşa Sûrî ya Azad (FSA) ên li jêrEnîya Rizgarkirinê ya Sûrî hevbendî kirirne biqewime, Esaf got.
"Mesele tenê dem e"
"Sivîl li devera Idlibê dizanin ku mesele tenê demê dixwaze ku operesyonê serbazî li dijî herêmê dest pê bikin, û ew dizanin ku di vê pêvajoyê de operesyonên serbazî meseleke jinerevîn e" Esaf got, ji ber Idlib bûye meremek ji komên tundrew re .
Weke hazirîyekê ji vê gefa mezin re, sivîl tedbirên parêzî dikin, mîna avakirina jêrzemînan da ku weke pena bi kar bînin û şkeftên xwezayî dikolin û fereh dikin da ku wan weke penagehan bi kar bînin dema ku êrîşên asmanî biqewimin, wî got.
Encamên êrîşekê dê bobelatî bin, ji ber ku gelek xelk li herêma Idlibê de hene, wî anî ziman, a ku ne kêmî sê mîlyon niştecî û bêwarên xwemalî dihundirîne.
Esaf got ku niştecîyên bêwar di kampan de belewela ne di şert û mercin gelekî zehmet de yên ku dê hîn zehmettir bibin eger ku agirbesta îlankirî hilweşe.
Tirsa sivîlan zêdetir dibe ji ber ku Tehrîr el-Şam û komên tundrew ên din nikarin bi şert û mercên agirbestê pabend bin, wî anî ziman.
Derbarê avakirina zoneke veqetîner, ti komên tundrew çekên xwe yên giran ji deverê nekişandin weke ku hatibû gotin, wî got, lê li şûn wê yekê wan cihên xwe bi çekan asê kirin.
Wî anî ziman ku wan gelek tunel kolan, tunelên ku cihên wan bi hev ve girêdidin, û not kir ku hin jêder dibêjin ku Tehrîr el-Şam zorê li girtîyan dike ku an tunelan bikolin.
Hevalbendî bi tundrewan re
"Tehrîr el-Şam karîbû hevalbendîyê bi komên radîkal ên herî serekî re çêke," çalakê Sûrî bi navê Mihemed Ebdula ji Diyaruna re got.
Piranîya van koman bi îdîolojîya Qaidê hevbeş in û soza xwe ya dilsozîyê bo serkirdeyê Qaidê Eymen Zewahirî berdewam dikin, wî got.
Van koman berî vê red kir ku tevlî Tehrîr el-Şam bibin ji ber wê ne li gir soza xwe bûn ku bi Zewahirî re dilsoz bimîne, wî not kir.
Di nav wan koman de Huras Dîn, DAIŞ, Ensar Tewhîd, Partîya Tirkistanî ya Îslamî li Sûrîyayê, Jeyş Iza û Liwa Siqûr el-Xab , wî got, li gel Liwa Eqsa, Ensar Dîn, Jes Sahil, Jund Melahim û bi dehan çekdar ji koma Jund Eqsa ya vê dawî hat jihevxistin
Huras Dîn hejmara herî mezin ji tundrew û çekdarên biyanî tê de hene, di pişt re Partîya Tirkistanî ya Îslamî li Sûrîyayê, wî anî ziman.
"Tehrî Şam xebateke mezin kir da ku bala çekdarên biyanî bikişîne û heta astekê ew di vê yekê de bi ser ket," Ebdula got, bi taybet bi komên Asyayî û Ewropayî re.
Lê hin rewşên awarte yên balkêş hebûn ku hin komên dijber hebûn ku Tehrîr el-Şam bi zorê xwe li ser wan ferz kir, mîna rewşa bi komeke Fransîyên tundrew re yên navê xwe dikin "biyanî".
Ji ber nakokîyên mezhebî bi ser nakevin
Tehrîr el-Şam bi giştî destûr da van komên çekdar ên biyanî ku serxwebûna xwe biparêzin û deverên xwe kontrol bikin, Ebdula got.
Wî got ku ew li gundewarê bakurê Hemayê û gundewarê bakur û rojhilatê Laziqîyayê ni cih in, herwiha li hin bajarokan li Idlibê di nav wan de Kefer tixarîm, Sermeda, Harim, Sermîn, Seraqib, Jebel Zawîyê, Selqîn û Cisir el-Şixûr.
Hin endamên tundrew fikreya hevalbendîyekê bi Tehrîr el-Şam re red dikin ji ber gengeşeyên mezhebî, yên bûne sedema pevçûnên dubarekirî.
Tehrîr el-Şam hewl dide ku zora komên tundrew bibe û dibêje ku ew agirbestê qebûl nake û ew amade ye ku şerê hêzên rejîm û milîsên alîgirê wê bike, Ebdula got.
Herwiha ew hewl dide ku zora tundrewan jî bibedi rêya zêdekirina Şehadetê li ala şoreşa Sûrî, in a bid to unite all the factions in the area under its control, Ebdula got.
Li Idlibê bi taybet, Tehrîr el-Şam destûrê dide komên li parêzgehê hazir ku bac û bêşanferz bikin , û dan û standinên baziganî û operesyonên qaçaxkirinê bikin da ku temwîka xwe peyda bikin, wî got.
"Ev dever tenê ji wan re maye"
Normal e ku komên tundrew hewl bidin ku hevalbendîyekê li herêma Idlibê çêkin, ji ber dever tenê jiwan re maye, pisporê serbazî liwa Ebdul Mutelib, ê ku ji artêşa Mesrî karkenar bûye, got
Wî ji Diyaruna re got ku ev yek rast e ne tenê li Sûrîyayê lêbelê li hemû herêmê, ji ber ew nikarin herin Îraqê weke ku ew berê diçûn, yan ber bi beşên din ji Sûrîyayê, ji ber ew ji hemû alîyan ve dorpêçkirî ne.
Mesela çêkirina hevalbendîyê aniha ji komên tundrew re mesela jîyan û mirinê ye, yên ku ji herdu alîyan ve dorpêçkirî ne, ji alîyê rejîma Sûrî û milîsên girêdayî wê û ji alîyê Hêzên Sûrîya Demokratîk ve (QSD), bi piştgirîya hevpeymanîya navdewletî.
Di rêya qayilkirina tundrewên mayî ku bikevine hevalbendîyekê de, Tehrîr el-Şam armanc dike ku xwe weke hêzeke serdest li ser erdê bide xuyakirin, Ebdul Mutelib got.
Ew hewl dide ku vê yekê bike tevî ku gelek kom li dijî armanca wê ne, wî got.
Şer li ser Idlibê, dê biqewime, will be "dê şerê herî hovane be" ku li Sûrîyayê qewimî be, Ebdul Mutelib hişyarî da.
Wî got ku gelek encamên neyînî yên vî şerî dê hebin, bi taybet bo sivîlan, sivîlên ku dê nirx buha bidin ji ber kînbazîya tundrewan.