Çalakvanekî xwecihî got ku dibe rewşa mirovî di hundirê kampên penaberan li parêzgeha Idlibê nêzîkî sînorê bi Tirkîyayê re xirab bibe, ji ber ku rêxistineke xêrxwazîyê ya ku xizmetguzarîya avê dabîn dikir vekişî.
Ev gav dê bêtir ji 50,000 kesên bêwar bê av û xizmetguzarîyên din ên sereke bihêle, çalakvanê Idlibî Heysem Idlibî ji Diyaruna re got.
Idlibî dîyar kir ku ACTED, rêxistina xêrxwazîyê ya berpirs bû ji dabînkirina ava vexwarinê bi awayekî rojane û birêvebirîna ava karêzan, vê dawîyê îlan kir ku ew dê operasyonên xwe li deverê rawestîne.
Rêxistin demekê dabînerê sereke yê van xizmetguzarîyan bû.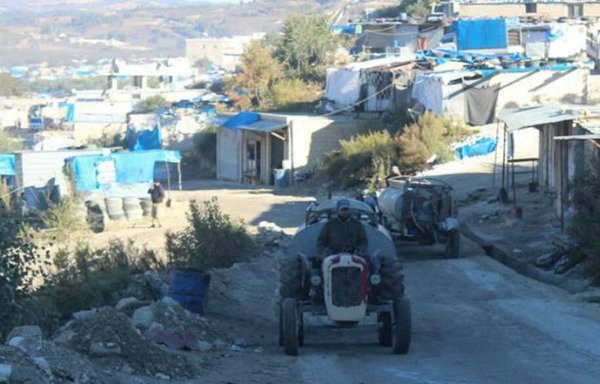 Idlibî got ku niştecîyên kampên ziyanbûyî -- bi temamî bêtirî 50,000 ne -- ji ber şert û mercên tund dest ji kampê berdidin, û reşê krîzeke mirovî ya mezin li ber çavan tê dîtin.
Wî got ku bi hatina Zivistanê re rewşa wan dê xirabtir bibe, dema ku kamp bi herîyê tê îzolekirin.
Wî da zanîn ku jêderên avê gelekî dûrî kampê ne û terektor têrê nakin ku tankeran bikişînin da ku avê ji niştecîyên kampê re dabîn bikin.
Têkçûna birêvebirinê
Kamp ji sivîlên ku ji gundewarê Laziqîyayê û Jisr el-Şixûrê reviyane pêk tê, niştecîyên ku bi komin piçûk bi awayekî belawela li kampên nefermî belav bûn, kampên herî mezin jî Xirbet el-Joz û Eyn el- Beydayê bi dirêjahîya sînor in, Idlibî got.
Idlibî balkişand ku birêveberên kampê, yên ku ji alîyê who are appointed by the "hikûmeta rizgarkirinê" ya girêdayî Tehrîr el-Şam ve hatine destnîşankirin, berî mehekê hat agadarkirin ku rêxistina mirovî dê nema karibe bi awayekî berdewam kar bike.
"Lê wan tiştek nekir da ku berdêlekî jê re bibînin."
Rewş li kampan xirab dibe di demsala zivistanê de, dema ku rêyên hundir û derve ji ber herîyê tên girtin, dihêle ku tevger di hundirê kampan de gelekî zehmet be û dihêle ku ew çend rojan îzolekirî bimînin, wî got.
Hefteya bûrî bahoza zivistanê ya yekem rabû bi ser sedên sivîlên bêwar yên di konên tenik de civiyane di meydaneke herî de li bakur û rojavayê Idlibê, AFP ragihand.
"Zivistanê dest pê kir û em di konikan de asê mane tenê em betanîyan divêjin ser serê xwe," niştecîya kampa Kefer Deryanê Um Mihemed got.
Nîvê her sê mîlyon kesên ku li devera Idlibê dijîn ji malên xwe bêwar bûn ji ber şer li beşên welat ên din.
Bang bo dirêjkirina agirbestê
Serokên Tirkîya, Rûsya, Ferensa û Almanyayê roja Şemîyê (27ê Cotmehê) banga çareserîyeke siyasî bo şerê Sûrîyayê û agirbesteke berdewam li Idlibê kirin.
Di daxuyanîyeke hevbeş de ku di dawîya lûtkeya Stenbolê de hatiye belavkirin, her çar welat got ew pabend in ku bi hev re kar bikin "da ku şert û mercên aştî û aramîyê li Sûrîyayê peyda bikin".
Herwiha daxuyanîyê teqez li ser "girîngîya dirêjkirina agirbestê li Idlibê kir", û wê "pêşketinê" piştî rêkeftinekê bo avakirina devereke bê çek li derdora Idlibê pîroz kirin.
Daxuyanîyê bang bo damezrandina komîteyekê kir bo dariştina reşnivîsa makzagona Sûrîyayê ya piştî şer berî dawîya salê, "ev yek rê li pêşîya hilbijartinên azad û dadmend vedike".
Herwiha daxuyanîyê not kir "ku hewcedarî heye ku bê misogerkirin ku rêxistinên mirovî bi awayekî lezgîn, ewle û bêastengî bigihin seranserê Sûrîyayê û alîkarîyên mirovî bi awayekî yekser bigihine hemû kesên hewcedar".
Şêwirmenda Almanî Encêla Mêrekel got ku "erkê serokan e ku nehêlin bobelateke mirovî ya din rû bide".
"Berhengarî ew e ku her du şer bên rawestandin: Şerê dijî terorê û şerê rejîmê li dijî beşên mezin ên gelê xwe," wê got, û teqez kir ku hewcedarî bi giftûgoyên siyasî li jêr serkêşîya NY heye.
Herwiha lûtkeyê tengavîya bi mîlyonên kesên ku ji ber şer bêwar bûne girte dest, û dîyar kir ku divê şert û merc "li seranserê welat werin peydakirin bo vegera penaberan bi awyekî ewle û xwebexş".