Helwesta Kremlinê derbarê nûavakirina Sûrîyayê -- ya ku hêzên Rûsyayê alîkarî kirin di wêrankirina wê de di rêya bombebarankirina hêzên opozîsyona Sûrî ya tekûber -- dijberîyeke dijwar e ji hewldanên hevpeymanîya Rojavayî re, lêkolîneke serbixwe diyar dike.
Wezîrê Berevanîyê ya Rûsî Sergei Şoigu pêşniyar kir ku endamên Dewletên Serbixwe yên Komonweltê -- di nav de komarên Sovyêtî yên berê li Asyaya Navîn -- alîkarîyê bikin di nûavakirina Sûrîyayê de.
Paqijkirina mayînan, pasvanîyên hevbeş û alîkarîya mirovî hinek rêyên ku endamên CIS ên din dikarin alîkarîyê biki, wî got, wî di rûniştineke Encumena Wezîrên Berevanîyê ên CIS di 6ê Hezîranê de li Kîzîlê li Rûsyayê, got.
"Em xwe dispêrin pişgirîya we, ya ku dê yekîtîya me di şerê li dijî terorîzma navdewletî nîşan bike û ew dê ewlehîya hevbeş misoger bike," wî got li gorî Wezareta Berevanîyê ya Rûsî.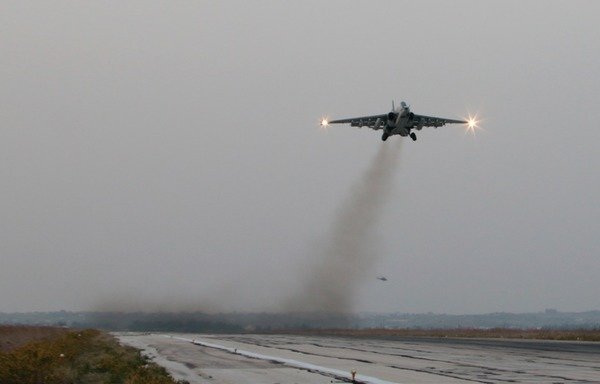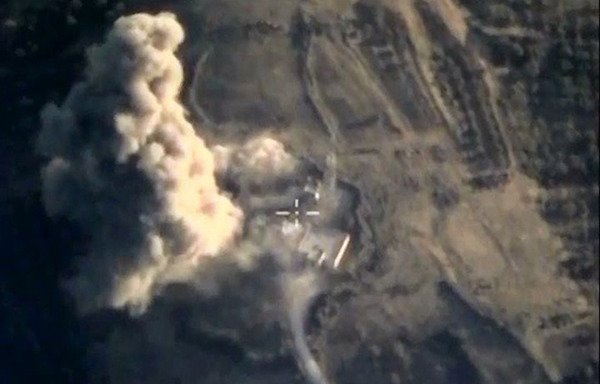 Endamê CIS yê tek ê ku li Sûryayê şer dike Rûsîya ye.
Sifir ji Rûsyayê
Banga Şoigu ji bo alîkarîya bi endamên CIS re tê piştî bêtirî salekê ku Cîgirê Wezîrê Derve yê Rûsî Mikhail Bogdanov bi eşkerayî got ku welatê wî dê pereyan nede bo alîkarîya nûavakirina Sûrîyayê.
Bogdanov daxuyanîya xwe ya rikdar da balyozên Yekîtîya Ewropayî li Moskoyê di Sibata sala 2017an de, li gorî Financial Times.
Dê hewcedarî bi "dehan milyarên dolaran" hebe bo xebatên nûavakirina Sûrîyayê, wî got, û wî anî ziman ku divê "tiştek" ji Rûsyayê neyê pêşbînîkirin, li gorî diplomatên amade bûn.
"[Rûsya] pê de diçe, ew her tiştî xirab dikin, her tiştî dişikînin û ji her kesî dixwazin ku di ber de bidin," diplomatekî Ewropayî got.
Angaştên Şoigu û Bogdanov diyar dikin ku Rûsya pêşbîn dike ku hemû endamên CIS ên din -- herwiha hemû cîhan -- dê pereyan di ber nûavakirinê de bidin, ya ku hêzên Rûsî alîkarî kirin di hilweşandina wê de.
Asyaya Navîn ji durûtîya Rûsî bi paş ve diçe
Analîstê siyasî yê Asyaya Navîn bi tundî rexne li bangên xizmeta xweser bo temwîlkirina nûavakirinê kir.
"Ev ne cara yekem e ku Rûsîya ji welatê Asyaya Navî dixwaze û bi taybet Kazexistan, ku tevlî kiryarên gumanbar li ser asta navdewletî bibin," Îslam Kurayev, analîsyekî siyasî ye li Almatyê, Kazexistanê, ji Caravanseraiyê re got.
"Lêbelê, Kazexistan dewleteke xweser e tiştek ji alîyê ti kesî ve jê nayê xwestin," wî got. "Bi rastî berpirsyarekî ji welatekî din ... însyatîfekê li ser me ferz dike, ev yek nayê qebûlkirin. Di dawîyê de, berî her tiştî Rûsya berevanîya berjewendîyên xwe yên jeopolîtîkî [li Sûrîyayê] dike."
Piştgirîya Rûsya ji rejîma diktator ya Beşar Esed re ew e sedema têr dike ku divê mirov hişyar be derbarê temwîlkirina xebatên nûavakirinê, Askat Dukenbayev, analîstekî siyasî li Bîşkekê, Qirgizîstan, got.
"Eger hin kampanîyên taybet ên Qirgizîstan guh dane [banga Shoigue bo temwîlkirinê], ew karê wan e heta eger cizayê Amerîkî li wan pêk werem" wî ji Caravanserai re got. "Lê ji ajansên hikûmeta Qerxîzî tê xwestin ku alîkaryê neke heta aştî li Sûrîyayê vegere, ya ku negengaze yenê piştî ku Beşar Esed biçe."
Herwiha analîstê siyasî yê Tacîkî yê li Bragê dimîne li Nurmuxammad Xolzoda hişyarî da.
Çi beşdarbûna ji alîyê Tacikistanê di çi hevalbendîyê de be, heta eger mebest jê sazkirina dûmahîyên şer be, divê li jêr sponserîya rêxistinên navdewletî çêbibin û li ser bingeha biryarên ji alîyê desteyên navdewletî ve yên xwe desthilatdarîya guncan in," wî ji Diyaruna re got.
"Tacikistan gelek karînên wê yên teknîkî û pereyên wê nînin ku serf bike," wî got. "Welat bi xwe xwe despêre danên [biyanî], deyn û alîkarîyên mirovî ".
"Aştî hîn nehatiye Sûrîyayê û hevalbendên Rûsyayê hên baş li hev nekirine," Karimjon Axmodov, cîgirê wezîrê aborê yê tacîkî yê berê ji Caravanseraiyê re got.
"Ma dê ne baştir be ji Tajikistanê re ku beşdar bibe di aramkirina Efxanistanê de?" wî pirsî.
Herwiha aramkirina Efxanistanê jî berêtîyeke ji Uzbikistanê re, analîstê siyasî yê Uzbekî Umid Asatulayev, got.
"Di civîna dawî de di navbera Serokê Uzbekî Şavkat Mirziyoyev û Serokê Amerîkî Donald Trump de, wan xalên zelal daxuyandin: berîtîya Uzbekistanê nûavakirina Afxanistanê ye, û dê hemû xebatên wê di vê çarçoveyê de bin," wî ji Caravanserai re got.
"Ez ne piştrast im ku kesek li Uzbekistan hebe ku bixwaze piştevanîya rejîma Esed bike," Ebduresûl Samandarov, 28 salî, ji Taşkent, ji Caravanserai re ragihand. "Ev çend sal in ku ew şerekî navxweyî li dijî gelê xwe li dar dixe, bi saya wî ['Dewleta Îslamî' (DAIŞ)] peyda bû. Milîtanên wê aniha ji Afxanistanê gefê li me dikin û hewl didin cihê lingê xwe li Uzbekistanê çêbikin."
"Divê em tu alîkarîyê neşînin heta dema ku hikûmeteke Sûrî ya ku hemû pêkhate [ên Sûryayê] tê de cih bigrin peyda nebe," wî got.
Rûsya bêserûber kuştinan li Sûrîyayê pêk tîne
Dema ku êrîşên asmanî bi rêjeya 150% zêde bûne ji dema ku Rûsya ji 2015an destêwerdan di milmilanîyê de kir, bi tenê 14% ji wan êrîşên asmanî li armancên DAIŞ dane -- vajî angaştên Rûsyayê dema ku dibêje ew bi piranî rêxistina terorîst dike armanc, Navenda Terorîzmê û Cudaxwazîyê ya IHS Jane 15ê Gulanê ragihand.
Êrîşên asmanî "bi giranî li deverên ku DAIŞê li wan tune bûn yan jî hebûna wê pir sînordar bû", raportê got.
Bombeyên Rûsî nexweşgeh û armancên din ên sivîl ên qedexe dan ber êrîşan di çarçoveya xwesteka wê ya bidawîkirina dijberîya Esed, li gorî Rewangeha Sûrî bo Mafên Mirov, Doktorên Bê Sînor, Amnestîya Navdewletî û çendîn NGOyên din.
Di 2017an, 112 êrîşên piştrastkirî li ser dezgehên tenduristîyê li Sûrîyayê hebûn, Middle East Monitor ragihand. Êrîşan 73 sivîl kuştin û 149 birîndar kirin, li gorî NY.
Hevdem, di şeş mehên pêşîn ên 2018, rejîma Sûrî û hevalbenda wê Rûsya 92 caran êrîşî nexweşgehan kirin, 89 kes kuştine û 135 kes birîndar bûne, li gorî Ferhan Heq, peyvdarê sekreterê giştî yê NY.
Kremlin tu carî qerbûkirin pêşkêş nekirine û her timî dibêje ku bombeyên wê bi tenê terorîst û şopdarên wan dikujin.
Ev yek di lêdwanên Balyozê Rûsyayê bo Yekîtîya Ewropî Vladimir Çizhov bo Kenala Almanî ADR di Nîsanê de berceste dibin.
Jê hat pirsîn bo dê Ewropa heqê ziyana ku bombeyên Rûsî pêk tînin bide, Çizhov red kir ku balefirên şer ên welatê wî tu nexweşgeh kirine armanc. "Avahiyên armanc bûn [ên Rûsî]... yên rêxistinên terorîst in," wî wiha got.
Ji Amarîkayê Milyarên peran
Dema ku balefir û hêzên Rûsî herêmên li jêr kontrola opozîyonê li Sûrîyayê nebedî kirin û tu xebat bo parastina sivîlan nekirin, Amarîka -- mezintirîn beşdarê hevpeymanîya rojavayî ya li dijî DAIŞê -- rêyeke cudatir dide ber xwe.
"Amerîka yekane welatê herî mezin e weke danerê mirovî ji bersiva Sûrî re ye ... ew dora 7.7 milyar $ dabîn dike ji destpêka krîzê li wî welatî," Cîgirê wezîrê Derveyê Amerîkî Jon Sulivan di 22ê Adarê de li waşitonê, got.
"Mehane, ev alîkarî alîkarîyê bi Sûrîyan re dikin li hemû parêzgehan, li gel bêtir ji pênc mîlyon û nîv Sûrî li welatên ciran," wî got.
Herwiha artêşa Amerîkî hewldanên mezin kirine da ku sivîlan di operesyonên xwe de yên li dijî çekdarên DAIŞê li Sûrîyayê biparêze.
"Em berdewam êrîşên xwe cîbicî dikin bi rêbazekî ku bandora wî li niştecîyên sivîl kêm be ... û em pabend in ku em bi şefafîyet ragihînin dema qurbanîyên sivîl bê qesd bikevin di encama êrîşên me de," hevpeymanîya ku Amerîka birêveberîya wê dike di Hezîranê de got.
Daxuyanî weke bersivekê ji raporta 5ê Hezîranê ya Amnestîya Navdewletî re hat, ya derbarê mirina sivîlan di operasoynên vegerandina Reqayê de, xîlafeta DAIŞê li Sûrîyayê.
"Rastî li Îraq û Sûrîyayê ew e ku em şerê dijminekî dikin ku bi tu zagon, rêbaz û sincên morvî ne pêbend e," hevpeymanîyê got, û wih dewam kir "em gelek xebatan dikin û agahîyên hewalgirî kom dikin... berî pêkanîna êrîşên asmanî bo wêrankirina armancan [ên DAIŞê] hevdem ligel kêmkirina ziyana digihêje sivîlan".
[Arman Kaliyev ji Almaty, Negmatulo MirsaidovJi Xujand û Maksim Yeniseyev ji Taşkent di vê raportê de beşdar bûne.]