The Iranian regime has long dreamed of establishing a railway link that would connect Iran's Imam Khomeini port with the Syrian port of Latakia via Iraq and increase its political, military and economic clout in the region.
But so far this grand scheme, which looks viable to Iran on paper but will prove much more challenging in its implementation, has failed to materialise.
The plan has met with numerous objections -- not least from Iraq -- since the idea was first introduced in 2016 by Yahya Rahim-Safavi, senior military advisor and assistant to Iranian leader Ali Khamenei.
But discussion of the railway link has resumed in recent weeks, with the topic raised again in late April when an Iranian delegation headed by Iranian Minister of Roads and Urban Development Mehrdad Bazrpash visited Damascus.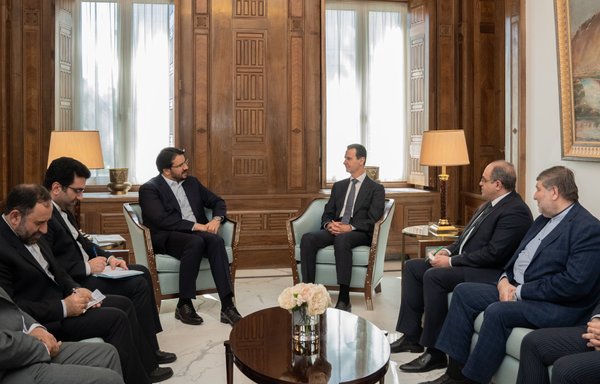 Syrian Minister of Transport Zouhair Khazim singled out the proposed railway link and integration as the "most important" means to strengthen co-operation between Iran and Syria, according to Mehr News Agency.
Connecting the Syrian railway network with the Iranian and Iraqi railways would expand bilateral co-operation in the field of trade and transport, he said, adding that Syria is ready to establish a joint transportation company with Iran.
The two ministers also discussed increasing flights between Syria and Iran, the Arab News reported.
On May 3, Iranian President Ebrahim Raisi and Syrian President Bashar al-Assad signed memoranda of understanding on "long-term strategic co-operation, covering oil, aviation, railways and agriculture", Syrian state media reported.
The Iraqi Republic Railways Company and the Iranian Railways Company on May 7 agreed to construct a rail link between the city of Shalamcheh in Khuzestan province, Iran, and the Iraqi port of Basra, Caspian News reported.
Construction is expected to begin soon on this 32km-long stretch of track that would connect Iran to the railway network in Iraq, and from there eventually onward to Syria and Jordan.
Before it can begin, however, mine clearance needs to take place along the route, and rail infrastructure studies -- including for a moveable bridge over Shatt al-Arab -- must be completed.
Opposition to railway scheme
Iraqi officials and analysts who spoke to Al-Mashareq said they are not in favour of the railway project, as it is not aligned with Iraq's strategic interests and would benefit only Iran.
In Syria, meanwhile, the Iranian president's visit to Damascus was perceived by at least one opposition activist as a further act of Iranian colonialism, Al-Jazeera reported May 3.
Iran has been "colonising [Syria] for years, even before the revolution", Syrian activist Abdulkafi al-hamdo told the media outlet.
"During the revolution, they confirmed this colonisation, and they were sending fighters, money, equipment to help al-Assad keep his position," he said.
The Iranian government's push to develop transport corridors and railroads is rooted in Iran's military, strategic and economic aspirations, all of which aim to expand its regional influence, analysts said.
The railway project will have serious negative repercussions for the region, political analyst Abdul Qader al-Nayel told Al-Mashareq.
Iran plans to use the railway to increase its influence and military presence and violate the security and sovereignty of the region's countries, he said.
"The Iranians have a plan to operate the new railroad without stations on the way in order to transport commercial goods with no monitoring or inspection," al-Nayel said.
The route will be used "to secretly ship weapons to militia elements in Syria, Lebanon and other countries across the Mediterranean", he added, noting that Iran also wants to transport its affiliated fighters around the region.
It is also likely that the Islamic Revolutionary Guard Corps (IRGC) intends to use the railway to transport illegal drugs, which provide it with a major source of revenue, al-Nayel said.
Iran may attempt to deploy its armed affiliates along the route of the railway, from Basra on the Arabian Gulf to the town of al-Qaim on the frontier with Syria, he added.
Serving interests of Iran, China
Al-Nayel said Iran is promoting the railway as an exclusively commercial project to enhance regional economic co-operation but that in fact it has an entirely different agenda that does not bode well for Iraq and the region.
The railway could do serious harm to the major al-Faw Port project in Basra that Iraq hopes to turn into an international hub for the transport of goods across its territory towards Türkiye and Europe, he said.
It could drive business and revenue away from the al-Faw project, which is expected to yield revenue for Iraq via customs fees and taxes, al-Nayel said.
Iran's proposed railway project also conflicts with the "New Levant Project", a promising land route linking Iraq with Jordan and Egypt.
The hope for the land route is that it would enhance trade and travel among the three countries and support their economies and development plans.
In contrast, al-Nayel said, Iran's railroad project would serve the interests and agenda of Iran and China, as China is counting on it to be an essential component of its "Belt and Road Initiative" (BRI), also known as One Belt One Road (OBOR).