As the Islamic Revolutionary Guard Corps (IRGC) and its affiliates continue to come under fire in Syria, Iran has stealthily activated an air defence system in Damascus comprised of four missile batteries, sources in Syria said.
The missiles were transported into Syria from Iraq via illicit border crossings in the Albu Kamal region of Syria's Deir Ezzor province that are controlled by the IRGC and allied militias, analysts told Al-Mashareq.
The border area around the town of Albu Kamal, where many Iran-aligned militias have set up camp, serves as a vital artery for the smuggling of weapons, fighters, narcotics and other contraband, they said.
Reports that Iran has activated an air defence system in Damascus "are not surprising at all" in light of the heavy targeting of Iranian military sites in Syria, said Lebanese military analyst and retired army officer Jamil Abu Hamdan.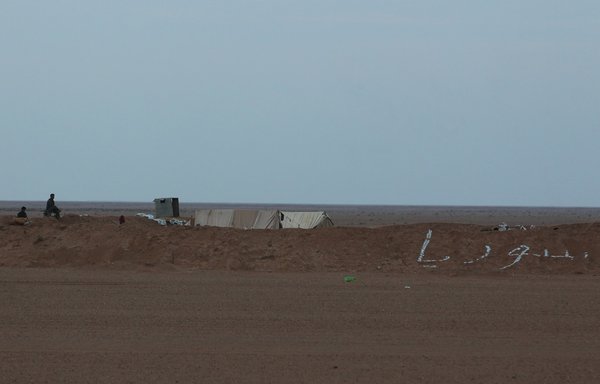 "The plan may be broader and might include the Deir Ezzor region, as this region also has seen warplanes targeting the IRGC's sites, including weapon depots and workshops where ballistic missiles are assembled," he said.
"The Albu Kamal region is a vital area for the IRGC's activities in Iraq, Syria and Lebanon," he said. "These activities are carried out in flagrant violation of international laws, and decisive intervention is needed to stop them."
On February 24, Iranian state television reported Tehran's intent to supply Damascus with its advanced, long-range home-made air defence missile systems, according to Forbes.
"Syria needs to rebuild its air defence network and requires precision bombs for its fighter planes," the report said.
"It is very likely that we will witness the supply by Iran of radars and defence missiles, such as the Khordad 15 system, to reinforce Syria's air defences."
Weapons-laden convoys
"Hardly a single day goes by without Iranian weapon-laden trucks entering Syria from Iraq through the Albu Kamal crossing," former Fatemiyoun Division militiaman Mustafa al-Lahib told Al-Mashareq.
These trucks enter either through the official crossing or through the nearby IRGC-controlled crossings, "escorted by military vehicles that belong to the IRGC or its affiliated militias", he said.
"In either case, the weapons are camouflaged with goods in civilian trucks, which are initially part of a convoy in many cases but separate from it after they enter Syrian territory," al-Lahib said.
Trucks carrying weapons head to three destinations: the Imam Ali Complex near al-Mayadeen, the city of Deir Ezzor, or the areas under IRGC control in and around Damascus -- the Sayyida Zainab area and around the airport, he said.
The IRGC treats the Albu Kamal area as though it belongs to Iran rather than to Syria, Albu Kamal media activist Ayham al-Ali said.
This is because the Albu Kamal crossing is the key to the Iranian regime's dream of establishing a corridor from Tehran to Beirut, he said.
The IRGC deploys its militiamen to the illegal crossings in the desert around Albu Kamal in order to fully secure them for its own purposes, he said, which include charging smugglers who want to cross the border illegally a hefty fee.
Only area accessible to IRGC
Albu Kamal is the only area accessible to the IRGC, as other areas along the border are guarded by the Syrian Democratic Forces (SDF) and the international coalition forces, al-Ali said.
With regard to the entrance of the air defence system, al-Ali said a large part of the shipment may have entered Syria prior to the February 6 earthquake.
But "the IRGC also took advantage of the crisis after the earthquake, as many of its trucks entered Syria as part of the humanitarian aid convoys, especially in Deir Ezzor", he said.
"A number of the IRGC trucks were destroyed by air strikes," he noted.
On the evening of January 29, Iran International reported, drones struck a convoy of the IRGC's Unit 190 that may have been carrying smuggled weapons.
"Identifying IRGC trucks entering as part of civilian convoys is very difficult, and targeting weapon-laden trucks must take place after they separate from civilian trucks and head to IRGC sites and warehouses," al-Ali said.
In related news, the Syrian Observatory for Human Rights reported on Sunday that an unidentified senior IRGC commander arrived in Deir Ezzor from Damascus, amid major security mobilisation in the eastern city.
A delegation of IRGC and Hizbullah elements accompanied him.
Iran-backed militias have imposed stricter security measures in the city, following a March 8 explosion at a weapon and ammunition warehouse belonging to the militias in Al-Hamidiya neighbourhood, the Observatory said.
Seven were killed, it said.
Residents of the area have expressed discontent and concern that the warehouse stands near civilian homes and might be targeted again, according to the Observatory.