BAGHDAD -- Iraq wants to "strengthen and consolidate" relations with the United States, Prime Minister Mohammed Shia al-Sudani told US Secretary of Defence Lloyd Austin as the two met in Baghdad on Tuesday (March 7).
The United States in turn seeks to "continue to strengthen and broaden our partnership in support of Iraqi security, stability and sovereignty", Austin said, expressing optimism about the future of the partnership.
Austin pointed to defence co-operation against the "Islamic State of Iraq and Syria" (ISIS) as "a key pillar" of the bilateral relationship.
"We're focused on the mission of defeating ISIS, and we are here for no other purpose," he said during his visit, stressing that US troops were "ready to remain" in Iraq at Baghdad's invitation in a non-combat role against ISIS.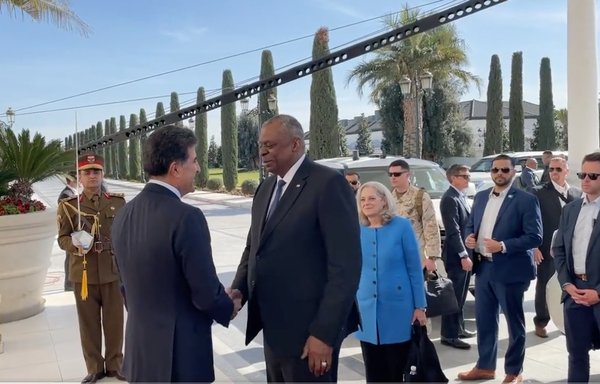 "Just a few years ago, ISIS was marching across Iraq, terrorising its citizens and threatening the stability of the entire region," Austin said.
The United States convened the 80-member international coalition in response, and the extremist group was ousted from Iraqi territory in 2017, though it retains sleeper cells in desert and mountain hideouts in Iraq and Syria.
In late 2021, on the fourth anniversary of victory over ISIS, Iraq announced the end of combat operations by international coalition forces, but some 2,500 US non-combat troops remain deployed to provide advice and training.
"We must be able to operate safely and securely to continue this vital work," Austin said, stressing that "threats or attacks on our forces only undermine that mission".
While seeking to strengthen US ties, al-Sudani -- who heads a government led by pro-Iran factions -- also underlined Baghdad's commitment to "maintaining balanced relations with the regional and international powers".
Tehran also provided support during Iraq's fightback against ISIS, but Iran-backed militias that are now entrenched in areas wrested from ISIS have since become a problem in their own right.
In recent years, these militias have staged drone and rocket attacks on bases hosting international coalition forces.
Ahead of Austin's visit, a senior US defence official said that Iran arms these groups partly in order to keep the Iraqi government under threat and threaten US partners with "coercive tactics", Al-Monitor reported.
'Huge strides in counter-terrorism'
German Foreign Minister Annalena Baerbock, who began a four-day visit to Iraq on Tuesday, also pointed to the lingering ISIS threat.
"That's why German soldiers are here ... as part of the anti-ISIS coalition and the NATO mission," she told a news conference.
The international coalition liberated more than 50,000 square km from ISIS, freeing more than 4.5 million Iraqis from the group's "cruel grip", Austin said.
"Now, the Iraqi security forces, including the Kurdish Peshmerga, have made huge strides in increasing their counter-terrorism capabilities, and today they are in the lead," he added.
"But military action alone won't ensure the enduring defeat of ISIS, so let me recognise the Iraqi government's ongoing repatriations of Iraqi citizens from northeast Syria."
Iraq and other countries with citizens in the Kurdish-administered camps of al-Hol and Roj in Syria's al-Hasakeh province have been working to repatriate their citizens -- some of whom are the family members of ISIS fighters.
The United States has been encouraging the repatriations as a means to reduce pressure on the overcrowded facilities, which have grappled with outbreaks of violence and have become hotbeds for extremist recruitment.
Austin called on all countries to bring their citizens home from the camps, saying the United States stands ready to support them in this endeavour.
Affirming regional partnerships
Austin's visit to Iraq followed talks in Jordan with King Abdullah II, a staunch US ally in the region.
In Jordan, Austin voiced "his concerns on a range of shared challenges, including ... maintaining focus on security and stability in Iraq, and countering other destabilising activities in the region", a Pentagon statement said.
Austin also visited Iraq's Kurdish region, meeting with the autonomous northern region's president Nechirvan Barzani, a US ally.
"We thank the United States for its continued support to Iraq and Kurdistan; we have common interests with the US in maintaining the security and stability of Iraq," said Barzani.
Despite its vast oil and gas reserves, Iraq has suffered from decades of underinvestment in its infrastructure and public services that have sparked repeated waves of protests.
October 2021 elections were followed by a whole year of political vacuum before al-Sudani was sworn in at the head of a government led by pro-Iran factions.