BEIRUT -- Susanne Darwish is still living the horror of the February 6 earthquakes that shook Türkiye and northern Syria, with tremors felt across Lebanon.
"It woke everyone up because the house was shaking so violently," said Darwish of Tripoli, northern Lebanon, who lives on the sixth floor of a building in the impoverished Bab al-Tabbaneh neighbourhood with her husband, four children and a grandson.
"We found ourselves going around in circles, not knowing where to hide," she said.
The effects of the earthquake can clearly be seen in the cracks and fissures lining the walls and columns of the building.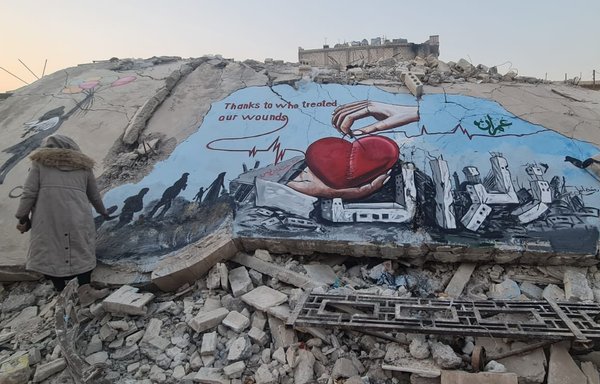 "Our building is in need of major repair now, and we live in fear of it collapsing on us," she said.
The devastating earthquake has revealed hidden facts in Lebanon, as the earthquake's aftershocks have reached virtually every corner of the country, damaging buildings especially in northern Lebanon -- and Tripoli in particular.
Lebanese caretaker Prime Minister Najib Mikati has tasked the ministry of interior with communicating with all municipalities to conduct a survey of damaged buildings.
However, residents of old neighbourhoods, some of whom live in buildings threatened with collapse, say their buildings have yet to be surveyed.
One of these residents, Rabih al-Masry, told Al-Mashareq they have not seen "any official organisation or institution touring the region to assess the condition of our homes".
Earthquake exacerbates issues
Al-Masry and his family live on the fourth floor of an old building in Baal al-Darawish, another Tripoli neighbourhood. Since the earthquake, they have been staying in a tent that his neighbour pitched on the street.
"[On February 6,] we woke up in a house that was swaying under our feet. Since then, we've been living in panic because the ceiling and walls are cracked, and part of the balcony has collapsed," he said.
Baal al-Darawish houses are old and cannot withstand earthquakes, al-Masry said, adding that they are at risk of collapsing at any moment.
Khaled Tadmori, a Tripoli city council member and chairman of the council's Heritage Buildings Committee, said the earthquake has exacerbated pre-existing problems that have plagued Tripoli's old buildings.
These buildings have not been inspected since the Lebanese war and the successive rounds of violence between the feuding neighbourhoods of Jabal Mohsen and Bab al-Tabbaneh that shook the city from 2007 to 2014, he said.
Tadmori said 1,500 buildings in Tripoli and its suburbs are at risk of collapse.
"We need a crisis cell with logistical and financial capabilities to launch the repair and reinforcement of all endangered buildings ... before it's too late."
"The pillars of most buildings in Bab al-Tabbaneh, Dahr al-Maghreb and Baal al-Darawish have cracked as a result of the recent earthquake," said Shafik Abdul Rahman, the executive director of Utopia, a Lebanese NGO that works with the needy and promotes social justice.
These buildings have not been repaired in decades, he said.
After the earthquake, their residents rushed onto the streets and spent the night in their cars at the Rachid Karami International Fair, according to Abdul Rahman.
Obstacles to aid delivery in Syria
In neighbouring Syria, some opposition members say the earthquake further exposed the inhumanity of the Syrian regime, which has been one of the biggest obstacles to the provision of vital international assistance to Syria.
About half of the Syrians affected by the earthquake live in areas controlled by the regime of Bashar al-Assad, which is under Western sanctions.
The other half live in Idlib province, the last opposition bastion, and adjacent parts of Aleppo province. Both areas are home to some four million residents, many dependent on humanitarian handouts after being displaced by the conflict.
Turkish-backed officials in Syria have put the death toll in opposition-held areas at 4,537, while the Syrian government has said 1,414 people were killed in areas under its control, AFP reported.
In the aftermath of the quake, activists and emergency teams in northwest Syria had decried the United Nations (UN)'s slow response, contrasting it with the planeloads of humanitarian aid that have been delivered to government-controlled airports.
The first UN aid convoy crossed into the area on February 9 -- three days after the 7.8-magnitude quake struck -- and carried tents and other relief for 5,000 Syrians. That convoy had been expected before the earthquake.
The UN largely delivers relief to Syria's northwest via neighbouring Türkiye through the Bab al-Hawa crossing -- the only way for aid to enter without Damascus's permission.
The crossing is situated in the Idlib region, which UN officials rarely visit and is controlled by the extremist group Tahrir al-Sham.
On February 13, the UN said Damascus had allowed it to use another two crossings in areas outside regime control -- Bab al-Salama and Al-Rai -- for three months.
At least 420 trucks loaded with UN aid have now crossed into the opposition-held pocket since the tragedy, says the UN.
Syrian regime 'devoid of humanity'
"International organisations and some countries have begun to bring in aid to opposition-held areas through the Bab al-Hawa, Bab al-Salam and al-Rai border crossings," said journalist Abdul Karim al-Omar, based in Zardana, Idlib province.
"Bashar al-Assad did not send [us] any of the aid that arrived in Syria," he said. "Meanwhile, regime-controlled media claim that al-Assad's government is attempting to deliver aid but that the opposition is preventing its entry."
Al-Assad is handing international aid over to the Islamic Revolutionary Guard Corps (IRGC) forces, the 4th Division -- led by his brother Maher al-Assad -- and the Russia-affiliated 25th Division ("Tiger Division"), led by Suheil al-Hassan, he said.
Ramadan Suleiman, a journalist from the quake-stricken town of Jandaris, told Al-Mashareq there is an urgent need for tents, because more than 1,200 families in Jandaris are living in their cars and are in dire need of assistance.
He said the regime "has not sent any of the aid that has entered its areas to the country's north, on the pretext that the opposition would take control of it and hoard it".
"This regime is devoid of humanity. It has no compassion for its people and has deprived even those living in regime areas of the aid, which it diverted to its warehouses to feed its army and militias," he said.