Iraqi militias linked to Iran's Islamic Revolutionary Guard Corps (IRGC) are draining Iraq's wealth by transferring large amounts of money from Iraq to Iran, a report says.
In a January 31 report, Iran International said it has "exclusive information" pertaining to a network that it said has transferred large amounts of money to the IRGC's overseas arm -- the Quds Force (IRGC-QF) -- and the Iranian embassy in Iraq.
The network, the report said, has smuggled tens of millions of US dollars collected from exchange firms in Baghdad, Najaf, Karbala and Suleimaniyah, and later deposited the funds in IRGC accounts.
According to the news outlet, the network is managed by Mahmoud Hosnizadeh, a senior IRGC-QF element, and two Iraqi nationals named Maytham Hamza Qassim Draji and Maytham Sadeqi.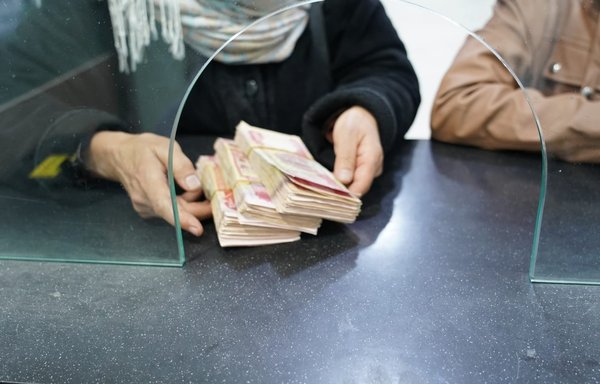 IRGC-QF's Unit 400 financial official Mohammad Tajangari is responsible for depositing the smuggled money in the IRGC-linked Ansar Bank in Tehran with the help of Mustafa Pakbaten, an Iranian embassy staffer in Baghdad, Iran International said.
Iraq has recently approved several measures to ensure its banking system's compliance with international money transfer regulations.
SWIFT system
The measures the Iraqi government has implemented to curb money-laundering in the country include establishing an electronic SWIFT platform, which is managed by the Central Bank of Iraq (CBI).
The platform enables governmental and international organisations, especially the US Federal Reserve, to monitor bank transfers and the purchase of hard currencies by Iraqi traders, importers and businessmen.
In a January 31 interview with Iraq's al-Ekhbariya news channel, Iraqi Prime Minister Mohamed Shia al-Sudani said fraudulent transfers worth hundreds of millions of US dollars occur daily in Iraq with fraudulent or inflated invoices.
Currency smuggling "has been a chronic problem for years", he said, adding that his government is making efforts to resolve the issue and preserve public money by reforming the banking and economic systems.
Meanwhile, Iraqi security teams have been formed and deployed at border crossings and along roads, and equipment has been installed to stop attempts to smuggle currency abroad.
Specialists have estimated the volume of smuggling in Iraq at more than $10 billion per year. This is based on the fact that Iraqi imports in 2021 were worth some $35 billion, while currency sales for imports were about $45 billion.
Money drain
Monitoring and procedural mechanisms adopted by the Iraqi government and the US Federal Reserve "are necessary for curbing the smuggling of dollars overseas, which negatively affects Iraqis' living conditions", said an economist on condition of anonymity.
It is important to take all the necessary legal measures to protect public money from bandits and influential people and to shut down one of the biggest sources of corruption that are destroying Iraq's economy and harming the country's security and stability, he told Al-Mashareq, referring to the IRGC.
The economist also called for "radical reforms in the trade, banking and taxation sectors by registering and regulating the work of businesses, conducting transfers using modern electronic means, and controlling the black market".
The IRGC is draining Iraq's dollar reserves not only through currency auctions but also through companies that are active in the construction and food industry sectors, thus harming the national production.
The IRGC's activities are linked to money laundering operations, and the proceeds are eventually directed toward Iran's plans for manufacturing rockets, explosives and drones and for shipping them to its regional proxies.
US Sanctions
In recent years, many IRGC commanders and proxies who run several projects in Iraq have been sanctioned by the US Treasury Department for their involvement in money laundering operations.
Alireza Fadakar and Masoud Shoushtari-pousti, senior IRGC members and co-owners of Bahjat al-Kawthar Company for Construction and Trading Ltd, were sanctioned by the US Treasury in 2020.
They were responsible for transferring illicit funds from Iraq and depositing them in Iranian banks.
Meanwhile, Iran has been flooding the Iraqi markets with fake Iraqi dinars to undermine Iraq's national currency value and force the CBI to inject more dollars, which Iran then purchases and smuggles through its proxies.
Over the past two months, the Iraqi currency has lost more than 10% of its value amid demands to the government to do more to stamp out dollar smuggling and protect the national currency from speculation and counterfeiting.