An investigation into a murder-for-hire plot in which would-be assassins targeted a US activist who has been critical of the Iranian regime is continuing after the January 27 announcement that three men have been charged.
A federal court in New York has unsealed murder-for-hire and money laundering charges against three members of an Eastern European criminal organisation whom it named as Rafat Amirov, Polad Omarov and Khalid Mehdiyev.
Amirov is a resident of Iran, Omarov hails from the Czech Republic and Slovenia and Mehdiyev is an Azerbaijani man who resides in New York.
US Attorney General Merrick Garland and other US officials identified the target of the assassination plot as "the victim", without providing a name.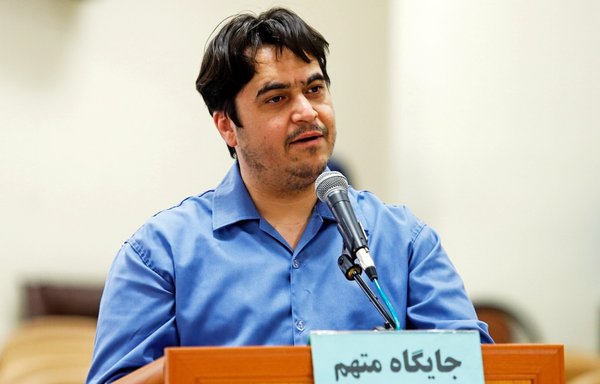 Masih Alinejad, a US citizen of Iranian origin who was previously targeted in a kidnapping plot disrupted by the Federal Bureau of Investigation (FBI), has identified herself as the target.
She reportedly launched a social media campaign in 2014 encouraging women in Iran to share self-portraits without the veil, which she then posted on her Facebook page, Asharq al-Awsat reported.
"The victim publicised the Iranian government's human rights abuses; discriminatory treatment of women; suppression of democratic participation and expression; and use of arbitrary imprisonment, torture and execution," Garland said.
"We will not tolerate attempts by a foreign power to threaten, silence or harm Americans," he added.
Kidnappings, assaults, extortions
Deputy Attorney General Lisa Monaco described the thwarted assassination plot as "a double threat posed by a vicious transnational crime group operating from what it thought was the safe haven of a rogue nation: Iran".
The plot "shows how far Iranian actors are willing to go to silence critics, even attempting to assassinate a US citizen on American soil", said FBI director Christopher Wray.
Amirov and Omarov hold leadership roles in the Eastern European criminal organisation indicted in the plot, of which Mehdiyev is a member, the US Department of Justice said January 27.
"The organisation has ties to Iran and is violent, engaging in murders, kidnappings, assaults and extortions, and members typically identify themselves with tattoos and other displays of eight-pointed stars," it said in a statement.
Since at least July, it said, the organisation was tasked with carrying out the murder of a US citizen of Iranian origin, who previously has been the target of plots by the government of Iran to intimidate, harass and kidnap.
"The victim is a journalist, author and human rights activist, residing in Brooklyn, New York, who has publicised the government of Iran's human rights abuses and suppression of political expression," it said.
"As recently as 2020 and 2021, Iranian intelligence officials and assets plotted to kidnap the victim from within the United States for rendition to Iran in an effort to silence the victim's criticism of the regime," it added.
Murder for hire charges
Beginning in approximately mid-July 2022, the US Department of Justice said, Amirov sent information he had received from other individuals in Iran about the victim and the victim's residence to Omarov.
Omarov communicated with Mehdiyev in order to begin conducting surveillance of the victim. Then Mehdiyev began sending photographs and videos of the victim's residence to Omarov for further sharing with Amirov and the plot's orchestrators in Iran.
Amirov and Omarov then arranged for the delivery of a $30,000 cash payment to Mehdiyev in New York City in furtherance of the plot.
"Mehdiyev used a portion of this cash payment to buy an AK-47-style assault rifle along with two magazines for ammunition and at least 66 rounds."
Between July 20 and 28, Mehdiyev "repeatedly traveled to the victim's neighbourhood to conduct surveillance and reconnaissance", sending reports of photographs and videos to Omarov to share with Amirov.
As Mehdiyev drove away from the victim's residence on July 28, he was stopped after a traffic violation. During a search of the car, police officers found the assault rifle, 66 rounds of ammunition, approximately $1,100 in cash, and a black ski mask.
Amirov, Omarov and Mehdiyev are charged with murder-for-hire, conspiracy to commit murder-for-hire, and conspiracy to commit money laundering.
Mehdiyev is additionally charged with possessing a firearm with an obliterated serial number.
Silencing dissidents on foreign soil
Other dissidents like Alinejad, who have been critical of the Iranian regime, have been the target of threats, intimidation and attacks on their lives in recent years.
Author Salman Rushdie, whose 1988 novel, "The Satanic Verses", sparked the ire of the Iranian regime, was the victim of a near-fatal assault in New York last year.
Islamic Republic founder Rouhollah Khomeini had accused Rushdie of "blasphemy", and in 1989 issued a fatwa calling for his death.
Hadi Matar, 24, a US-born Lebanese-American, repeatedly stabbed Rushdie in the neck and torso as the author was about to deliver a lecture at the Chautauqua Institution in New York state on August 12, say police.
Accusations of corruption also led the Islamic Republic to kidnap Paris-based Iranian dissident Ruhollah Zam, the founder of expatriate media outlet Amad News, and to execute him in Iran in December 2020.
On August 10, the US Department of Justice charged in absentia Islamic Revolutionary Guard Corps (IRGC) member Shahram Poursafi with plotting to assassinate former President Donald Trump's national security adviser John Bolton.
The plot to assassinate Bolton is likely in retaliation for the January 2020 air strike that killed IRGC Quds Force commander Gen. Qassem Soleimani, according to court documents.
US-based Iranian-American dissident Amir-Abbas Fakhravar also claimed in a statement to the media last August that the FBI had informed him of Poursafi's plans to target him as well.
The Iranian regime has committed some 360 murders outside Iran since the Islamic Revolution of 1978, according to a US State Department report in May 2020.
These terror plots have taken place in 40 countries, "mainly by way of the IRGC's overseas arm (the Quds Force), the Islamic Republic's Ministry of Intelligence, or by proxy groups such as the Lebanese Hizbullah", it said.
Almost all of the Iranian regime's victims have been dissidents or members of the Islamic Republic opposition.
"Iranian diplomatic personnel have repeatedly been implicated in assassinations abroad, as evidenced by arrest warrants, judicial and police investigations, intelligence services and witness reports," said the fact sheet.
Iranian assassins have also shown willingness to use criminal gangs, drug cartels and other third parties to carry out assassination plots abroad, it added.
"Iran consistently lies about its involvement in killings abroad, even when its own diplomatic personnel are caught surveilling attack targets, providing explosives or fleeing crime scenes."