US forces continue to support the Syrian Free Army (SFA), formerly known as Jaish Maghawir al-Thawra, with logistical support and intensive training, enabling it to reach a high level of preparedness, militia officials said.
In October, Jaish Maghawir al-Thawra, which is tasked with maintaining security in the 55km-radius deconfliction zone around al-Tanf garrison in the tri-border area, announced it has changed its name to the Syrian Free Army.
"The SFA, formerly Jaish Maghawir al-Thawra, is fully supported by the international coalition and the United States," SFA official Nasif al-Khaledi told Al-Mashareq.
He said the SFA receives weapons, as well as logistical and technical support, from the coalition.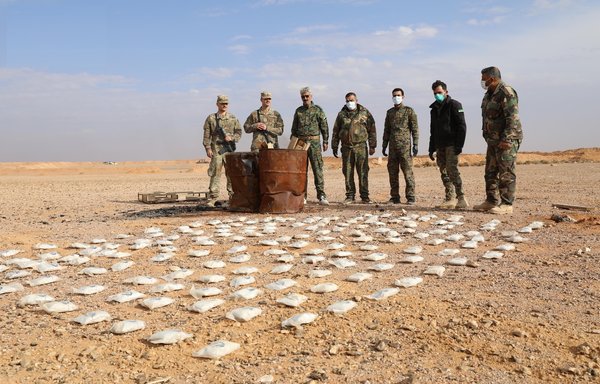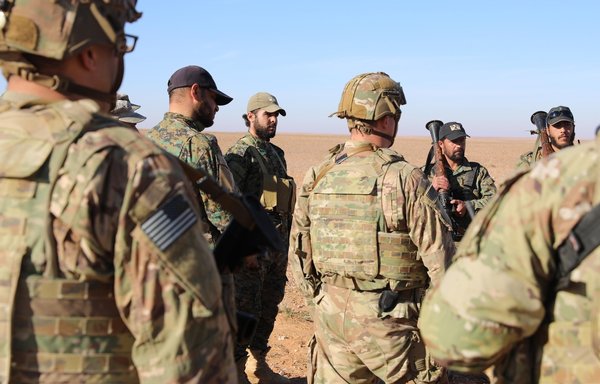 "US instructors provide ongoing training on all levels, including the use of light and medium machine guns, launch of direct and indirect projectiles, and deployment of combat, defence, assault, search and combing tactics," he said.
Theoretical training includes weapons-use demonstrations, deployment techniques, combat behaviour lessons and methods for dealing with civilians, he said, while combat training comprises live training, joint drills and patrols.
"The presence of al-Tanf base, as well as of SFA and US forces, is very important, given that the area is coveted by both Russian and Iranian forces who try to control the border area," al-Khaledi said.
The Islamic Revolutionary Guard Corps (IRGC) has carried out attacks using explosives-laden drones, the last of which was on January 20, but resulted in material losses only, he said.
"This forces the SFA to get further training in aerial reconnaissance and methods for dealing with aerial targets using anti-aircraft assets, which imposes a further burden on our forces," he added.
Strategically important area
The 55km deconfliction zone around al-Tanf is strategically valuable as it is situated along the Jordan and Iraq borders, said Tareq al-Naimi, a relief worker based in the area.
In addition to the garrison, the area also includes al-Rukban, an informal camp for displaced Syrians.
"The mission of the United States and SFA is not limited to military operations but also includes preventing infiltration along the border, thwarting the smuggling of contraband and assisting locals," he said, referring also to al-Rukban residents.
Helping locals includes providing them with food, drinking water, oil derivatives for heating and power generators, as well as equipping schools and bakeries, he said.
"This is in addition to providing health services at clinics -- some mobile -- for free," he said.
He said international coalition and SFA officers regularly meet with the al-Rukban population, tribal dignitaries, Bedouin and shepherds in the area to discuss concerns and find solutions.
"SFA elements also have been trained in land mine removal, and a specialised team has been formed to regularly scan the area and remove land mines left behind by the 'Islamic State of Iraq and Syria' (ISIS)," he said.
Desert warfare experience
"Training combat teams to conduct missions in vast desert areas like the 55km zone is one of the most challenging types of training," former Kuwaiti army officer Nasser Rashed told Al-Mashareq.
"Such areas are open and feature rough terrain that makes monitoring extremely difficult," he said, adding that the area's sandstorms reduce visibility, prompting the need for special training.
"The most difficult element that desert combatants face is the weather," he said. "They are faced with bitter cold, high humidity, extreme heat and poor visibility because of frequent sandstorms."
"Training relies on cavalry tactics, meaning swift movements on vehicles especially modified to suit the desert environment," Rashed said.
Such vehicles move fighters at high speed and have the ability to quickly manoeuvre, deploy on the ground and cover the widest possible area in record time, he added.
This is different from the desert warfare tactic used by armies reliant on armoured vehicles, he noted, as "the primary goal is to counter the terrorists, who are engaged in guerrilla warfare and use changing and swift tactics".
"US forces seem to have succeeded in preparing the SFA" for this task, he said, as evidenced by "the disappearance of ISIS elements from the area".