A large-scale security operation spearheaded by the Syrian Democratic Forces (SDF) that targeted "Islamic State of Iraq and Syria" (ISIS) sleeper cells in eastern Syria has left the extremist group reeling, Kurdish sources said.
Dozens of ISIS elements were arrested during the eight-day Operation al-Jazeera Thunderbolt, which was backed by the international coalition and Kurdish internal security forces, and concluded January 6.
In addition to the large number of arrests, security forces seized weapons, ammunition and improvised explosive devices (IEDs) during their push to crush the ISIS presence in the Iraq-Syria border area, security sources said.
The operation focused on the border towns of Tel Hamis and Tel Brak and a farm near al-Hol camp in al-Hasakeh province, said SDF officer Farhad Khoja.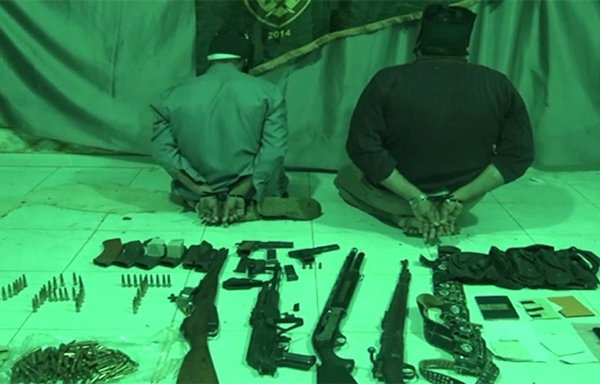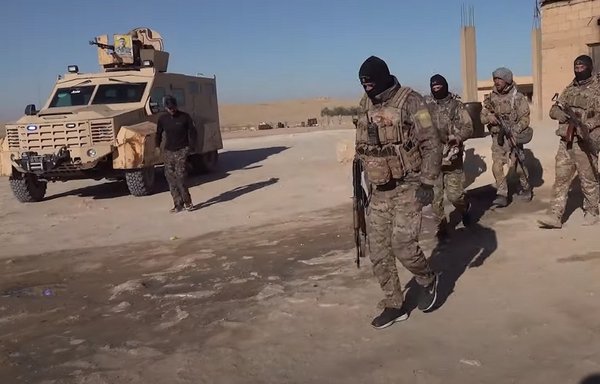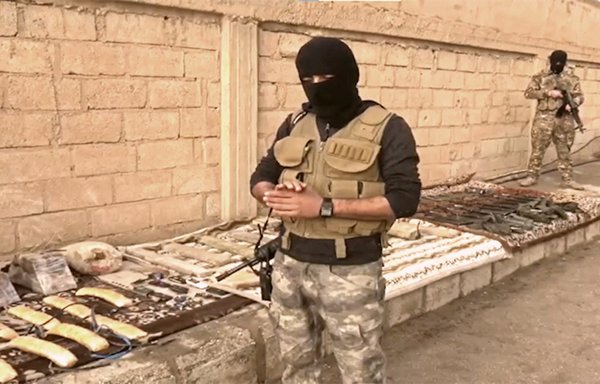 In total, security forces combed 55 villages in their quest to eradicate ISIS sleeper cells and the hideouts they used, he told Al-Mashareq.
"The operation thwarted a terrorist plan to target [Syrian Orthodox] Christmas celebrations in the city of Qamishli [on January 7], which would have caused a large number of civilian casualties," Khoja said.
Security forces participating in the operation also stopped ISIS from recruiting new fighters to replenish its ranks, which it is known to do using "threats, enticement or brainwashing", he said.
Among the 154 individuals arrested, there were "terrorists" who had planned and carried out attacks, killings, torture, theft and extortion, Khoja said.
Some of the detainees had provided shelter and logistical and media support to ISIS, he said, noting that security forces discovered arms depots, communication devices and incriminating documents during the operation.
A number of them had rigged vehicles with explosives in the ISIS attack on the Sinaa prison in January 2022, he said.
The SDF fully recaptured the al-Hasakeh province prison last January 26, following a days-long standoff with ISIS elements holed up inside.
Khoja said the investigations made it clear that ISIS elements move around using forged documents, and sometimes wear military uniforms to conceal their true identity from the public.
Efforts to eradicate ISIS
Many parts of eastern Syria still contend with attacks that target civilians, SDF personnel, oil field workers and Syrian regime forces, media activist Ammar Saleh told Al-Mashareq.
ISIS elements killed 12 oil field workers in a December 30 attack near al-Taym oil field in western Deir Ezzor province, he said.
"The preventive operations carried out by the SDF are considerably limiting the severity of these attacks, and civilian co-operation is contributing significantly to their success," he said.
Al-Jazeera Thunderbolt was "highly successful" because local residents reported the terrorists' hiding places, especially in Tel Hamis and Tel Brak, Saleh said.
Residents are frustrated with and tired of the abuse, youth recruitment and other woes ISIS has inflicted on them, he said.
ISIS elements are scattered across a vast area in small clusters, using far-flung hideouts in the type of rugged terrain that allows them to keep out of sight, military analyst Talaat Moussa said.
They conceal themselves in civilian clothing among the local population, and take advantage of summer dust storms and winter fog and rain to move around, he said.
With their efforts to eradicate ISIS, SDF and international coalition forces are playing "a very important and historic role that has benefitted the entire world, not just Syrians", he said.