As the Iraqi government attempts to pursue a path towards enhanced regional stability and co-operation, it has been continually pushed off course by Iran-aligned militias issuing threats and carrying out attacks, analysts said.
Since early 2021, the Iraqi government has been leading mediation efforts between Saudi Arabia and Iran, which severed diplomatic relations in 2016.
It has organised five rounds of bilateral dialogue in Baghdad, most recently in April 2022, and it is preparing the ground for new talks.
Yet the Iranian regime has persisted in undermining these efforts through its support for militias in Iraq and elsewhere in the region, which directly threaten regional security in support of Iran's interests and agendas.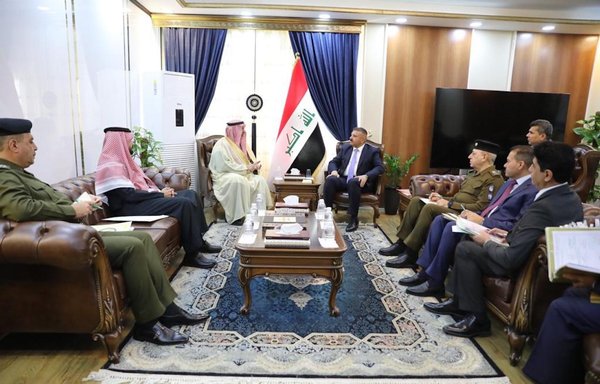 Iran's most loyal militia, Kataib Hizbullah, on November 29 threatened to stir up conflict in Saudi Arabia, after Tehran accused the kingdom of trying to undermine its regime.
Kataib Hizbullah has previously attempted to sabotage the Saudi-Iran talks through a campaign of incitement and threats against Saudi Arabia.
On October 27, Kataib Hizbullah accused Riyadh of being behind an attack claimed by the "Islamic State of Iraq and Syria" (ISIS) that targeted a religious shrine in the Iranian city of Shiraz.
Before that, Alwiyat al-Waad al-Haq, a Kataib Hizbullah affiliate, launched an attack in January 2021 on al-Yamamah Palace and other locations in Riyadh.
Other Iranian proxies have threatened and attacked the kingdom and other Gulf states.
In February 2022, the Iran-backed Houthis claimed responsibility for an attack with ballistic missiles and explosive-laden drones on facilities in the Emirati capital, Abu Dhabi.
On October 2, the Houthis threatened to attack companies operating in Saudi Arabia and the United Arab Emirates (UAE).
At the same time, Islamic Revolutionary Guard Corps (IRGC) affiliated Sepah Pasdaran and Sabreen news channels posted messages on Telegram against Saudi Arabia, threatening to target it with drones.
Iran is not seeking peace
This pattern of threats and attacks makes it clear that Iran is unwilling to bring peace to the region, analysts told Al-Mashareq.
"The Tehran regime does not carry credibility or reliability in its negotiations, whether regional or international," said strategy analyst Alaa al-Nashou.
Al-Nashou said he does not have faith in any project promoted by Iran to bring about peace and establish balanced partnerships in the region based on mutual interests and mutual respect.
"Iran's continued support of its armed groups and assistance to them in carrying out proxy attacks are harming regional security," he said. "The issuance of threats is evidence of the continuation of its hostile and destructive approach."
Iran's persistence with this behaviour makes it "more isolated and does not lend support to the efforts aimed at building opportunities for peace and stability in the region", al-Nashou said.
Analysts expressed concern that Iranian provocations will undermine not only Iraq's efforts to mediate but also its plans to adopt policies that would play a pivotal role in regional balance and openness to neighbouring countries.
Iraq rejects escalation attempts
Attending the second Baghdad Conference for Co-operation and Partnership in Jordan on December 20, Prime Minister Mohammed Shia al-Sudani stressed that Iraq distances itself from "axis policies" and escalation attempts.
Iraq "will not be a source of threat to neighbouring countries", he said.
Baghdad also emphasised its establishment of close ties and partnerships with the Arab and Gulf states through the conclusion of bilateral agreements.
The Iraqi Council of Ministers on December 13 approved two agreements with Saudi Arabia on maritime transport and avoidance of double taxation.
These come in the context of an Iraqi-Saudi agreement concluded in March 2021 that established a $3 billion joint Saudi-Iraq investment fund.
The two sides also have continuous security co-ordination in place between them to combat militia activities and hostilities that harm the security of the two countries, and bilateral co-operation to secure the common borders.
Iraqi Interior Minister Abdul Amir al-Shammari held talks in this regard during his December 31 meeting with the Saudi ambassador to Baghdad, Abdulaziz al-Shammari.