Iran is resorting to old tactics from its Middle East playbook to shore up Russia in its brutal invasion of Ukraine: ferrying armed drones to the Kremlin via its fleet of civil airliners.
Iranian civilian aircraft operated by Iran Air, Mahan Air, Qeshm Fars Air and Saha Airlines have made frequent flights to Russia in recent months, Forbes reported November 16.
At least 69 Iranian cargo flights have flown from Iran to Moscow since March, an in-depth analysis by aircraft tracker and image analyst Gerjon, based in the Netherlands, found.
The list was generated by combining data from Flightradar24, a live flight tracker, and ADSBexchange, a service that provides unfiltered flight data.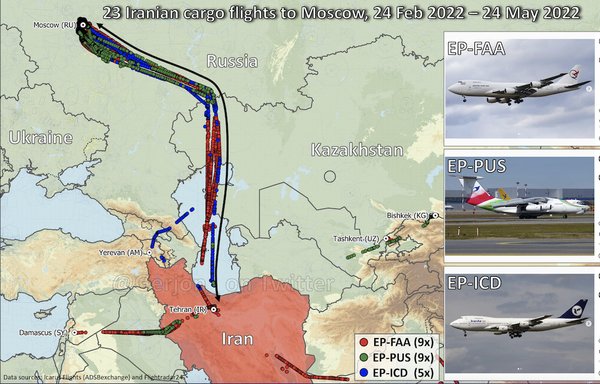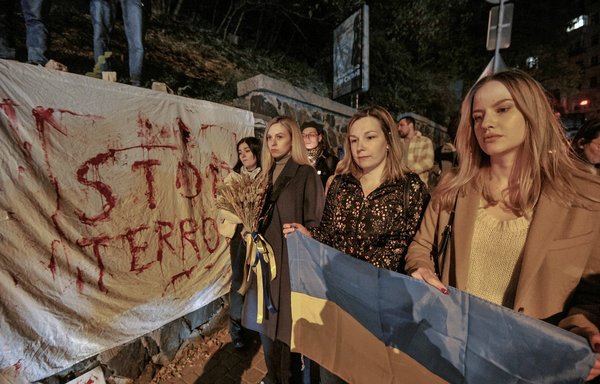 Iranian suicide drones
These flights are delivering Iran's Shahed-136 suicide drones that Moscow has been using against Ukraine's cities and electrical grid, say Western officials.
Iran soon also could deliver short-range ballistic missiles (SRBMs) to Russia, they fear.
On November 1, citing Western officials, CNN reported that Iran was preparing to send 1,000 more weapons to Russia shortly after completing a shipment of 450 drones.
The new shipment might include the first delivery of SRBMs, which could mark another significant escalation in the war.
Also in early November, the two countries finalised a deal in Iran to begin manufacturing Iranian drones on Russian soil, new intelligence revealed.
Russia and Iran are moving quickly to transfer designs and key components, the Washington Post reported November 19.
This would enable production of weaponised UAVs (unmanned aerial vehicles) to begin within months, officials familiar with the matter told the newspaper.
"Since the first downing of an Iranian-made Shahed-136 kamikaze drone on the territory of Ukraine on September 13, the ... Air Force and other components of the Defence Forces of Ukraine have destroyed 223 UAVs of this type," Ukraine's military said October 19.
After weeks of vehemently denying it has transferred drones to Moscow, despite ample evidence to the contrary, Tehran abruptly changed course on November 5.
Iranian Foreign Minister Hossein Amir-Abdollahian confirmed his country has provided Russia with drones, but rejected reports it has sent missiles to Moscow for its war on Ukraine.
Iran does not know how the drones are being used in Ukraine, as Tehran claims neutrality in the ongoing Russia-Ukraine war, he said, adding that the drones were dispatched before the war on Ukraine broke out.
Regular flights to Russia
However, the Iranian flights to Russia have occurred roughly twice a week since the Ukraine war began and the aircraft have been spotted at military facilities in Russian airports, Forbes reported.
The planes are owned by companies linked to Iran's Islamic Revolutionary Guard Corps (IRGC), which oversees Iranian extraterritorial operations through its Quds Force (IRGC-QF).
The United States has sanctioned Iran's civil air fleet over such illicit activities.
Years before Russia invaded Ukraine, Iran used these airliners to help prop up Syrian President Bashar al-Assad's regime.
Mahan Air, in particular, regularly flew fighters and weapons to Damascus. The airline's fleet was also used "for providing financial, material, or technological support for or to the IRGC-QF", according to the US Treasury Department.
In June 2020, Iranian media published an interview with Amir Asadollahi, a Mahan Air pilot, who recounted his experience having then-IRGC-QF commander Qassem Soleimani aboard his flight seven years prior.
Asadollahi said he was flying an airliner to Damascus in June 2013 carrying seven tonnes of what he described as "prohibited cargo".
Soleimani was among the 200 passengers on the plane.
Old Iranian playbook
Iran has been using Mahan Air to transport weapons, military equipment and foreign fighters to various conflict zones in the Middle East in support of its expansionist agenda, analysts say.
Some reports describe the airline as the main carrier for the IRGC and the Quds Force, said Middle East Centre for Regional and Strategic Studies researcher Fathi al-Sayyed, who specialises in Iranian affairs.
IRGC commander Hamid Arabnejad serves as the company chairman, he said, while another IRGC commander, Hamid Aslani, holds a senior position.
"Unit 190 of the IRGC specialises in the smuggling of weapons to other countries like Sudan, Yemen, Syria and Lebanon, and this unit uses all available means to transport cargo by land, sea and air through Mahan Air," al-Sayyed said.
"A similar unit, known as Unit 198, took charge of handling air transport flights to conflict zones and the transport of mainly IRGC officers in complete secrecy," he said. "This second unit often handles the protection and insurance of operations carried out by Unit 190."
Tehran turning to the East
In addition to Russia, Iran increasingly has been expanding its relations with China, under the pretext of stimulating its near-bankrupt economy and resisting international sanctions.
The Iranian regime signed two long-term strategic agreements with China and Russia that many analysts have described as "opaque".
After the March 2021 signing of the Iran-China 25-year "strategic co-operation pact" in Tehran, many Iranians accused the regime of "selling Iran".
Many later accused the regime of selling the rest of Iran to Russia, after the presidents of the two countries discussed "long-term co-operation within a 20-year framework" during a January 2022 meeting in Moscow.
From Beijing's perspective, "the point of the [25-year] deal is for China to gain a foothold in Iran, particularly on the islands of Jask and Kish in the Persian Gulf", said a former Iranian navy analyst who spoke on condition of anonymity.
Beijing has already constructed a series of ports along the Indian Ocean, creating a necklace of refuelling and resupply stations from the South China Sea to the Suez Canal. With the deal, focus will now shift to the Iranian ports of Jask and Chabahar.
Additionally, Tehran became a permanent member of the Shanghai Co-operation Organisation (SCO) during this year's SCO summit in Samarkand, Uzbekistan, held September 15 and 16.
But rather than helping Iran's crisis-stricken economy, as government propaganda relentlessly claims, an SCO membership provides Moscow and Beijing with open and unilateral access to Iran's resources.