BAGHDAD -- Iraq on Sunday (December 18) burned some six tonnes of illegal drugs, including vast piles of cannabis, Captagon and cocaine, in what officials said was the largest destruction operation in over a decade.
Government officials, wearing white coveralls and face masks, piled the drugs in holes dug into the sand, doused them with fuel and set them on fire.
Health Minister Saleh al-Hasnawi, speaking at the event outside a military base near Baghdad, said it was the first "destruction operation of this magnitude" since 2009.
The drugs were seized by "forces at border crossings" and other sites in Iraq, he said, and some had been stored for several years.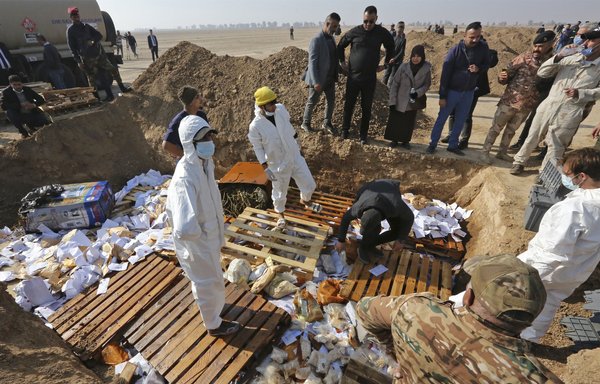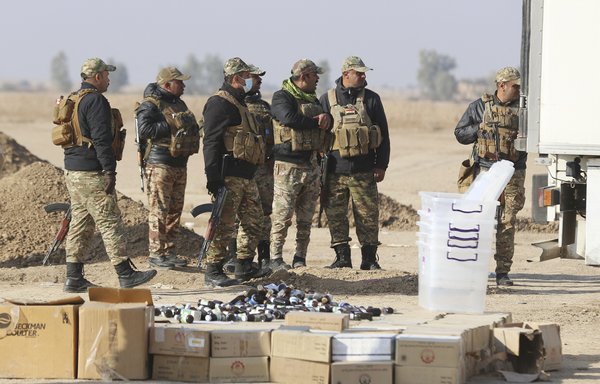 Baghdad is taking action to block smuggling networks that have been funneling drugs across the region from Iran and Syria, using Iraq as a corridor.
Areas bordering Iran have become major narcotic trafficking routes for drugs, including crystal methamphetamine.
Iraqi security forces have intensified narcotics operations in recent years with near-daily announcements of drug seizures and arrests of traffickers.
On Sunday, vast plumes of black smoke rose into the sky as the stocks were set on fire. The pile of drugs included 350kg of cocaine and 54 million pills, including 5 million pills of the amphetamine-type stimulant Captagon, a government official said.
Quantities of crystal methamphetamine and hashish were also destroyed.
Measures to combat drug trafficking
With illicit drugs flowing into and through Iraq from both east and west, Baghdad has been taking steps to block this activity by fortifying its borders, officials said.
In southeastern Iraq, work is under way to construct an earthen berm and trench along the border with Iran along the course of the Shatt al-Arab river.
Construction began in June on the new fortifications, which are meant to block the drug trafficking routes that smuggling networks use.
The majority of the recently destroyed drugs originated from Iran, but Lebanon and neighbouring Syria were also sources, the government official said.
While some drug traffickers use Iraq as a transit point, the country has also seen an explosion in domestic sales and consumption in recent years.
The effort to remove the scourge of drugs from Iraq has involved hundreds of arrests, raids and border security crackdowns, which have resulted in the seizure of huge quantities of various types of illicit narcotics, Iraqi officials said.
According to the Ministry of Interior, 5,300 people involved in drug trafficking were arrested, and four million Captagon pills and 100kg of other narcotic substances were confiscated between January 1 and April 30 alone.
The ministry's General Directorate of Narcotics Control announced the arrest of "hundreds" in drug-related raids in May.
The most widespread illegal drug in Iraq is crystal meth, which is smuggled in from Iran and most commonly used in central and southern Iraq.
Captagon pills, known in Iraq as "Zero One", are more widely used in the western and northern parts of the country.
These enter Iraq from Syria, which is a major Captagon production centre and a hub for export to Saudi Arabia and other Gulf states through Lebanon.
IRGC's role in smuggling drugs
Iran's Islamic Revolutionary Guard Corps (IRGC) and its proxies play a pivotal role in smuggling narcotics, political analyst Abdul Qader al-Nayel told Al-Mashareq in May.
"Drug trafficking is financially beneficial for the Iranians, as they reap huge profits from it, which they use to buy weapons and finance their proxies' activities," he said.
"The IRGC, with the help of Iraqi militias, Lebanese Hizbullah and the Iran-backed Houthis in Yemen, manages specialised mafia-like groups that handle the production, smuggling and marketing of drugs at regional and international levels," he said.
Iran-backed Iraqi militias smuggle or facilitate the trafficking of various types of narcotics into Iraq from Iran and Syria.