MANAMA -- A fishing trawler the US Navy intercepted last week in the Gulf of Oman along a maritime route from Iran to Yemen was found to be smuggling more than 50 tonnes of ammunition rounds, fuses and propellants for rockets.
The cargo was discovered Thursday (December 1) "during a flag verification boarding", the Bahrain-based US 5th Fleet said in a statement, noting it was the "second major illegal weapons seizure within a month" along the route.
"This significant interdiction clearly shows that Iran's unlawful transfer of lethal aid and destabilising behaviour continues," Vice Admiral Brad Cooper said.
"US naval forces remain focused on deterring and disrupting dangerous and irresponsible maritime activity in the region."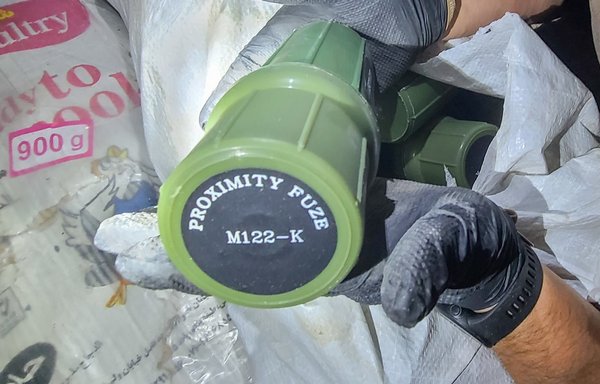 The fishing trawler was carrying almost 7,000 rocket fuses and "over 2,100 kg of propellant used to launch rocket propelled grenades", the statement said.
"The direct or indirect supply, sale or transfer of weapons to the Houthis in Yemen violates UN [United Nations] Security Council Resolution 2216 and international law," it added.
On November 15, the US Navy said it had scuttled a boat transporting "explosive materials" from Iran to supply the Houthis, with enough power to fuel a dozen ballistic rockets.
A few days later, on November 22, a US Navy guided-missile destroyer seized an estimated $20 million worth of illegal drugs from a fishing vessel while patrolling the Gulf of Aden, without specifying the origin or destination of the cargo.
Iran has repeatedly attempted to raise revenue for itself and its proxies, including the Houthis, by engaging in the sale of illegal drugs.
US Naval Forces Central Command (US NAVCENT) is currently rewarding individuals up to $100,000 for voluntarily providing information as part of a new programme.
Tips can be reported by calling +973 3914-5845 or by visiting the website https://dodrewardsprogram.net. For additional information on how to report a tip or reward eligibility criteria, go to https://www.cusnc.navy.mil/DoD-RP/
Houthi attacks on Yemen's ports
In recent months, the Iran-backed Houthis have carried out at least three drone strikes at ports on Yemen's southern coast, disrupting oil exports, the main source of income for the country and its government.
The strikes since late October caused no casualties but stopped some tankers from docking at the government-controlled harbours of Qena and al-Dabah.
They followed the failure to extend a truce brokered by the United Nations that expired October 2, which had brought a much-needed pause in the war.
A new truce has been hampered by the Houthis' demands that the government pay wages for civil servants and even members of the armed forces in areas under Houthi control, including Sanaa.
By attacking oil ports, Yemen's economic lifeline, the Houthis are "pressing for their demands to be met", said Carnegie Middle East Centre researcher Ahmed Nagi.
The strikes also reveal the "economic challenges" the Houthis are facing in territories they hold, Nagi said.
Maged al-Madhaji, a researcher at the Sanaa Centre for Strategic Studies, said the Houthi attacks amount to "blackmail" of the government.
"They want a share of resources without making concessions," he said, warning that targeting ports is a "big gamble that risks pushing the government into an extreme" response.
Undermining peace efforts
The recent port attacks, all claimed by the Houthis, "undermine peace efforts", Rashad al-Alimi, who heads Yemen's Presidential Command Council, said earlier this month.
In a briefing to the UN Security Council in November, UN envoy to Yemen Hans Grundberg called the Houthi attacks a worrying development.
These drone strikes deprive the Yemeni government "of its main source of revenue from exporting oil" and "undermine the welfare of the entirety of the Yemeni people", he said.
"They risk setting off a spiral of military and economic escalation."
Iran on Saturday announced it has begun the construction of a new nuclear plant in the southwestern province of Khuzestan.
In televised remarks, Atomic Energy Organisation of Iran director Mohammad Eslami announced the start of construction of the 300-megawatt Karun power plant in the province's Darkhovin district.
Tehran has repeatedly denied that it seeks to develop an atomic bomb.
But Iran said last month said it had begun producing uranium enriched to 60% at its Fordow plant.