In a sign of their deepening alliance, Tehran and Moscow have quietly agreed to begin manufacturing Iranian drones on Russian soil, new intelligence reveals.
Russian and Iranian officials finalised the deal in Iran earlier this month, the Washington Post reported Saturday (November 19), and the two countries are moving quickly to transfer designs and key components.
This would enable production of weaponised unmanned aerial vehicles (UAVs) to begin within months, officials familiar with the matter told the newspaper.
Multiple NATO countries have seen the intelligence, the newspaper said, though government officials declined to discuss the details.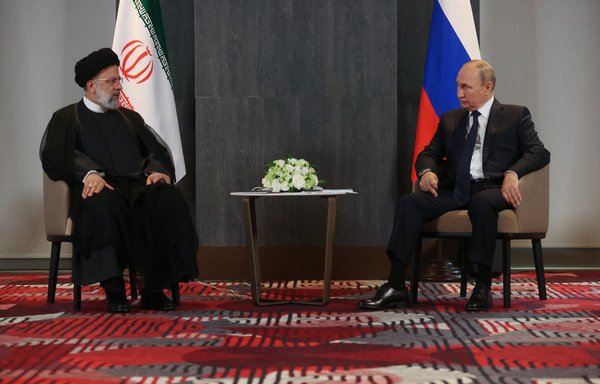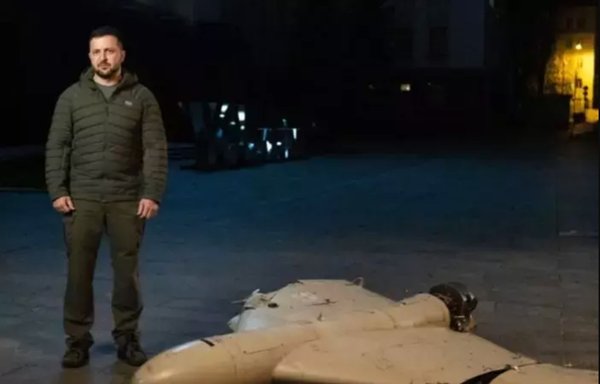 If fully realised, the deal would represent a further deepening of a Russia-Iran alliance that already has provided crucial support for Moscow's faltering military campaign in Ukraine, officials told the newspaper.
"By acquiring its own assembly line, Russia could dramatically increase its stockpile of relatively inexpensive but highly destructive weapons systemsalaa that, in recent weeks, have changed the character of the Ukraine war," it said.
"For Moscow, the agreement could fill a critical need for precision-guided munitions, which are in short supply after nine months of fighting."
Iran seeks to reap substantial economic and political benefits from the arrangement, including potentially averting new sanctions if the drones are assembled on Russian soil, the officials said.
One of the officials "described an aggressive effort by both countries to facilitate production of Iranian-designed drones inside Russia", which is proceeding quickly from decision-making to implementation, the newspaper said.
"Iran and Russia can lie to the world, but they can't hide the facts," National Security Council spokeswoman Adrienne Watson told the Washington Post.
"Tehran is helping kill Ukrainian civilians through the provision of weapons and assisting Russia in its operations," she said. "It's another sign of how isolated both Iran and Russia are."
Iran 'spreading bloodshed'
Britain's foreign minister on Saturday hit out at Iran for "spreading bloodshed" and vowed to work with allies to counter Tehran as he addressed the annual Manama Dialogue conference in Bahrain, AFP reported.
Ukraine and its Western allies have accused Iran of supplying Russia with drones that they say Moscow has used in recent weeks to carry out attacks in Ukraine.
"Iranian-supplied weapons threaten the entire region," British foreign secretary James Cleverly said.
"The regime has resorted to selling Russia the armed drones that are killing civilians in Ukraine".
Cleverly also slammed Russian President Vladimir Putin for threatening global security.
"No country is immune from the turmoil he has brought to world markets or the damage he has caused to global food security", he said.
"Putin's war is inflicting yet more suffering on Syrians and Yemenis, who were already enduring the privations of humanitarian emergency, and ordinary Lebanese, caught up in economic crisis," he added.
A day earlier, European Commission President Ursula von der Leyen also warned in Bahrain that Iran's "weapons proliferation" is a threat to Europe, hinting at further sanctions against the Islamic Republic.
Tehran is teaming up with Russia to undermine the "global order" by providing weapons such as drones, she told the Manama Dialogue conference.
"Several Gulf countries have been warning for years about the risk that Iran feeds rogue nations around the world with drones," von der Leyen said.
"It took us too long to understand a very simple fact that while we work to prevent Iran from developing nuclear weapons, we must also focus on other forms of weapons proliferation, from drones to ballistic missiles."
"It is a security risk not just for the Middle East, but for us all," she added.
"We are co-ordinating with partners and allies to take further sanctions against Iran responding to the proliferation of Iranian drones," von der Leyen said.
Arms deals and denials
The United States on November 15 imposed a fresh tranche of sanctions on Iranian and Russian entities and individuals, including the Wagner mercenary group, for supporting Russia's war on Ukraine.
This includes Tehran's transfer of drones to Russia, which has been using them to strike civilian infrastructure and cities, the US State Department said.
After weeks of vehemently denying it has transferred drones to Moscow, despite ample evidence to the contrary, Tehran abruptly changed course on November 5.
Iranian foreign minister Hossein Amir-Abdollahian confirmed Iran has provided Russia with drones, while rejecting reports it has sent missiles to Moscow for its war on Ukraine.
The foreign minister said Iran does not know how the drones are being used in Ukraine, as Tehran claims neutrality in the ongoing Russia-Ukraine war, and claimed the drones were dispatched before the war on Ukraine broke out.
Iran previously admitted that it sent drones to Russia but insisted they were supplied to its ally before Moscow's invasion of Ukraine.
Tehran has meanwhile continued to strike arms deals with Moscow.
In a November 9 report, Sky News quoted a security source who said Russia had flown 140 million euros ($144 million) in cash and a selection of captured US- and UK-made weapons to Iran in exchange for dozens of deadly drones.
The transaction was reportedly carried out in the early hours of August 20.
The source alleged that a further drone deal worth 200 million euros recently had been agreed between Tehran and Moscow, which means "there will be another big supply of UAVs from Iran soon".