In a time of increased anxiety and insecurity around the world, the US military continues to maintain a large array of aircraft refueling capabilities, allowing its air force unparalleled ability to strike wherever threats reside.
The US Air Force is estimated to have between 450 and 500 sole-purpose refueling tankers, while it and the US Marine Corps can also deploy hundreds more aircraft, such as C-130s, certain helicopters and F-18 fighter jets, that can be equipped to "buddy" tanks to vastly extend this sort of capability.
Beijing, which maintains the largest armed forces in the world by active duty military personnel, has nowhere near the refueling capability maintained by the US military, with some observers saying the United States has approximately 80% of the global military refueling aircraft.
"The US military's ability to promptly project power over intercontinental distances and sustain operations at theater scales is one of its most significant advantages," said a 2021 Hudson Institute report titled "Resilient Aerial Refueling: Safeguarding the US Military's Global Reach".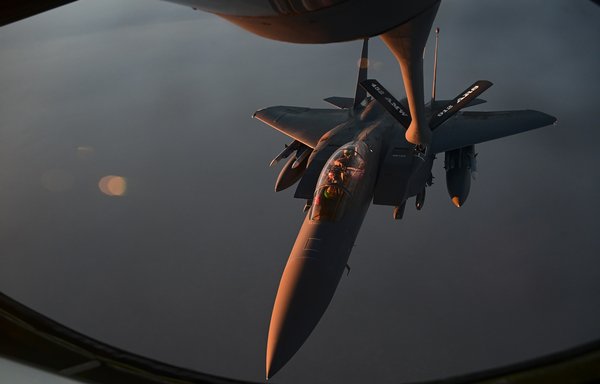 "Aerial refueling is arguably the most important contributor to this uniquely American capability," it continued.
What also sets the US military apart from other global powers is its ability to refuel its aircraft unilaterally or in co-ordination with partner nations.
The KC-46 Pegasus can notably refuel about 97% of aircraft flown during US Transportation Command missions, according to Air Mobility Command.
The Pegasus is able to refuel large aircraft, such as B-52 Stratofortresses and C-17 Globemasters, as well as smaller aircraft, such as F-16 fighter jets.
Gen. Mike Minihan, commander of Air Mobility Command, approved the upgraded KC-46A Pegasus for worldwide deployments to meet combatant command taskings effective September 14.
"We are ready to use this aircraft globally in any fight, without hesitation," Minihan said.
The KC-46A at the time had recently completed an employment concept exercise in the US Central Command (CENTCOM) area of operations, which includes the Middle East and Central Asia.
The aircraft was evaluated while filling real-world taskings in support of combat operations and supplementing other tanker aircraft in theater.
Ready and waiting
US aerial refuelers are stationed around the globe and can quickly support US global and regional missions as well as support almost any regional partner quickly, say military experts.
Ongoing missions across the world continue to showcase this capability.
Earlier this month, for instance, two B-52H Stratofortress aircraft flew from the US state of Louisiana to the CENTCOM region and co-ordinated with 13 partner nation air forces along the way.
During that multi-hour mission, the B-52s were pictured refueling at multiple points by aircraft stationed at bases in the region.
Another example was an extensive US-led training exercise in September.
Part of the Agile combat employment (ACE) series, the exercise focused on rapidly deploying aircraft and other forces to various areas and conducting sustained operations using networks of well-established and austere air bases, pre-positioned equipment and airlift.
Air refueling was a key component of the exercise, as participating units conducted their deployments in a region extending from Egypt to Kazakhstan.
Power projection
Such a capability enables the United States and its allies to project power and counter threats in key strategic areas, including the Arabian Sea -- the waterway that all Iranian ships must pass to reach world ports, and a key link in China's "string of pearls".
Iran has long threatened to close the Strait of Hormuz, which links the Arabian Gulf with the Gulf of Oman and the Arabian Sea, and attack maritime vessels in the event of war.
Meanwhile, China's massive infrastructure drive to connect its mainland to the Horn of Africa via a network of military and commercial facilities in recent years has raised concerns.
Its sea lines run through major maritime choke points including Bab al-Mandeb Strait at the entrance to the Red Sea; the Strait of Malacca, between the Indian and Pacific oceans; the Strait of Hormuz, at the entrance to the Persian Gulf; and the Lombok Strait, between the islands of Bali and Indonesia.
Beijing's global infrastructure drive, -- known as the Belt and Road Initiative (BRI) or One Belt, One Road (OBOR) -- continues inland, reaching other parts of the Middle East, Central Asia and Africa.
China's ostensibly commercial projects serve a dual purpose, allowing its rapidly growing military to expand its reach, warn critics.
The reach of the United States also covers Central Asia, which is facing its own increased tensions.
Russia under President Vladimir Putin is making up non-existent threats in Central Asia to maintain influence in what was once "its backyard", and is using military and economic blocs with ex-Soviet states to hold them down.
But in the fallout of its failing invasion of Ukraine, the Kremlin now faces a region eager to separate itself from Russia and seek new allies, creating elevated tensions.