BEIRUT -- Hizbullah is continuing to incur heavy human losses as a result of its intervention in Syria, even after the de facto victory of the Syrian regime.
Despite the halt in the fighting, the Iran-backed party continues to suffer casualties as its elements, military positions and smuggling convoys come under increasing pressure from the Syrian regime's 4th Division and other groups.
Though ostensibly allies, Hizbullah and the 4th Division, led by Bashar al-Assad's brother, Maher, are emerging as competitors and rivals over drug-smuggling operations and control in some areas.
To stem its losses, which include a loss of support and confidence from its Lebanese base, Hizbullah is considering repositioning its forces in Syria and returning to Lebanon, analysts told Al-Mashareq.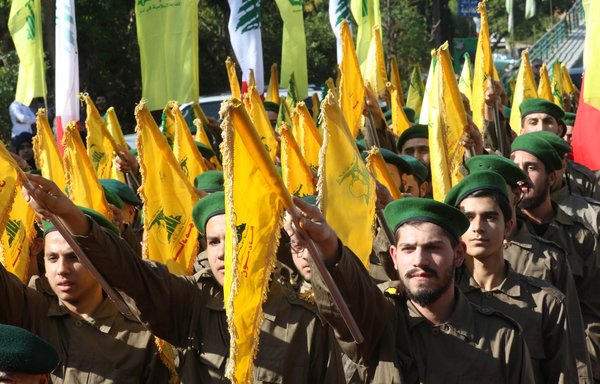 A number of the party's first-tier commanders have been killed in Syria.
Unknown gunmen in October assassinated an element close to the party who worked for a drug-smuggling network in the Quneitra town of Khan Arnaba.
Hizbullah's losses are numerous, "yet despite that and despite the establishment of security in regime-controlled areas, the party and the Iranian militias are still present" in Syria, said Southerners for Freedom co-ordinator Hussein Ataya.
Distrust among 'friends'
The party is repositioning its forces in western Qalamoun and some areas of rural Damascus "following disputes, incidents and clashes with the 4th Division", Ataya told Al-Mashareq.
This is after the 4th Division issued an ultimatum to Hizbullah in July "restricting the freedom of movement of its members on both sides of the border", he said.
Starting in November, he said, this includes various restrictions on Hizbullah, such as a demand that it park its vehicles on the Lebanese side of the border and cross on foot to the Syrian side.
"Distrust arose between the two sides over the sharing of the proceeds of the smuggling of foodstuff and oil derivatives, and the manufacture and smuggling of drugs such as Captagon through illegal crossings controlled by Hizbullah."
Ataya noted that Hizbullah "has suffered heavy losses since it entered the Syrian war, with thousands of its elements killed".
"The human losses the party is incurring have become a real problem for it and its base, especially after the halt in the Syrian war, as Hizbullah continues to pay the price in human losses through the lives of its members," he said.
Ataya said Hizbullah repositioned its forces in some areas because of heavy losses it incurred when weapon convoys coming from Iran to the party's warehouses in Lebanon came under attack.
Most recently, Ataya said, air strikes targeted a convoy of tankers, damaging at least two of them and killing about 20 people.
Meanwhile, he said, "Hizbullah is being dealt heavy and painful blows across the entirety of Syria by the Syrian opposition, as well as blows from the 4th Division".
Base loses confidence
Hizbullah "has suffered massive losses in terms of human lives and military equipment since it entered the Syrian war", Lebanese Centre for Research and Consulting director Hassan Qutb told Al-Mashareq.
"It is currently coming under security pressures targeting its members, which is inflicting further losses on it, in addition to losing the confidence of its base", he said.
There has been an escalation in attacks against Hizbullah elements and allied Syrian militias, he added, "from Quneitra to the Qalamoun heights, through rural Homs and Hama to Deir Ezzor and Albu Kamal on the Iraqi-Syrian border".
He said the security situation in Syria prompted its base -- which previously has gone along with the party's recruitment of Shia youth to fight in Syria -- to question the reason for its continued fight in Syria.
People are asking "what objectives have been achieved and for whose benefit?" Qutb said.
They also are demanding answers about the party's future and its role in the Syrian arena "in view of the collapse of the Syrian economy and worsening living conditions in Syria and Lebanon", he said.
One of Hizbullah's biggest losses has been the repudiation of its base, he noted, as the party devolved from being a hotbed of "resistance" into being a group that produces and exports illicit drugs such as Captagon.
There has been an uptick in reports about drug factories in the northern Bekaa Valley, with the Lebanese army pursuing and clashing with smugglers and drug dealers on an almost daily basis.
No gains for Hizbullah
Hizbullah "will eventually return to Lebanon, without having been able to achieve the objective for which it took part in the fighting in Syria", political writer Tony Boulos said.
The party has failed to bring about demographic change to expand its base of support from Lebanon's Bekaa Valley into Syrian territory, he said.
Instead, it has turned Qalamoun and al-Qusayr, where it expelled the original inhabitants, into drug plantations and hubs for the export of Captagon, he said.
After sacrificing the lives of fighters in its ranks under the false pretense that it was "protecting the holy Shia shrines", it today "stands embarrassed before its base and its ideology", he said.
Hizbullah's losses in Syria amount to more than 2,000 dead, wounded and disabled, Boulos said, which has left it having to fulfil its obligation toward their families.
Meanwhile, the damage it inflicted on the Syrian people is now blowing back on Lebanon, he said, and "the Syrians' wounds will take a long time to heal as a result of what Hizbullah has done to them".