Iranian fingerprints are all over a multi-million dollar arms trafficking enterprise, blacklisted by the United States on Tuesday (November 1), that funneled weapons between Iran, Yemen and the Horn of Africa.
Iranian weapons and money are deeply entangled in the illicit network, allegedly feeding the violence by al-Shabaab, an al-Qaeda affiliate based in Somalia, and the "Islamic State of Iraq and Syria" in Somalia (ISIS-Somalia).
The US sanctions, targeting eight individuals and one company, were announced two days after al-Shabaab claimed responsibility for October 29 bombings that killed at least 100 and injured 300 in Somalia's capital, Mogadishu.
According to the US Treasury, the sanctions targeted "critical nodes for a weapons trafficking network that is closely integrated with ISIS-Somalia".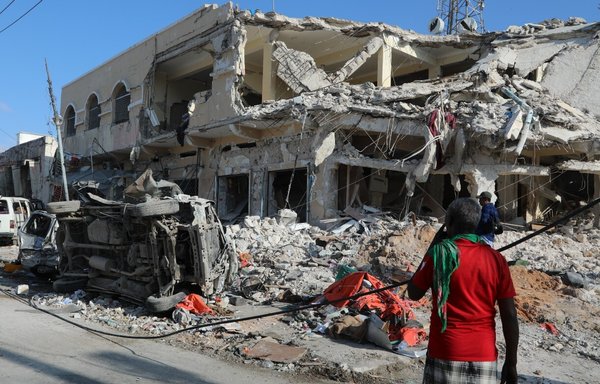 "These networks operate primarily between Yemen and Somalia and have strong ties to al-Qaeda in the Arabian Peninsula (AQAP) and al-Shabaab," it said, noting that these are the first US sanctions designating ISIS-Somalia.
Many of the sanctioned individuals are also involved in other illegal activities, including piracy and environmental crimes, the US State Department said, demonstrating their integration with illicit networks operating in the region.
"ISIS has increasingly sought to generate revenue in East Africa," it said. "ISIS-Somalia, which continues to conduct terrorist attacks against civilians, generates much of its funding by extorting local communities for funding and recruits."
"The group punishes, intimidates and assassinates Somali businessmen and civilians who do not support it financially or provide supplies," it added.
ISIS-Somalia pledged allegiance to ISIS in October 2015 under Abdiqadr Mumin, previously a senior leader of an al-Shabaab faction operating in the Somali region of Puntland.
The United States has designated both Mumin and ISIS-Somalia as terrorists.
"ISIS-Somalia commonly works with other terrorist organisations such as al-Shabaab and Somali pirates and smuggling groups, who will sell to any paying buyer, to obtain weapons and other resources," the Treasury said.
Rifles smuggled from Iran
Of the eight individuals blacklisted Tuesday, four had clearly documented links with Iranian nationals or with Iran's proxies in Yemen, the Houthis.
Abdirahman Mohamed Omar, who smuggled arms from Yemen to Somalia, was considered the most active illicit arms importer in Puntland as of 2020, and has executed more than $2 million worth of transactions over a four-year period.
He has been involved in weapons facilitation to ISIS-Somalia and al-Shabaab since at least early 2017 and has worked closely with AQAP facilitator Sayf Abdulrab Salem al-Hayashi, the US Treasury said.
In mid-2020, Omar facilitated a weapons shipment to ISIS-Somalia from a member of ISIS-Yemen. In mid-2021, he arranged and procured a shipment of weapons from Ash Shihr -- a coastal town in Yemen's Hadramaut province.
This shipment, procured at the request of ISIS-Somalia members, contained more than 30 G3 rifles from Iran, among other weapons, including more than 30 boxes of machine guns and rifles and improvised explosive device initiators.
As of late 2021, the Treasury said, Omar operates out of the Somali Port of Bacaad, smuggling arms out of Yemen on a dhow, concealed under ice and fish.
Once in port, Omar contacts Ahmed Haji Ali Haji Omar, also blacklisted Tuesday, to load the weapons onto camels and donkeys, where they are concealed in white sugar and rice sacks, and transported at night to the Qandala Mountains.
Here they are picked up by members of ISIS-Somalia and al-Shabaab.
Omar also has been in contact with companies that engage in illegal, unregulated, and unreported fishing and a forced labour fishing operation.
Iranian weapons smugglers
Arms smuggler Mahad Isse Aden, a partner to Omar in the arms trade, has sold weapons to both ISIS-Somalia and al-Shabaab, transferring nearly $800,000 to arms suppliers in Yemen between 2015 and 2020.
As of early 2016, the Treasury said, Aden had worked with Iranian weapons smugglers and received his weapons from both Yemen and Iran.
As of late 2020, Aden was one of the most prolific arms traffickers operating between Yemen and Puntland, Somalia, serving as a key node linking Yemen and Somalia-based arms trafficking networks.
Also based in Puntland is Isse Mohamoud Yusuf, an ISIS-Somalia weapons and logistics facilitator and arms smuggler who is a relative of Mumin and a former leader of the Puntland Piracy Network.
Yusuf runs a network of smuggling vessels, including several he owns and uses to transport weapons, including AK-47s, PKMs, RPG-7s, and IED components, from Yemen for ISIS-Somalia, the Treasury said.
Yusuf co-ordinates shipments based directly on ISIS-Somalia requests involving both weapons and non-lethal supplies for the group.
He also runs a network of black-market smugglers who, as of 2021, organised a shipment of weapons and ammunition for ISIS-Somalia, and smuggles equipment and cargo into Puntland to support ISIS-Somalia and al-Shabaab.
In early 2022, Yusuf facilitated the travel of ISIS militants on his dhow from the Middle East to Somalia to attend meetings on the restructuring of ISIS-Somalia's leadership, tactics and strategies.
Houthi-connected fishing agents
As of early 2022, Iranian businesses were contracting Houthi-connected fishing agents and dhows to conduct deep-sea blast fishing off the Somali coast.
These vessels belonged to a network that used fishing as a cover to work on Iranian weapons trafficking, transportation, and money laundering. Yusuf owned a dhow that was used for deep-sea fishing activities as part of this network.
The purpose of deep-sea blast fishing was to get the maximum number of fish from the floor of the sea by blasting dynamite.
Iran has been accused previously of helping itself to Yemen's fish wealth via illicit fishing operations, even as that country teeters on the brink of famine.
Yusuf has purchased fuel in Qandala, Somalia, to sell in Yemen, using the profits to purchase weapons from AQAP to sell to pirates back in Qandala.
Mohamed Ahmed Qahiye was the head of the Amniyat, al-Shabaab's intelligence wing. In early 2020, Qahiye and Mumin met with Iranian nationals who paid more than $10,000 to ISIS-Somalia leadership.
Separately, Qahiye and Mumin requested an arms shipment from Yemen that included more than 20 boxes of AK-47 ammunition, boxes of pistol ammunition, RPG launchers and PKM machine guns.
Also blacklisted are Liibaan Yousuf Mohamed, al-Shabaab's senior Amniyat operative and kidnapping facilitator; the company he manages, Liibaan General Trading Co.; and ISIS-Somalia emir Abdirahman Fahiye Isse Mohamoud.
The sanctions also hit Brazil-based Osama Abdelmongy Abdalla Bakr, who the Treasury said contacted officials of North Korea in 2016 in an attempt to buy weapons and anti-drone technology for ISIS-Somalia.
The purchase never took place, the Treasury said.