Russian forces are targeting agricultural operations, civilian infrastructure and private homes in southern and western Idlib province with deliberate, near-daily air strikes, Syrian activists said.
The wave of destruction has made it difficult for local residents to meet the demands of daily life, and has effectively prevented them from being able to secure their daily sustenance, they told Al-Mashareq.
Russian forces "have for some time been intensifying their air strikes on areas in south and west Idlib province", White Helmets media official Khaled al-Khatib said.
Civilian operations have been specifically targeted, he added, "as if the Russian forces intended to deprive them of the most basic living requirements and render the area totally barren".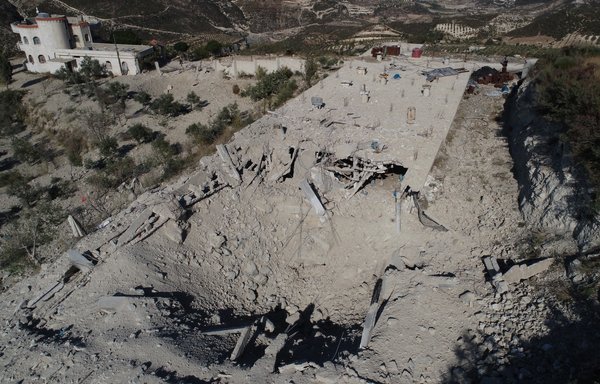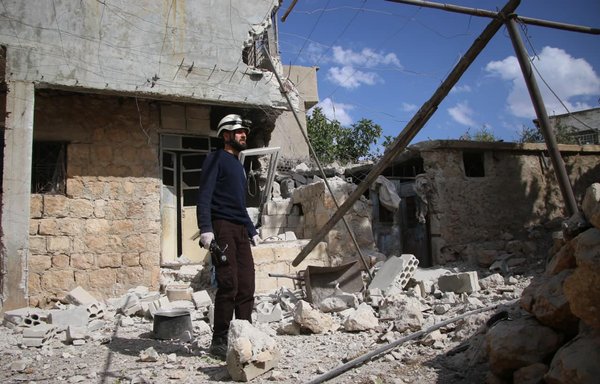 It is unclear why this is happening, he said, as this is an agricultural area, and "the majority of the people present in these areas are internally displaced persons (IDPs), along with local residents".
Russian forces are targeting all villages and towns without exception, al-Khatib said, striking agricultural fields, poultry farms and livestock.
They are hitting electricity transmission stations, homes and schools, and civil defence ambulance and firefighting teams have been targeted more than once, which has hampered rescue and firefighting operations, he said.
Incendiary bombs have been used to target agricultural fields and olive groves, al-Khatib added, noting that this area contains the region's largest olive groves.
The area used to be known as an exporter of olives and olive oil, he said, and was once able to meet the needs of the local market.
Residents gripped with fear
"Most of the agricultural lands have been subjected to air strikes and bombardment with missiles by the Russian forces," Idlib farmer Mahmoud Ismail told Al-Mashareq.
These areas are being targeted at harvest time, he said, most recently during the olive harvest when they were struck on a daily basis, damaging the trees and sparking fear among the local population.
Olive trees are perennial, he pointed out, and do not bear fruit until many years after they are planted.
"Many families in the villages of Idlib province depend on this season for their daily livelihood, be they landowners or workers," he said.
"Depriving them of one season has disastrous consequences in terms of them securing their basic needs."
The problem is not limited to the shelling and air strikes, Ismail said, as unexploded ordnance (UXO) used in these assaults endangers and terrifies local residents.
White Helmets UXO removal teams can barely keep up with the removal of explosive remnants, he said, because many areas are targeted repeatedly, and need to be cleared again and again.
Civilians are prevented from approaching these areas until explosive remnants are disposed of, he added, which affects agricultural operations, from planting the crops and tending them, right through to the harvest.
"In short, what is happening is a real catastrophe that has befallen the region," he said, and affects everyone -- from the landowners to those who plough, plant and tend the harvest, tractor owners, merchants and transport workers.
Russia's scorched-earth policy
"What Russia is doing in targeting Syrian civilians in the Idlib region is not surprising or different from the Russian regime's usual modus operandi," Syrian lawyer Bashir al-Bassam said.
Civilians have been targeted systematically since Russia intervened in the Syrian conflict in support of Bashar al-Assad, he said, and Russia is doing the same in Ukraine, "with the atrocities committed escalating on a daily and gradual basis".
"These forces pursue a scorched-earth policy wherever they go, in a manner that violates all international laws and regulations," he said, adding that Russian targeting of civilians has been exposed by activists, journalists and medics.
He expressed hope that in response to Russia's indiscriminate targeting of civilians and infrastructure, there will be an "escalation of international sanctions to force it to stop these practices once and for all".