BEIRUT -- Syria is not secure for the return of refugees, and the Syrian regime does not provide any guarantees for their safe return, a new report by the Independent International Commission of Inquiry on Syria makes clear.
The report, submitted to the United Nations (UN) Human Rights Council on September 22, documented grave violations of basic human rights and international humanitarian law across Syria between January 1 and June 30, 2022.
It pointed to human rights violations by the parties to the conflict, a lack of security in areas under Syrian regime control and the continuation of arbitrary arrests, forced disappearances and citizens' death under torture.
The report, based on 501 interviews, also stressed the need to ensure safety of return for Syrian refugees.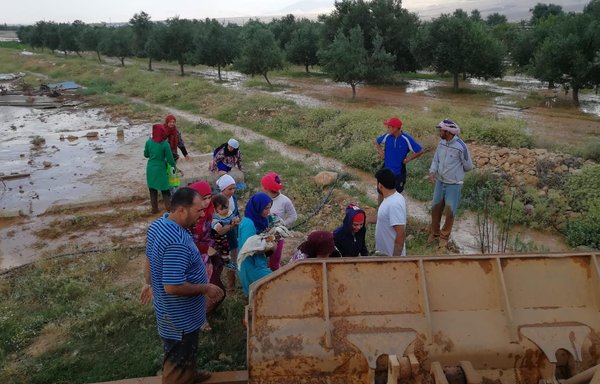 Syrian refugees in Lebanon told Al-Mashareq they trusted the veracity of the commission's report, and are holding back on returning to their country in light of what they are hearing from relatives.
They said they are aware of the human right violations committed by the Syrian regime's security services and Lebanese Hizbullah against groups of Syrians who have returned to Syria from Lebanon.
"Those who think that we, as refugees, do not want to return to our villages and homes, are mistaken," Abu Yousef told Al-Mashareq, asking that his full name not be used because there are outstanding arrest warrants against him in Syria.
"Those who think that we live in bliss in Lebanon are mistaken," he said. "We can barely endure the conditions we live in. But despite Lebanon's difficult circumstances and deepening economic crisis, we and our families are safe."
Abu Yousef lives with his wife and daughter in Mazraat Yachou, in a three-story building that houses nine Syrian refugee families.
He said what prevents him from returning to his hometown in Homs province is "the fact that it is under the control of the regime", as well as the ongoing violations, kidnappings and extortion of money from those who return.
"How can I go back when I am wanted with several outstanding warrants against me for evading military service for the regime, even though I have already fulfilled my [mandated] military service?", he asked.
Ongoing violations
The commission's report confirms that Syria is not safe for the return of refugees, Syrian Network for Human Rights director Fadel Abdul Ghany told Al-Mashareq.
He noted that Lebanese Hizbullah and the Islamic Revolutionary Guard Corps (IRGC) are involved in "a large portion" of the violations, "because they are affiliated with the Syrian regime ... and fight on its side".
"How can the refugees return when the violations have not stopped, and there are cases of kidnapping, killing, arbitrary arrest, forcible disappearance, forced conscription and seizure of property?" he asked.
The Syrian regime itself has enacted laws to seize the property of internally displaced persons (IDPs), refugees and residents, Abdul Ghani said.
Both the commission and the Syrian Network for Human Rights have "described the regime as a mafia-like authority that engages in brutality", he said.
He noted that the Syrian regime has regained control over Maarat al-Numan, Khan Sheikhoun, Saraqib and Daraya, among other areas, but that these areas largely remain deserted, as residents fear returning to their homes.
Concern about returns
The return of the refugees to their country of origin "was and always will be the preferred solution", said UN High Commissioner for Refugees (UNHCR) spokeswoman Lisa Abu Khaled.
But there are still concerns about the situation in Syria, and all decision-makers and partners must act collectively to address these concerns, she said.
"In the meantime, we must respect the refugees' own decisions as to when to return to their homeland, and ensure that any return is voluntary, safe and dignified," she told Al-Mashareq.
Abu Khaled said the refugees are "telling the UNHCR that their intentions to return still hinge on the situation on the ground in Syria".
The UNHCR "will continue its constructive co-operation and dialogue with the Lebanese government, including with the General Security Office, with regard to the return operations, which are being managed by that office", she said.
It also is continuing its humanitarian programmes to help Syrian refugees and needy Lebanese families amid the economic crisis, she said, and working with its partners "to ensure that the largest percentage of them are helped".