With fresh protests against the death in custody of Mahsa Amini roiling Iran over the weekend and solidarity rallies held in 150 cities around the world, the Iranian regime is increasingly unable to control the news or the narrative.
In an unusual turn of events, even Iran's state-owned media have been reporting on the clashes between protesters and security forces, although they downplay the number of killed or injured protesters.
At least 92 protesters have been killed so far, according to Iran Human Rights (IHR), and an additional 41 people died in clashes during a protest that erupted Friday (September 30) over an incident in Sistan and Baluchestan province.
The latter protest was sparked by accusations that a police chief in the region had raped a 15-year-old girl of the Sunni Baluch minority.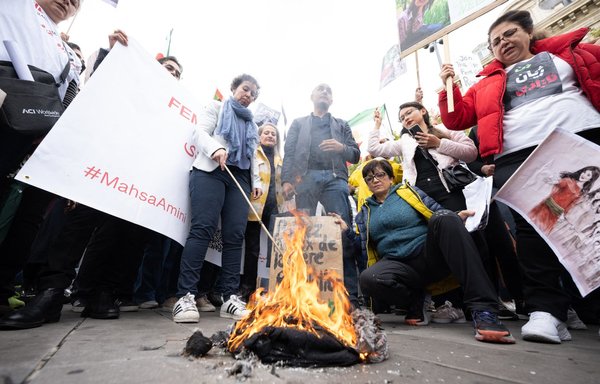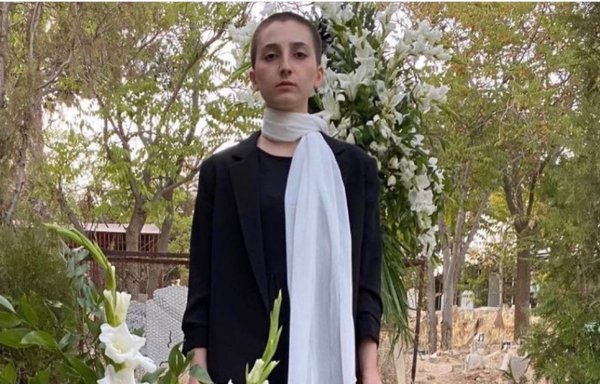 As it continues its brutal crackdown, the Iranian regime, with staunch support from Lebanese Hizbullah, has sought to play the role of the victim, accusing outside forces of stoking the protests.
Iranian President Ebrahim Raisi on Sunday claimed that a "conspiracy" by the country's "enemies" to isolate Iran had "failed", AFP reported.
In a Saturday speech, Hizbullah chief Hassan Nasrallah described Amini's death in custody as a "vague incident" that was being exploited against Tehran to incite the protests, saying they do not reflect the true will of the Iranian people.
Observers say the ongoing developments are threatening to the regime's core ideology, which is why they cannot be ignored, even by hardline publications.
Instead of censoring the protests or simply referring to them as disturbances, regime-affiliated publications and state-owned news agencies have been publishing reports and photos, albeit not of women without headscarves.
These outlets are attempting to portray in a negative light public figures and celebrities who have stood up to the regime and joined the protesters.
Rights group 'extremely concerned'
In a Sunday night student protest at Tehran's prestigious Sharif University of Technology, riot police confronted hundreds of students, using tear gas and paintball guns and carrying weapons that shoot non-lethal steel pellets.
"Woman, life, liberty," students shouted, as well as "students prefer death to humiliation", Mehr news agency reported.
The Centre for Human Rights in Iran on Monday said it was "extremely concerned by videos coming out of Sharif University and Tehran today showing violent repression of protests and detainees being hauled away with their heads completely covered in fabric".
IHR posted video that appeared to show Iranian police on motorcycles pursuing running students in an underground car park and, taking away detainees whose heads were covered in black cloth bags.
In another video clip, a crowd of people can be heard chanting: "Don't be afraid! Don't be afraid! We are all together!" IHR said the footage was taken at Tehran's Shariati metro station on Sunday.
As protests stretch into a third week, unrest also has been reported at the University of Isfahan, and clashes between protesters and security forces have rocked cities nationwide.
In Diyarbakir, Turkey, a southeastern city with a majority Kurdish population, about 200 people gathered brandishing photographs of Amini.
Worldwide solidarity rallies
Solidarity rallies with Iranian women have been held worldwide, with demonstrations in more than 150 cities on Saturday.
Thousands of demonstrators marched in Paris on Sunday to condemn Iran's leadership, following major rallies in key diaspora cities including Los Angeles and Toronto.
"Join the first feminist revolution!" and "Mahsa Amini -- your name has made the tyranny of the ayatollahs shake!" were among the slogans carried by the protesters as they braved sometimes pouring rain.
Tens of thousands came out for solidarity rallies in several Canadian cities, including Montreal, Vancouver, Toronto and the capital Ottawa.
In Canada, public broadcaster CBC showed images from Toronto on Saturday of motorists honking their support for demonstrators lining a 5km-long stretch of road, wearing "Justice for Mahsa Amini" T-shirts and waving Iranian flags.
In Montreal, several women cut their hair as a crowd of more than 10,000 waved placards that read "Justice" and "No to Islamic Republic," while chanting "Say her name. Say her name."
A protest also took place Saturday in Washington, DC, where hundreds of members of the Kurdish community gathered outside the White House gates.
Hundreds of protesters took to the streets in Turkey on Sunday, where women held red roses and signs bearing the words "Women, life, freedom".
Forced to chose a different line
Raisi and his administration have minced no words in expressing that they will continue to punish protesters, describing them as lawbreakers.
But the Islamic Republic and state-owned media have been forced to choose a different line during this series of protests, sparked by demands for women's freedom and continued by women in the forefront.
While still blaming the "enemy" and expatriate media for the ongoing protests, the regime is no longer able to act as though the situation is normal and under control, as it was able to do in the protests over fuel prices in 2019.
"The hardline media's stance is somewhat different this time," a Shiraz-based senior journalist who did not wish to be named told Al-Mashareq. "While they are condemning the protests, they cannot deny or ignore them anymore."
"Instead, a few of them have even tried to make light of known figures who have removed their headscarves, as though that would make them unpopular," he said.
Harsh anti-regime slogans are not simply chanted in these protests; they appear on walls in spray paint and are replaced almost as soon as security forces paint over them, in a display of courage and risk not as prevalent in previous protests.
The lack of activity by the "morality police" amid the protests is telling, observers noted, as it shows the chaotic state the regime is in as it tries to suppress the protests on a larger scale.
Normally, they said, morality police immediately arrest women for every minor violation of the dress code.
Many Iranians are using a new tactic to show their wrath, appearing in the windows or on the balconies of their homes, chanting anti-regime slogans.
In some cases, security forces have targeted windows when they have seen protesters chanting inside.
The regime's mainstay tactic of oppression has remained an internet blackout, which prevents the public's photos and videos being seen by the world while it brutally cracks down on protesters.
Most cell phone data carriers have ceased operating, home internet connection is possible only with strong virtual private networks (VPNs), and cell phone reception has been disrupted.