ADEN -- Iran has been secretly funneling Houthi fighters to Syria to receive military training, alongside mercenaries of other nationalities, and then returning both groups to Yemen in preparation for battle, according to a new report.
The covert operation, detailed in a Nedaa Post investigation published September 2, further documents the hand of the Islamic Revolutionary Guard Corps (IRGC) and its proxies in the Yemen war, and also the complicity of the Syrian regime.
The investigation reveals that the Houthis and their backer, Iran, have continued to engage in military mobilisation training, even amid a truce brokered by the United Nations (UN), which has been in effect since April 2.
The truce is up for renewal in October.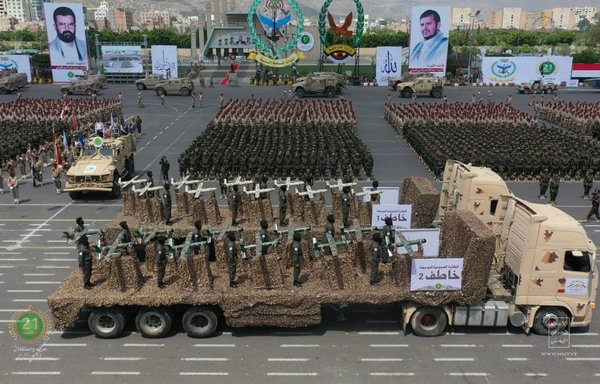 In late August, Houthi units were seen arriving at Syria's Damascus airport via Cham Wings, a private Syrian airline based in Damascus that is under US sanctions, according to Nedaa Post.
Cham Wings airline owner Issam Shammout, reputedly a close ally of Russian President Vladimir Putin, is on a European Union blacklist.
A group of 60 foreign mercenaries also arrived at Damascus International Airport on August 24, the report said, and were transferred, along with the Houthi elements, to al-Dreij in rural Damascus.
They were reportedly scheduled to take a 45-day military training course at al-Saiqa School in al-Dreij before returning to Sanaa, the report said.
IRGC recruitment in Syria
IRGC special forces and Lebanese Hizbullah's Radwan unit are providing the Houthis with comprehensive training, according to the Nedaa Post report.
This includes training in guerrilla warfare, urban warfare and military tactics and in the planting and handling of improvised explosive devices (IEDs), the report said.
It reportedly includes training on the use of anti-tank missiles, as well as the assembling and use of chemical weapons and barrel bombs, it added.
In a report published in June, Nedaa Post said the IRGC had recently brought fighters from Syria into Yemen, taking advantage of the truce.
The IRGC also sent Syrian mercenaries to fight in Yemen in July 2021, and prior to that, Houthi elements received training in Iran, Lebanon and Syria, according to various media outlets.
A new IRGC recruitment office in the Syrian border town of Albu Kamal opened in June, Nedaa Post said, enticing young men to join up with lucrative salaries.
"The Houthis issued thousands of passports to fighters from Iraq, Lebanon and Syria," political analyst Mahmoud al-Taher told Al-Mashareq.
These fighters received training in the vicinity of the Syrian town of Albu Kamal, on the Iraqi border, and were then sent to Yemen via the port of al-Hodeidah or aboard nonstop flights to Sanaa, he said.
Al-Taher said these movements are indicators of a darker phase to come in the Yemen conflict, with fighting waged "under purely sectarian slogans".
Political analyst Adel al-Shujaa told Al-Mashareq that Iran is transferring its battle against the countries in the region and world to Yemen by providing military technology and training to the Houthis.
The Iranian regime's senior officials have publicly acknowledged that they have transferred military technology to the Houthis already, he said, "so the matter is no longer a secret".