US-made Patriot missiles are continuing to play a key role in defending Arab Gulf states from potential Iranian threats.
The United States August 2 announced the sale of major missile defence systems to Saudi Arabia and the United Arab Emirates (UAE) worth more than $5 billion.
Saudi Arabia will buy 300 Patriot MIM-104E (PAC-2/GEM-T) missile systems, which can be used to bring down long-range incoming ballistic and cruise missiles, as well as attacking aircraft, the State Department said.
The value of the missiles and attendant equipment, training and parts is $3.05 billion, the department said.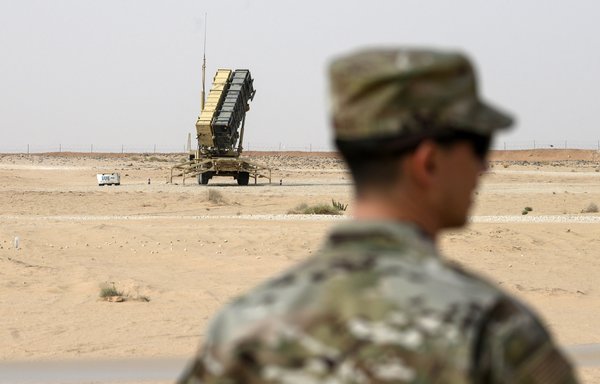 Saudi Arabia has faced recent rocket threats from Yemen's Houthi rebels, who have been supplied with Iranian equipment and technology.
"These missiles are used to defend the Kingdom of Saudi Arabia's borders against persistent Houthi cross-border unmanned aerial system and ballistic missile attacks on civilian sites and critical infrastructure in Saudi Arabia," the State Department said.
Separately, the United States will sell Terminal High Altitude Area Defence surface-to-air missile systems to the UAE for $2.25 billion.
The UAE recently has also been targeted by Houthi rocket attacks, which defence systems run by the US military and based in the UAE have helped fend off.
"The proposed sale will improve the UAE's ability to meet current and future ballistic missile threats in the region, and reduce dependence on US forces," the State Department said.
It announced the approval two weeks after US President Joe Biden met Saudi and UAE leaders in Saudi Arabia as both Middle Eastern nations perceive a heightened threat from Iran.
"Greater collaboration" on issues such as air defence, particularly with regards to countering Tehran, was on the agenda, US National Security Council spokesman John Kirby on July 7 said ahead of the visit.
The United States and its Gulf Arab allies accuse Iran of destabilising the region with its ballistic missile programme and support for armed militias.
"We're continuing to work on integrated air defence capabilities and frameworks across the region," Kirby said July 7.
"The whole region is concerned about Iran and their burgeoning and growing ballistic missile capabilities," he added.
PAC-3 upgrade
The MIM-104 Patriot, the US Army's primary air and missile defence system, is used by Saudi Arabia, Kuwait, the UAE and Qatar, among other nations, according to the Centre for Strategic and International Studies, a Washington, DC-based think tank.
The Patriot missile defence system consists of six major components: a missile, launcher, radar set, control station, power generator unit and high-frequency antenna mast.
The PAC-3 (MIM-104F) upgrade of the Patriot system, initially fielded in 2001, significantly increased Patriot capabilities with upgraded missiles and use of the Link 16 communications system.
PAC-3 Cost Reduction Initiative (CRI) missiles are hit-to-kill interceptor systems as opposed to the earlier PAC-2 blast fragmentation interceptors, according to the Missile Defence Advocacy Alliance (MDAA), a non-governmental organisation.
Modified Patriot launcher can fire 16 PAC-3 CRI missiles and target eight inbound ballistic missiles, using the two-shot method that aims to guarantee destruction of the target.
A Patriot battery of six launchers can defeat 48 ballistic missiles, which represents an estimated one-third of Iran's short and medium range launch capability.
Patriot crews can reload in a fraction of the time Iranian crews need to reload a ballistic missile launcher.
The even more advanced PAC-3 Missile Segment Enhancement (PAC-3 MSE), fielded in 2015, feature larger, dual pulse solid rocket motors; larger fins; and upgraded actuators and thermal batteries to achieve greater speeds and manoeuvrability for defeating more-advanced ballistic and cruise missiles.
Aided by other improvements to guidance, structure and software, the PAC-3 MSE -- the only PAC-3 missile in production -- can defend a significantly larger area than its predecessors could.
Current Patriot launchers can hold up to 12 PAC-3 MSE missiles or a combination of six MSEs and eight CRI missiles.