Saudi Arabia has intensified its efforts to stop the smuggling of illegal drugs and narcotic pills into the kingdom from Lebanon and Syria, where Hizbullah's drug manufacturing industry is based, Saudi officials said.
Large quantities of Captagon -- an amphetamine-type stimulant that has been in widespread use during Syria's war -- have been confiscated in recent months as they enter the kingdom's ports, concealed inside various types of shipments.
The latest seizure occurred on July 22, when authorities in Saudi Arabia discovered almost 15 million Captagon pills at the Red Sea port of Jeddah, according to the Saudi Press Agency (SPA).
The narcotic pills had been found "hidden in a machine designed to manufacture concrete blocks" in a commercial consignment from abroad, SPA said.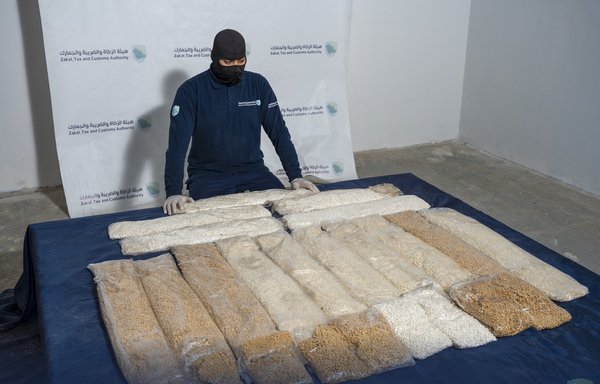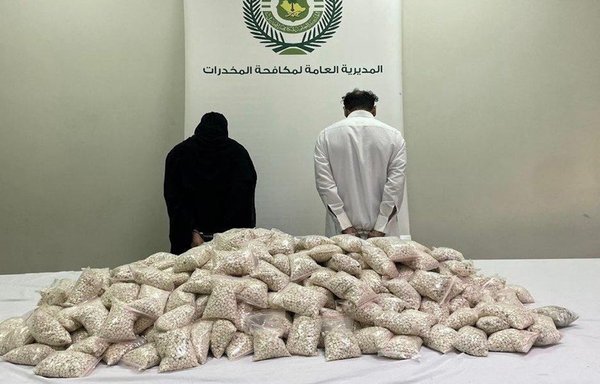 Other major Captagon seizures in the kingdom happened in June and April.
The kingdom's maritime monitoring system, which involves the Coast Guard and customs authorities, among others, has been successful in combatting drug smuggling, Saudi military analyst Mansour al-Shehri said.
This is "despite the difficulty of closely monitoring the coasts and the sophisticated ways in which drugs are smuggled in fruits, vegetables and equipment", he said.
Ongoing efforts to block drugs
Shipments coming from Lebanon or Syria, where Hizbullah is a mainstay of the illicit drug industry, are regarded as suspicious and are thoroughly inspected to ensure they do not contain drugs, al-Shehri said.
But not all smuggling operations are organised or involve large quantities, he added, as smugglers are regularly caught trying to bring in modest quantities of drugs using unsophisticated methods.
Saudi Arabia has succeeded in detecting and seizing millions of narcotic pills, thanks to the collective experience of its security officials, he said.
The Zakat, Tax and Customs Authority; the General Directorate Of Narcotics Control and the Coast Guard "have the latest devices and technologies to scan all shipments entering the kingdom", he said.
K-9 units have been tremendously beneficial, he said.
Despite all efforts, however, some Captagon has entered the kingdom.
Hizbullah is isolating Lebanon
Hizbullah puts its own financial and strategic interests above anything else, including the interests of the Lebanese people, Al-Sharq Centre for Regional and Strategic Studies researcher Sami Gheit told Al-Mashareq.
Lebanon, which is mired in a staggering economic crisis, needs urgent financial assistance from the Gulf states, he said, but most are taking an anti-Hizbullah stance, in part because of the flow of drugs from Lebanon.
Many have set conditions for investment and providing aid to Lebanon, he said, accusing Hizbullah of continuing to isolate Lebanon and push it further into the arms of Iran's Islamic Revolutionary Guard Corps (IRGC).
Smuggling drugs is a major source of income for the Iran-backed party, as it is reportedly a trade worth $5 billion per year, he said.
Efforts to disrupt Hizbullah's drug-smuggling activities in the region would weaken the party and curb its influence and its malign activities, he added.
Hizbullah's drug-smuggling activities are a threat to the countries in the region, especially Saudi Arabia, and endanger their youth, Maj. Jamal al-Nukhaifi of the Saudi police said.
Smuggling is used by the IRGC's regional proxies to create instability and facilitate incursion, which is "what we are witnessing in Lebanon, Syria, Iraq and Yemen", he said.
Saudi security authorities are combatting drug-smuggling operations inside the country as well as at land crossings and seaports, al-Nukhaifi said.
Tips provided by members of the public have been helpful in the ongoing efforts of the Saudi government to find and arrest drug dealers inside the kingdom, he said, and also demonstrate the societal awareness of Saudi citizens.