WASHINGTON -- Iran's botched plot to assassinated two former US government officials underscores the ineptitude of the Islamic Revolutionary Guard Corps (IRGC) and Tehran's position as a "hostile government", officials say.
The US Justice Department on Wednesday (August 10) announced it had squashed a plot by a member of the IRGC to kill former US national security adviser John Bolton.
Shahram Poursafi, 45, also known as Mehdi Rezayi, was indicted over allegations he had offered to pay an individual in the United States $300,000 to kill Bolton, the Justice Department said.
But the plot, which stretched from last October until April, never made headway because the supposed assassin for hire with whom Poursafi was communicating was an informant for the US Federal Bureau of Investigation (FBI).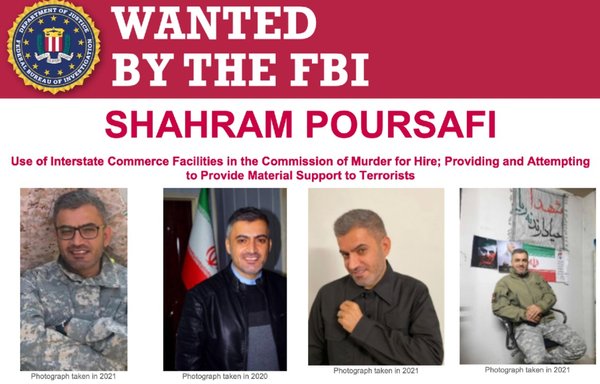 Court documents show the FBI let the plotting continue for months in order to collect information on Poursafi and on Iran's broader plans.
These included another plot to kill an even more prominent former US official for a $1 million payment. The FBI did not identify the official, but he has been reported to be former secretary of state and Central Intelligence Agency director Mike Pompeo.
Poursafi, who is believed to be in Iran, was charged with two counts relating to plotting a murder.
He was charged with the use of interstate commerce facilities in the commission of murder-for-hire, which carries up to 10 years in prison, and with providing and attempting to provide material support to a transnational murder plot, which carries a 15-year sentence.
Further exacerbating the embarrassing situation for the IRGC was the ineptitude of this supposed "spy chief".
In the process of implementing the assassination plot, Poursafi revealed his real identity and exposed his personal contact and identity documents.
Accounts on social media detailed that his Iranian national identification number is 1930098431, his email address is [email protected], his phone number is +989125666366 and his Twitter account is @shahrampoursafi.
Numerous security observers say such a revelation is unheard of from a senior intelligence figure.
Links with IRGC Quds Force
In October, according to court documents, Poursafi asked a US resident he had met online ("Individual A") to photograph Bolton, claiming the photos were for a book he was writing.
Individual A referred Poursafi to an associate, referenced in court documents as a confidential human source (CHS).
On November 9, Poursafi contacted the CHS on an encrypted messaging app and then directed the CHS to a second encrypted app for further communications.
Poursafi offered the CHS $250,000 to hire someone to "eliminate" Bolton. This amount would later be negotiated up to $300,000. Poursafi added that he had an additional "job", for which he would pay $1 million.
Poursafi directed the CHS to open a cryptocurrency account but stipulated that the CHS would likely have to carry out the murder before receiving payment.
He further explained that if the CHS received payment and did not complete the murder, his "group" would be angry.
A later search of one of Poursafi's online accounts revealed pictures of Poursafi wearing a uniform with an IRGC patch. During their communications, the CHS made several references to Poursafi being associated with the IRGC Quds Force.
Chain of command
On November 19, Poursafi told the CHS it did not matter how the murder was carried out but that his "group" would require video confirmation of the death.
The CHS asked Poursafi what would happen if the killing was attributed to Iran. Poursafi told the CHS not to worry and that his "group" would take care of it.
On December 22, Poursafi sent the CHS a photograph of two plastic bags, each of which appeared to contain bound stacks of US currency and a handwritten note beneath them that said, "[CHS's name] 22.12.2021".
On December 29, Poursafi asked the CHS when the murder would be carried out and informed the CHS that his "group" wanted it done quickly.
On January 3, Poursafi noted he was under pressure from "his people" to complete the murder and had to report any delays. The CHS asked Poursafi how many individuals were involved.
Poursafi said he had to report to only one person but that there was a chain of command to which his superior reported. He expressed regret that the murder would not be conducted by the anniversary of IRGC Quds Force commander Qassem Soleimani's death. Poursafi expressed concern that if the killing did not happen soon, Tehran would take away the job from him and the CHS.
On January 21, Poursafi told the CHS that after successful completion of the first "job", he had a second "job" for the CHS and informed the CHS that surveillance of the second target was complete.
Communications continued for several more months, with the CHS eventually refusing to continue work without being paid.
On April 28, Poursafi agreed to send $100 in cryptocurrency to the CHS's virtual wallet to prove payment could be made. Later that day, the cryptocurrency wallet received two payments totalling $100.
'Severe consequences'
The FBI Washington field office investigated the case, which was unsealed Wednesday.
"Iran's IRGC, through the defendant, tried to hatch a brazen plot," said US Attorney for the District of Columbia Matthew M. Graves.
"Iran and other hostile governments should understand that the US Attorney's Office and our law enforcement partners will do everything in our power to thwart their violent plots and bring those responsible to justice."
"The Justice Department has the solemn duty to defend our citizens from hostile governments who seek to hurt or kill them," said Assistant Attorney General Matthew G. Olsen.
"This is not the first time we have uncovered Iranian plots to exact revenge against individuals on US soil, and we will work tirelessly to expose and disrupt every one of these efforts."
"Should Iran attack any of our citizens, to include those who continue to serve the United States or those who formerly served, Iran will face severe consequences," said National Security Adviser Jake Sullivan.
"Let there be no doubt: The FBI, the US government and our partners remain vigilant in the fight against such threats here in the US and overseas," said FBI National Security Branch executive assistant director Larissa L. Knapp.
Bolton blasted Iran's government as "liars, terrorists and enemies of the United States" in a statement on Wednesday.
The alleged plot reveals Iran's approach to foreign policy, he said in an interview Thursday with CNN.
"What's important to understand is just how detailed the work was to send me off to the great beyond, and really the extent to which the government of Iran had thought this through, was engaged in planning," he said.
The recent plot was reminiscent of the failed and equally embarrassing plan by Iran to kill the Saudi ambassador to the United States in Washington, DC, in 2011 with a truck bomb at a popular restaurant.