With support from China, Tehran continues to circumvent international sanctions by selling millions of barrels of oil to Chinese refineries and engaging in very short ship-to-ship transfers in Iranian waters with renamed vessels.
Iran maintains multiple centres and networks of individuals and companies across East Asia that help deliver oil and petrochemical products to China.
In April, Iran was exporting up to one million barrels per day (BPD) of its oil, while overall oil production was restored to the pre-sanctions level of 3.8 million BPD, AFP reported.
Some oil is delivered on Iran-flagged ships by companies under US sanctions, including the National Iranian Oil Co. (NIOC) and the National Iranian Tanker Co. (NITC).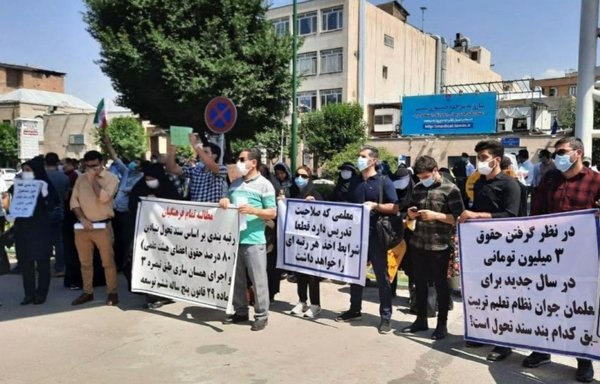 The NITC is affiliated with the Islamic Revolutionary Guard Corps (IRGC).
In its efforts to sell oil and dodge the sanctions that have targeted its petroleum industry and the IRGC and affiliated companies, Iran has employed other strategies as well.
These include the use of vessels that operate under the flags of other countries, ship-to-ship cargo transfers in open water and attempts to conceal oil exports, according to numerous reports.
Other deceptive practices include tampering with or deactivating a ship's automatic identification system -- a collision avoidance system that continuously transmits a vessel's location at sea -- so its route "goes dark".
Tanker tracking companies say China is the destination of most of those shipments, Reuters has reported.
At the same time as it engages in deceptive shipping practices, the Islamic Republic has continued to threaten oil vessels in the Strait of Hormuz with acts of piracy.
In a mid-July report, however, the Central Bank of Iran (CBI) stated that although Iran's revenues from oil and other exports have increased, the rate of capital flight is on the rise.
The CBI report said in the fiscal year that ended March 20, Iran's revenues from exporting oil, gas and petroleum products reached almost $39 billion, $17 billion more than the previous fiscal year, when oil prices were much lower.
The 84% increase in oil export revenues came amid a 50% increase in capital flight, compared to the previous fiscal year (ending March 20, 2021), amid rising public concerns about the economy's stability and fears for the future.
Evading sanctions
On July 6, the United States imposed sanctions on more than a dozen petroleum and petrochemical producers, transporters and front companies for violating oil sanctions on Tehran.
The 15 designated individuals and entities used a web of Gulf-based front companies to facilitate the illicit sale and shipment of Iranian petroleum, petroleum products and petrochemical products to East Asia.
In another tranche of sanctions announced August 1, the United States blacklisted Chinese and other firms it said helped sell tens of millions of dollars in Iranian oil and petrochemical products to East Asia.
Six entities in total -- four based in Hong Kong, one in Singapore and one in the United Arab Emirates (UAE) -- were designated by the US Treasury and the US Department of State, in separate statements.
Persian Gulf Petrochemical Industry Commercial Co. (PGPICC), one of Iran's largest petrochemical brokers, was facilitating the sale of Iranian petroleum and petrochemical products to East Asia, the US Treasury said.
It accused UAE-based Blue Cactus Heavy Equipment and Machinery Spare Parts Trading LLC of helping to sell millions of dollars of Iranian petroleum products to Hong Kong-based Triliance Petrochemical Co., Ltd.
Triliance was already under US sanctions.
The US State Department said Singapore-based Pioneer Ship Management PTE, Ltd. had been managing a vessel that carried Iranian petroleum products.
Hong Kong-based Golden Warrior Shipping Co., Ltd. was blacklisted for alleged transactions related to Iranian oil and petroleum products.
Also blacklisted was a tanker ship controlled by that firm, the Panama-flagged Glory Harvest.
Domestic crackdown
In addition to making efforts to augment its revenue through illicit trade, the Iranian regime is clamping down on protesters who are demanding and struggling to make ends meet.
Numerous labour activists, teachers, intellectuals and filmmakers have been arrested in Iran since January amid the regime's crackdown on near-daily protests.
Rights groups have expressed concern over the growing number of executions, which have increased drastically during the presidency of Ebrahim Raisi.
The regime also has deployed a large number of security forces, mostly women, to crack down on ordinary women who refuse to fully cover themselves.
The forces attempt to arrest those who "are not fully covered according to the law", but many of those women resist arrest.
Clashes between the regime's forces and citizens who refuse to fully obey the dress code are on the rise in the streets and on public transportation.
On June 15, a group of independent United Nations rights experts expressed alarm over a "violent crackdown" on teachers and wider civil society in Iran, demanding that those responsible be held to account.