China's investment in Tajikistan is "for a common future", according to signs plastered on buildings and projects throughout the country paid for with grants and loans provided by Beijing.
But with billions of dollars in debt owed to Beijing in one way or another, observers wonder if there are strings attached.
Tajikistan owes $1.98 billion in debt to the state-run Export-Import Bank of China (Eximbank) -- about 60% of the debt the country owed to foreign creditors at the start of 2022.
Of the $131.9 million in debts repaid by Tajikistan in 2021, $65.2 million went to China -- with almost $22 million in interest accrued, Eurasianet reported July 21.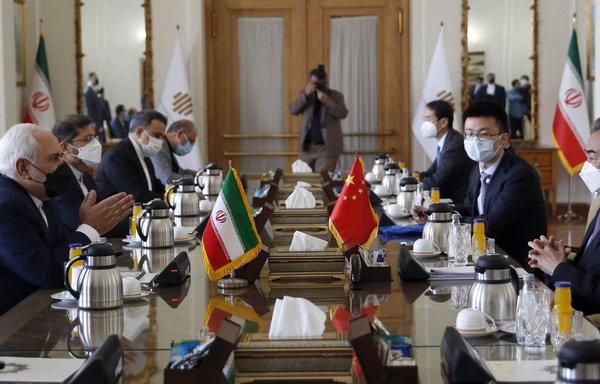 Meanwhile, the new premises of the Tajik parliament are being built with a $250 million grant from China.
Another $120 million in handouts from Beijing is building a new city hall.
"This all feels very disturbing," said Tajik political scientist Parviz Mullojanov.
"This is a very dangerous trend, especially as there are also large debts," he told Eurasianet.
"Amassing Chinese debt is playing with fire. At any moment now, this could serve as a pretext for political and geopolitical expansion."
"China has a standard policy for all countries: They need to employ their own workforce, so they send their own people and industrial resources to do all the projects," said Mullojanov.
"China needs a market for its industry."
Secrecy and preferential treatment
Chinese loans are usually extended for the purposes of building or overhauling transport infrastructure or energy projects, many of which fall under Beijing's Belt and Road Initiative (BRI), also known as One Belt, One Road (OBOR).
But the loans are so shrouded in secrecy that it is often very difficult to work out the terms of repayment. Work in many cases goes to Chinese state-run companies as well, with few jobs earmarked for locals.
The construction of the Vakhdat-Yovon Railway, which links central and southern Tajikistan, is one example in which details have long been foggy.
In 2014, Eximbank agreed to extend credit to complete the railway.
However, first deputy Finance Minister Jamoliddin Nuraliyev only in early 2015 told reporters that a loan of at least $68 million from Eximbank was used toward the completion of the railway.
The state-owned China Railway Construction Corp. was also reportedly handed the tender for the contract without an open bidding process.
When President Emomali Rahmon inaugurated the Dushanbe-to-Kulyab portion of the railway in August 2016, Tajik state media reported that the project cost $125 million.
Local media did not report where the money came from or who completed the construction.
Similarly, Eximbank primarily underwrote with an almost $290 million loan the massive effort to overhaul the high-altitude Dushanbe-Chanak road from the Tajik capital to Sughd province.
The project started in 2006 and ended in 2013, and the colossal engineering company China Road and Bridge Corp. got the contract -- effectively rerouting the money back to China, leaving the debt burden in Tajikistan.
'Buyer's remorse'
Tajikistan is hardly the only example where Chinese companies -- and Chinese workers -- build major infrastructure projects paid for by Chinese loans.
Several countries have experienced a form of "buyer's remorse" due to their embrace of the BRI and the assumption of accompanying debt burdens, the Arab Centre Washington DC said in a January 2021 report.
"Many believe Beijing is setting this 'debt trap' on purpose to take control of strategic assets," it said.
"Beijing's speed and determination [in pursuing the BRI] has been most evident in the Middle East," the report said, noting that China "has pumped at least $123 billion into the Middle East in BRI-related project financing".
Pakistan's experience with the China-Pakistan Economic Corridor (CPEC), a Pakistani component of the BRI, has been one example of buyer's remorse.
Beijing in recent years has inked deals with Islamabad for several multibillion-dollar infrastructure projects that have raised concerns among local residents about Chinese influence and resentment over the companies' labour practices, particularly paying Chinese nationals more than Pakistani workers.
Anger over growing Chinese influence in Balochistan province, Pakistan, has spurred Baloch and Sindhi militant organisations to ally with each other, fuelling concern that the combined group will step up violent activities in the region.
Sri Lanka also has made headlines in recent months for its massive burden of debt owed to China and the subsequent collapse of the political and economic systems in that country.
Its debt to China is only about 10% of its total foreign debt -- compared to Tajikistan's 60%.
"It is harder and harder to do business with China," Mark Lemley, director of Stanford University's Programme in Law, Science and Technology, told CNN in 2020.
"There is also a growing sense that doing business with China involves troubling moral compromises."
Military expansion
In fact, Chinese military bases under construction in ports around the world show how Beijing is leveraging its economic "investment" in countries to achieve greater military reach.
China has been building commercial port facilities in key areas that could be used by its rapidly expanding navy.
These are all part of Beijing's "string of pearls" strategy to link mainland China to the Horn of Africa via a network of military and commercial facilities.
"While China's Middle East engagement strategy may be touted as benign, in fact it has gone hand in hand with the expansion of China's military and diplomatic profile in the Middle East," noted the Arab Centre Washington DC report.
In mid-January, Tehran announced it was beginning the implementation of a 25-year Comprehensive Strategic Co-operation Agreement with China, signed last year.
Under the terms of the agreement, Iran would be involved in the BRI through the launch of investment projects worth $400 billion.
Though the deal is ostensibly commercial in nature, Chinese investment in the Iranian ports of Jask and Chabahar would allow its rapidly growing navy to expand its reach.
In another example, China entered into a secret agreement with Cambodia to allow its navy to use a base in that country, the Wall Street Journal (WSJ) reported in 2019, citing US and allied officials.
Both Chinese and Cambodian officials denied the reports, calling them "fake news" and "rumours".
But now China is secretly building a naval facility in Cambodia for the exclusive use of its military, the Washington Post reported June 6, citing Western officials.
Late last year, the United Arab Emirates (UAE) was caught off guard after US intelligence agencies revealed that China was covertly constructing what appeared to be a military facility at the Khalifa port.
The Emirati government was unaware that ships disguised as commercial vessels entering the port were actually ships the Chinese military uses for signal intelligence collection, the WSJ reported in November. Construction halted after the revelation.
In response to another WSJ report last December about China's plans for a military base in Equatorial Guinea, the Chinese-state run tabloid Global Times reaffirmed the increasing need for People's Liberation Army (PLA) "footholds in some distant waters" as China's overseas interests expand.
In a 2019 report, the US-China Economic and Security Review Commission noted that Beijing's promotion of the BRI is aimed at "increasing military co-operation and exporting its censorship and surveillance technologies".
"China's BRI has emerged as the clearest organising concept behind the People's Liberation Army's expanding overseas presence," it added.