Clashes in southern Syria between opposition fighters and regime loyalists that left 17 dead in two days have brought to light drug-manufacturing equipment used by a regime-aligned militia, sources said Thursday (July 28).
Ten regime loyalists and seven opposition fighters died in fighting on Tuesday and Wednesday in two villages in the southern province of Sweida, which borders Jordan, the Syrian Observatory for Human Rights said.
More than 40 people, including civilians, were wounded during the clashes in the villages of Slaim and Atil, in the northern part of the province, it said.
Fighting erupted between Jabal al-Arab and the Raji Falhout group, a militia affiliated with the Syrian regime's Military Intelligence Division, amid rising tensions following the Monday abduction of two people close to the local faction.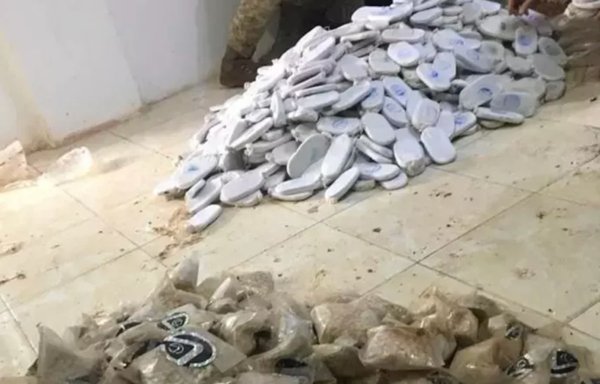 The shootouts ended when the local faction surrounded the village headquarters of the Raji Falhout group, which is blamed for the kidnappings.
The pair were released, the Observatory said.
Kidnappings and assassinations, carried out mostly by local gangs, are common in Sweida, where drug smuggling is rife.
Hundreds of Sweida residents gathered Wednesday in a square to celebrate the pair's release, footage broadcast by Suwayda24, a local news outlet, showed.
According to Observatory sources, the gunmen from Jabal al-Arab found large quantities of narcotics and a Captagon pill factory, after storming the Falhout group's headquarters and house, which they destroyed and burned.
Opposition fighters found "machines and presses for the manufacture of Captagon pills" in the group's headquarters, Suwayda24 said.
Captagon is an amphetamine-type stimulant mainly produced in Syria. The market value of the illicit drug now far outstrips that of Syria's legal exports, according to an April New Lines Institute report.
The report, which describes Syria as a "narco-state", documents how members of Syrian President Bashar al-Assad's family and high-ranking members of his regime are involved in Captagon manufacturing and smuggling.
Drug-smuggling hub
The southern provinces of Sweida and Daraa have become a hub for Lebanese Hizbullah's regional drug smuggling operations, which are targeting Jordan and the Gulf states, local residents and analysts told Al-Mashareq.
Hizbullah, supported by the regime's Military Intelligence Division and the 4th Division, has set up several new sites for manufacturing Captagon, Daraa-based activist Jumaa al-Masalmeh told Al-Mashareq earlier this month.
The 4th Division is led by al-Assad's brother Maher.
"Several heavily guarded sites in different areas of Daraa and Sweida have been detected, and there is confirmed information that they contain large quantities of the raw material that is used in manufacturing [Captagon]," al-Masalmeh said.
Suwayda24 noted it had previously revealed the establishment of an armed group in Sweida, with the support of Lebanese Hizbullah, which is supervising small Captagon factories with help from local groups.
According to Syrian researcher Turki Mustafa, who specialises in Iranian affairs and Hizbullah, villages near the Jordanian border, especially those in southern Sweida, "are hot transit corridors for drug trafficking and smuggling into Jordan".
"Hizbullah and Syrian regime security elements employ smugglers from among Sweida province residents to infiltrate drugs into Jordan," he said.
His sources indicate the presence of "more than 20 groups specialised in drug smuggling, whose leaders enjoy social and security influence and have strong ties to officials of the Syrian security services and Hizbullah", said Mustafa.