AMMAN -- Jordan's King Abdullah denounced attacks on the kingdom's borders by Iran-linked militias, in an interview published Sunday (July 24), following deadly clashes with drug smugglers on the frontier with Syria.
"We do not want regional tensions," Abdullah told Al-Rai newspaper in a wide-ranging interview, during which he discussed domestic, regional and international concerns and Jordan's positions on regional issues.
"We, and all Arab countries, seek good relations with Iran, based on mutual respect, good neighbourly relations, and respect for countries' sovereignty and non-intervention in their internal affairs," he said.
Jordan believes in dialogue, he said, "but as I have mentioned on a number of occasions, Iranian interventions have impacted a number of Arab countries, and we now regularly face attacks on our borders from Iran-linked militias."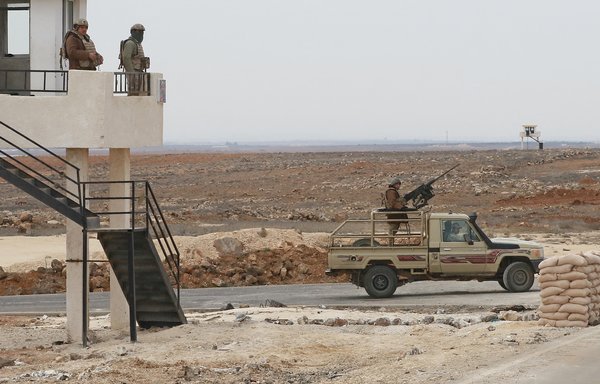 "We hope to see a change in Iran's behaviour, and it must materialise on the ground, because it would be in the interest of everyone in the region, including Iran and its people," Abdullah said.
Jordan, like other Arab nations, is being targeted by smugglers of drugs and arms, said the monarch.
"Drug and arms smuggling operations are a threat to us and to fellow Arab countries," he said, noting that Jordan is co-ordinating with other countries to counter this threat, "and we are all aware that facing it is a shared interest."
"As for our borders, I am fully confident in the professionalism of our armed forces, who work efficiently to protect our society from this threat," he said.
"Our security agencies are alert, professional and dedicated, and Jordan is capable of thwarting any threat on its borders."
"We have exerted extensive efforts over the past years to restore calm, but challenges have persisted, and we will continue to take the necessary measures to counter them and safeguard our security and interests," he told Al-Rai.
Joint security efforts
Asked whether an Arab alliance modeled along the lines of NATO would be suitable for the region, Abdullah clarified, "Jordan wants to bolster and activate joint Arab action, in service of our causes and our interests."
"Jordan has always been and will always be aligned with its Arab Ummah, its interests and causes," he said.
"Historically, Jordan has been at the forefront of joint efforts to counter terrorist and security threats against Arab countries and their peoples," he noted.
"We are talking about the need for an institutional Arab defence system," he said. "This requires thorough consultations and co-ordination, as well as hard work with our brothers, to ensure the mission statement and goals are clear."
"Let me remind you that this lies at the core of the founding principles of the Arab League," Abdullah said. "The issue of creating an alliance is not currently under discussion."
"If we look at the threats facing us today, we will find they threaten all of us, and thus require Arab co-operation, especially the renewed terrorist threat, as well as networks of organised drug and arms smuggling," the king said.
Of Jordan's role in supporting regional co-operation, including in the economic sphere, Abdullah told Al-Rai, "Jordan started early on to advocate for co-operation in the region."
"We have a trilateral co-operation mechanism with Egypt and Iraq," he said. "There is also ongoing co-operation with Saudi Arabia and the United Arab Emirates (UAE), as well as the trilateral co-operation with Greece and Cyprus."
"One country alone cannot succeed in facing all these shared challenges and achieving the ambitious goals we aspire towards," he added.
"We are keen to engage in any regional effort towards co-operation to achieve prosperity and development for the region's peoples, while countering joint challenges," he said.
"The region does not need more crises and conflicts," Abdullah said. "It needs further co-operation and co-ordination."
"Jordan has always called for building bridges of co-operation instead of walls and barriers," he said. "Regional security is our concern, for our security and the security of fellow Arab countries are one and the same."
Anti-smuggling operations
The Jordanian army conducts regular anti-smuggling operations on the border with Syria, where Iran-backed fighters support the regime of Bashar al-Assad.
On June 12, Jordanian forces foiled an attempt to smuggle 900,000 Captagon pills and 154 palm-sized sheets of hashish from Syria into the kingdom.
At dawn on January 27, Jordanian border guards killed 27 drug smugglers supported by "armed groups" as they tried to enter the kingdom simultaneously from various locations in Syria, including Sweida, under the cover of snow.
The Syrian Observatory for Human Rights has repeatedly warned that Sweida has become a major hotbed for Hizbullah's illegal drug exports to Jordan, with smuggling increasing in winter, under cover of inclement weather.
The incident came on the heels of a January 17 clash with drug smugglers on the Syrian border, in which an officer was killed and three border guards wounded. Several days later, one of the wounded soldiers died of his injuries.
Captagon, an amphetamine-style stimulant, is produced in regime-controlled areas of Syria, organisations that monitor drug trafficking note.
Iran's Islamic Revolutionary Guard Corps (IRGC) has provided cover to groups involved in the manufacture and sale of illicit drugs in Syria, Iranian affairs researcher Sheyar Turko told Al-Mashareq.
The IRGC has been setting up a "golden triangle" comprising Lebanon, Iraq and Syria to facilitate drug smuggling efforts, Turko said.
The focus on establishing southern Syria as a drug production area shows that the "IRGC plans to expand its exports into neighbouring countries, such as Jordan and Iraq", according to Syrian lawyer Bashir al-Bassam.
The plan is for new Captagon producing factories to be used "to export the drugs to the Gulf via Jordan, Iraq and Iran if necessary", using drones, gliders or traditional ground routes, he said.