The leaders of Iran-backed Iraqi militias and their families are living in luxury, offending ordinary Iraqis with their splashy display of wealth as living conditions become increasingly difficult across the country.
In photos circulating on social media, the children and grandchildren of militia leaders pose with their high-end vehicles, brand-name clothes and other expensive possessions, drawing angry reactions from the general public.
Some accuse the militia leaders of lining their pockets with money obtained through corruption and theft, while ordinary Iraqis are left to face poverty, deterioration of services and unemployment with little assistance.
Activists posted photographs of a young man, said to be the son of the Kataib Hizbullah leader, standing next to two brand new Mercedes-Benz G-class sports utility vehicles (SUVs). Prices for this class begin at 192 million IQD ($131,750).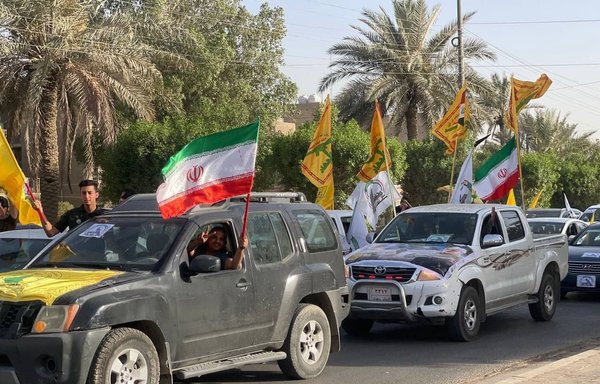 Social media users responded to the photo with sarcasm.
"He is the son of the worshipping, ascetic mujahid Kataib Hizbullah leader Abu Hussein al-Hamidawi," wrote Facebook user Mohammed al-Fadhlawi.
Al-Fadhlawi went on to criticise Kataib Hizbullah supporters who reject any sort of attack on their leaders, even as they themselves have no electricity supply or no place to live, and are getting only poorer.
Twitter user "Malak" posted a photo of another young man standing in front of a car of the same make. He was identified as Mohammed, son of Zeinab al-Lami.
Zeinab al-Lami is the daughter of Popular Mobilisation Forces (PMF) security chief Abu Zeinab al-Lami (also known as Hussein Falih Aziz), who is suspected of giving the orders to kill demonstrators during the October 2019 protests.
Two years ago, activists circulated a photo of al-Lami smoking a cigar during a vacation in the Lebanese capital of Beirut.
Other militia leaders and their children also have been singled out for criticism.
Among them are the son of Kataib al-Imam Ali militia leader Shebl al-Zaidi; the son of deputy PMF chief of staff Raad al-Maleki, "Abu Fawwaz"; and the son of Ahmed al-Maksousi, aide to Kataib Sayed al-Shuhada chief Abu Alaa al-Walai.
A life of extravagance
"The militia leaders claim to be protectors of the creed of Islam and the poor, but they're liars," said a Baghdad resident who gave his name as simply "Sarmad". "The proof is the life of extravagance and luxury that their families live."
"We have to legally hold them to account and inspect the sources of their money," he told Al-Mashareq, noting that when public funds are misappropriated, ordinary citizens suffer the consequences.
"Those people have become rich in just a few years," he said, referring to the militia leaders and their kin. "This is an indication that they're directly linked to corruption, money laundering and the looting of public money."
"Today, there are scores of militias that have amassed a great deal of wealth from stealing the money of the people, who are left to grapple with countless living problems and poor services," said Baghdad resident "Abu Ali".
There has been a spike in public anger against the militias and other influential entities which "are only looking out for their own interests", he told Al-Mashareq.
"As for the national interest, it doesn't exist in their dictionary," he said.
By flaunting their luxurious lifestyle, militia leaders and their families are "greatly provoking" ordinary Iraqis, Iraqi citizen Walid al-Bayati said.
He accused the militia leaders of "destroying and impoverishing the country with their corrupt and suspicious activities".
'Where did you get that?'
"We have to enforce the principle of 'where did you get that?'" about their sources of money, al-Bayati said.
"We also need to restore all the state resources that the militias looted to the public treasury, to use in reconstruction campaigns for the benefit of the people," he added.
Political analyst Abdul Qader al-Nayel said Iran's proxies have amassed huge wealth from their corrupt activities and by looting state revenue that rightfully belongs to the Iraqi people.
An estimated $300 billion has been looted from the state treasury by militia leaders and other entities over the past years, he said.
"These proxies run banks for laundering dirty money from illegal trade, smuggling of oil and drug trafficking, as well as from corrupt deals and control over border crossings and currency auctions," al-Nayel said.
"Much of our money has been diverted by those militias to Iran to help the regime there confront the international pressures which are aimed at forcing it to change its behaviour and stop its support for terrorism," he said.
Iran's support for corrupt militia leaders and affiliated political groups has deprived Iraqis of their rights and wealth, and disrupted the country's development and service sectors, he said.