BEIRUT -- Though years have elapsed since they were freed from prisons in Syria run by Iran's Islamic Revolutionary Guards Corps (IRGC) and Hizbullah, former detainees still live with the psychological and physical scars.
Speaking to Al-Mashareq from Europe, where he moved to start a new life in 2019, a 31-year-old Syrian army defector who gave his name as simply "Mohammed" described the months he spent in a Syrian prison.
A native of the Idlib town of Maaret al-Numan, Mohammed was active in the Syrian uprising, and was imprisoned, first by the IRGC and then by Hizbullah, for over nine months between August 2017 and May 2018.
At the time of his detention, he had been in charge of al-Mahrouqat hill in Aleppo province, where he was taking part in a battle to secure a supply route for the starving people of Aleppo, he said.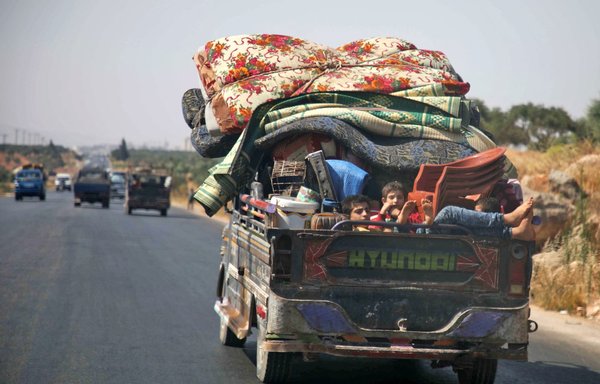 "On the night of August 18, 2017, I received a request for support from elements of my unit at a location 4km away from the hill," he said. "En route to them, I met three elements who I thought belonged to our unit."
They shot at him, in what appears to have been an attempt at intimidation, blindfolded him, and brought him to their headquarters in al-Wadihi.
"I was detained in a room for some time, and then, on an officer's order, I was transferred in a pickup truck that travelled for about two hours," he said.
"Then we arrived in Safira, a major IRGC headquarters [in Aleppo]."
Blindfolded and interrogated
Speaking through a Syrian translator, an official at the Safira IRGC headquarters interrogated Mohammed about military matters and opposition fronts, he said.
The translator then informed Mohammed the IRGC had decided to hand him over to Syria's Military Intelligence Directorate.
"I was blindfolded and transferred to al-Nairab military airport after they switched vehicles three times," Mohammed said.
Around 45 minutes later, "we landed at what I think was Mezzeh military airport [in Damascus], headquarters of the IRGC", he said.
From here, he was transferred to a detention centre for interrogation, where he was stripped of his uniform and his cell phone was taken away from him.
After this, he said, he was detained by Hizbullah at a prison in the Sayyida Zainab area of Damascus, where his interrogators tried to convert him to Shiism.
Mohammed said he was not beaten, noting that his captors had told him from the outset that they were using him as a bargaining chip in order to negotiate a prisoner swap.
"My detention coincided with the events that took place in four towns: Foua and Kefraya, two Shia towns besieged by [al-Qaeda-linked] al-Nusra Front (ANF), and Madaya and Zabadani, two Sunni towns besieged at that time by Hizbullah and the IRGC."
Mohammed said he was finally swapped for three prisoners of war and the body of an Iranian doctor on May 31, 2018, in Abu Dali village.
In 2019, he headed to southern rural Aleppo and then immigrated to Europe, where his wife joined him two years later.
Tortured by Hizbullah
Ahmed al-Ali, a 30-year-old shepherd, told Al-Mashareq he still suffers from psychological trauma six years after he was kidnapped by Hizbullah.
Five men seized him in mid-March 2016 as he tended his sheep in al-Ais village in Aleppo province, he said, and he was taken to a centre in al-Hader area, a Hizbullah stronghold.
"At first, I thought I had been arrested by the regime's forces," he said. "But when they started questioning me, I figured out from their accent that they were Lebanese from Hizbullah."
"I was detained for 17 days that felt like a lifetime," he said. "I was brutally tortured, and the scars are still visible on my body."
"They started questioning me about the armed groups, although I have nothing to do with them; I'm just a simple shepherd. But they didn't believe me."
The Hizbullah elements tied him up and hung him upside down throughout his detention, he recalled. They also whipped him with electric cables and electrocuted him "so I would confess things I have no knowledge about".
Meanwhile, he said, "I saw how they stuffed their cigarettes with hashish and got high using narcotic pills. I also heard them talking about forcing women from the town of al-Hader to have sex with them."
He was finally freed a few days after opposition fighters attacked southern Aleppo "to recapture it from the Iranian militias and their proxies".
Al-Ali's knowledge of the local landscape helped him escape to a safe area, and then to Idlib, where he is now living and suffering through the long-term psychological consequences of his detention.
Sexual abuse of women
Syrians displaced to Idlib from Aleppo province told Al-Mashareq how they escaped from their villages in order to protect their womenfolk from Hizbullah and IRGC elements.
A native of the Aleppo village of al-Hader who gave his name simply as "Hassan" said he had to leave his home in 2015 after it was overrun by Iranian militias and Hizbullah.
He resides on the outskirts of Idlib.
Hassan said he returned to his home village in the summer of 2016 after it came under the control of opposition factions, believing it was then safe. But it has since been reoccupied by Iran's militias and Hizbullah.
"I tried to stay home where my source of income was," he said.
"But the news about Hizbullah harassing women and girls in al-Hader, and about how its elements would accuse the women who didn't give in [to their desires] of being affiliated with the 'Islamic State of Iraq and Syria' (ISIS), then arrest and rape them, forced me to run away."
The family took a great risk in leaving, he said, escaping through farmland that had been planted with land mines.
But staying would have brought its own risks, he said, noting that Hizbullah had ordered local residents not to lock their outer gates, so its elements could enter at any time "and take women and girls".