BEIRUT -- The Syrian provinces of Sweida and Daraa have become a central hub for Lebanese Hizbullah's regional drug smuggling operations, which are targeting Jordan and the Gulf states, local residents and experts say.
In addition to manufacturing other drugs, Hizbullah has set up a number of Captagon factories in those provinces, as well as elsewhere in the country, from which it smuggles the illicit amphetamine-type stimulant pills.
Jordanian forces on May 22 announced they had broken up a major smuggling operation on the kingdom's eastern border with Syria, seizing 637,000 Captagon pills, 181 palm-sized sheets of hashish and 39,600 Tramadol pills.
Four of the smugglers were killed during the ensuing clash, while the remainder of the group, some of them injured, retreated into Syria.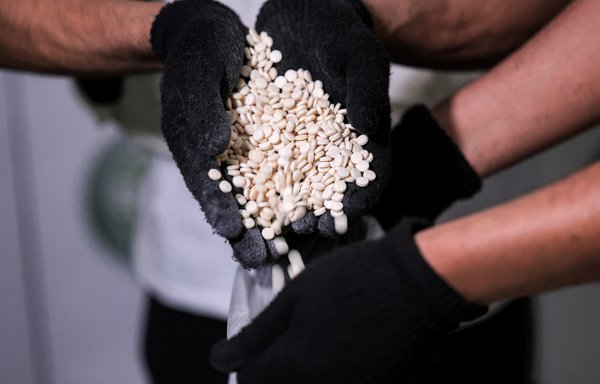 Brig. Gen. Ahmed Hashem Khalifat, who heads the Jordanian army's Border Security Directorate, accused "undisciplined" Syrian army forces of co-operating with drug smugglers and facilitating their activities.
Militias affiliated with Hizbullah and Iran are involved in drug smuggling operations in southern Syria, he said, which has precipitated a change in the rules of engagement along the 375km-long border separating the two countries.
King Abdullah recently expressed concern over a potential escalation on Jordan's borders with Syria in a recent interview with the Hoover Institution think-tank.
Meanwhile, the Syrian Observatory for Human Rights on May 22 warned that Hizbullah has been stepping up the movement of drugs from Lebanon to southern Syria via Hizbullah-linked groups.
Hizbullah-affiliated groups and the Syrian regime's 4th Division, led by Bashar al-Assad's brother, Maher, continue to transport drugs from Lebanon to areas in Daraa and Sweida provinces, the Observatory said.
Their goal is to smuggle them from Syria into Jordan and onward to the Gulf states, experts said, noting that with Russia withdrawing from Syria's southern borders, Iran and its proxies have moved in to fill the void.
Exploiting Syrian youth
A Sweida resident who gave his name simply as Marwan told Al-Mashareq that drug use and drug dealing within the southern Syrian province are "prevalent and widespread among the youth".
He accused Hizbullah of exploiting the difficult living conditions young people face "to get them involved in drug smuggling".
"We hear about a large number of smuggling networks, estimated in the dozens, actively operating in southeast Sweida, and tribesmen are being recruited through the exploitation of their poor living conditions," Marwan said.
"The drug smuggling networks are led by people from the region with strong ties to Hizbullah and Syrian security officials," he said.
According to Sweida native Mazen Ghanem, the recent clash between smugglers and Jordanian forces "took place northeast of the village of Khirbet Awwad".
"The four dead smugglers belonged to al-Ramthan tribe in al-Shaab village, including a child no more than 15 years old," he said.
"Unfortunately, the drug abuse and smuggling phenomenon is growing among the sons of Sweida for the benefit of Hizbullah, which is principally responsible for drug trafficking and smuggling to Jordan, by way of the tribes," he said.
Captagon factories
According to Syrian researcher Turki Mustafa, who specialises in Iranian affairs and Hizbullah, the drug smuggling operations in southern Syria are "linked to Hizbullah, which is targeting Jordan and the Arab Gulf states".
"Its operations take on political and security dimensions related to the course of the war in Syria and the lawlessness prevailing in it, and strategic dimensions related to Iran, which is effectively directing Hizbullah militarily," he said.
Iran is using drug smuggling operations to strengthen Hizbullah, as it is its strongest and most dangerous affiliate in the region and is furthering its expansionist project, he said.
Mustafa said the villages on the Jordanian border, especially those in southern rural Sweida, "are hot transit corridors for drug trafficking and smuggling into Jordan".
"Hizbullah and Syrian regime security elements employ smugglers from among Sweida province residents to infiltrate drugs into Jordan," he said.
According to sources in the region, Mustafa said, "a number of Hizbullah elements moved a special press used in the production of Captagon from rural Homs to Sweida".
Here, they supervised the setup and startup of a factory, for which they received payment of more than $75,000, he said, noting that about six small Captagon factories are operating in Daraa.
In Sweida province, Salkhad is one of the cities in which drug-related activities are most robust, Mustafa said, while the city of Busra al-Sham is one of the key conduits in Daraa.
He said his sources indicate the presence of "more than 20 groups specialised in drug smuggling, whose leaders enjoy social and security influence and have strong ties to officials of the Syrian security services and Hizbullah".
As for the reason that Hizbullah is involved in the manufacture and trafficking of drugs from Syria to elsewhere in the region, that is clear to all, Mustafa said: "to make money, regardless of the means used".