For close to four decades, drones manufactured in Iran have been hovering in the region's skies, initially carrying out surveillance and reconnaissance activities, and later carrying out attacks.
In addition to producing drones for its own military purposes, experts and analysts say, Iran has exported drones and copies of its drones to its proxies across the region, currying favour with these groups and using them to further its own goals.
Since the early 1980s, Iran has been working to develop a drone programme that enhances its position as a dominant military power in the Middle East.
At the onset of the Iraq-Iran war (1980-88), the Islamic Revolutionary Guard Corps (IRGC) began building primitive unmanned aerial vehicles (UAVs), or drones, for the purposes of monitoring and photographing the war front.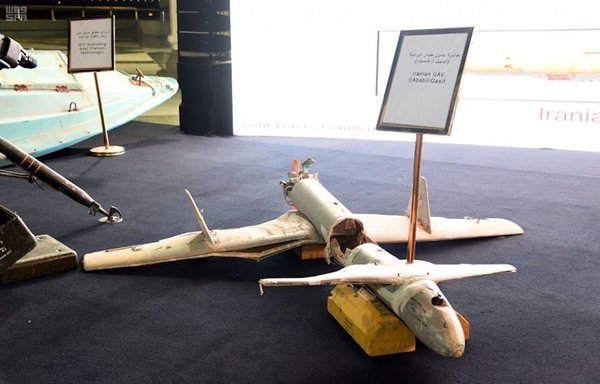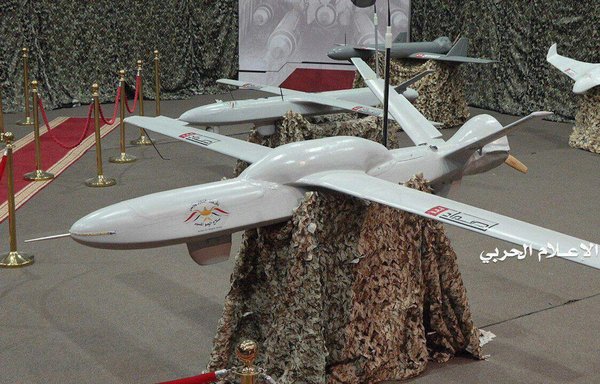 Mohajer-1 was the first UAV manufactured by Iran.
The IRGC-manufactured drones did not perform well enough to give Iranians the opportunity to force a fundamental shift in the course of the war, but Iran's drone development programme has continued.
After the war, Quds Aerospace Industries and Iran Aircraft Manufacturing Industries (HESA), two major IRGC-affiliated companies, continued to develop the Mohajer drone.
During the 1980s and into the 1990s, Tehran benefitted from defence co-operation with China, according to The Iran Primer, which brings together 50 Iran analysts from the Islamic Republic and the West.
"It is possible, if not likely, that Iran may have been influenced during this period by Chinese designs," it said in a July 2021 report.
Its current UAV fleet "is overwhelmingly domestically manufactured", the report said, adding that a few may have been acquired covertly.
Domestic production
In the 1990s, the IRGC developed Mohajer-2, Mohajer-3 and Mohajer-4. The latter was equipped with cameras for night photography and could carry infrared-guided surface-to-air missiles, as well as air-to-air missiles.
In 2018, the production of Mohajer-6 began. Iran claims the drone has a range of up to 200km and a 12-hour flight time, and is equipped with electro-optical detectors and laser-guided missiles that can track, intercept and destroy targets.
The IRGC has continued to develop other UAV models, including the Ababil drone, the first generation of which became operational in September 1986.
Ababil-3, the third generation of the drone, was developed in 2008. It can carry smart bombs and fly up to 250km at an altitude close to 4,572m.
Today, the IRGC's arsenal includes advanced drones, notably the Shahed-136, the latest version of the Shahed series.
The first model, Shahed-129, was unveiled in 2012 with the IRGC claiming at the time that it was equipped with a missile with a 1,700km range, capable of carrying eight air-to-surface missiles.
Shahed-136, a "suicide drone" with a purported 2,500km range, is one of the most dangerous drones in the Iranian fleet. Suicide drones fly directly to the target and destroy it autonomously, and are not easy to detect by radar.
Regional tampering
Arming the IRGC's regional proxies is part of Tehran's policy of "tampering with regional security", said strategy analyst Qahtan al-Khafaji, a professor at Baghdad's al-Nahrain University.
Tehran has armed its affiliated militias in the region with drones since around 2004, with Hizbullah being the first Iran-backed group to receive them, according to a March report by the Washington Institute for Near East Policy.
In November 2004, Hizbullah's Mirsad-1 drone -- which is identical to Iran's Ababil-2 -- intruded into the airspace of a neighbouring country before crashing into the Mediterranean Sea.
Another drone called Qasef-1, also modeled after Ababil-2, has been extensively used by the Iran-backed Houthis in their attacks on Saudi Arabia and Yemen in recent years.
Observers say the Houthis, who reportedly have the most advanced and diverse drone arsenal among Iran's proxies, also used two more sophisticated and complex Iranian drones -- Samad-2 and Samad-3.
On July 26, 2018, they used Samad-3 to attack Abu Dhabi airport, located more than 1,500km from the Houthi-controlled areas in western Yemen.
Iran also provided the Houthis with the Waeed drone, which is similar to the Shahed-136 and reportedly was used to attack the Mercer Street tanker in the Arabian Sea last July.
Since at least 2019, the IRGC has been supplying its Iraqi proxies with dozens of drones, which have been used to attack targets in Iraq and beyond.
Plausible deniability
The IRGC's continued development of drone technology and its production of replica drones for its affiliated militias in the region are a "concerning means of threat", Al-Khafaji told Al-Mashareq.
Because the IRGC's proxies use copies of Iranian drones in their attacks, Iran is able to evade direct responsibility for attacks carried out by these groups, he said, by claiming that the drones were manufactured by the proxies themselves.
While its proxies carry out attacks in the region, he added, Iran attempts to intimidate its neighbours by boasting about its weaponry prowess, and to tamper with regional security by continuing to develop its drone technology.
He noted that lethal weapons, including drones, are smuggled from Iran across land borders to Iraq, and onwards from Iraq to neighbouring countries.
Arms and drones are typically smuggled into Yemen by sea, al-Khafaji added.
He said the Iranian regime seeks to perpetuate the destructive presence of its regional militias and that drones are helpful for pursuing this ambition.
This ambition is linked to the Iranian regime's idea of "exporting the revolution", he said, and its pursuit of expansionist policies aimed at enforcing hegemonic power in the region.