BEIRUT -- More than a decade after the Syrian people rose up against the regime of Bashar al-Assad, demanding dignity and an end to oppression, a generation of children are paying a heavy price for the protracted war.
Backed by Russian forces and by Iran and affiliated militias, the Syrian regime continued its bombardment of opposition areas, driving many families with children to flee their hometowns and even their country.
Some children have been in exile their entire lives, subsisting in makeshift camps or temporary housing and dependent on international aid for survival.
Their living conditions have been getting steadily worse.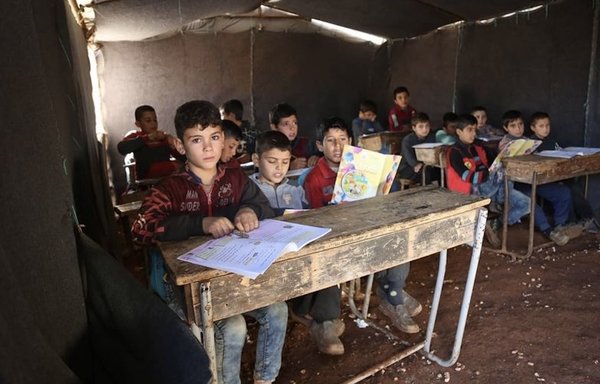 In a May 8 statement, the United Nations children's fund (UNICEF) said a record number of Syrian children are now in need.
Inside Syria, more than 6.5 million children are in need of assistance and live in fear and need, UNICEF said, noting that in the first three months of 2022 alone, 213 Syrian children were killed or injured in their homeland.
Meanwhile, around 5.8 million Syrian children in neighbouring countries, including Jordan and Lebanon, rely on assistance to combat the poverty and hardship they face on a daily basis.
The situation continues to deteriorate, with food prices rising, even as funding for humanitarian operations dwindles, with UNICEF reporting it has received less than half of the funding it needs to carry on its work.
A lifeline for children
UNICEF has said it needs about $20 million for its cross-border response, which is the only lifeline for about a million children residing in northwestern Syria.
In al-Tah displacement camp, north of Idlib city, Rasha Muhammad al-Rasheed and her three children -- Ali, 13, Ahmed, 12, and Fada, 10 -- are residing in squalor and poverty, lacking many of the most basic essentials.
Forced to leave their home near Maaret al-Numan due to heavy Syrian regime and Russian bombardment, al-Rasheed and her children sought refuge in al-Tah.
"We live in a camp with no infrastructure, no clean and safe drinking water, and no sanitation," she said.
What her children need most, she said, is "medicine, nutritious food, clothes and psychological support, because they are in constant fear, especially after they saw children their age killed in the shelling".
The situation in al-Tah is "tragic" for the 750 children who reside there, camp director Abdul Salam al-Yousef told Al-Mashareq.
"Their families lost everything they owned in their villages and towns and are now sinking into abject poverty, which negatively impacts the psychological wellbeing of their children," he said.
"The camp's children need everything, starting with a space to express their feelings and develop their personality, as they live in a small prison," he said.
"They also need food, medicine, medical care and a decent shelter, because they live in one-room tents with no privacy for themselves and their families."
"All live in constant fear because of the war, which has adversely affected their behaviour, as just hearing a loud noise causes them to quickly cover their ears, thinking that it is the sound of warplanes coming to bomb them," he said.
Urgent need for aid
Syrian refugee children in Lebanon are not faring much better, according to a UNICEF statement issued in April.
One third of Syrian children in Lebanon do not have access to basic health care, it said, separately noting that at the end of 2021, 63% of refugee children in Lebanon (440,000) did not go back to school and face enormous challenges.
The needs of Syrian children in their homeland and in neighbouring countries are "overwhelming", UNICEF Middle East and North Africa regional chief of advocacy and communications Juliette Touma told Al-Mashareq.
"We have noted a record 6.5 million children inside Syria needing urgent humanitarian assistance," she said.
Meanwhile, "more than five million Syrian children in neighbouring countries have been adversely impacted by crises in those countries", she added.
Their needs are "basic, such as safe drinking water, food, health, education and psychological support, to help them cope with the trauma they are experiencing", she said.
But the greatest need "remains that children have security and safety and live in peace", Touma said.
"We appeal to those who are fighting on the ground and all parties to the conflict to reach a peaceful political solution for the interest of the children and the country to secure all the needs of the children and their future," she said.
Education, protection are key
Inside Syria, she noted, the needs "centre around the protection of children".
"The fact that more than 80 children have been killed since the beginning of the year underscores the severity of the conflict and the fact that the brutal war and the war on children has not ended at all," Touma said.
In neighbouring countries, she said, education is the main concern.
"The children who are supposed to be enrolled in school are not attending," she said, pointing out that they also have "other needs related to health, food, drinking water and psychological support".
Ahead of the 6th annual donor's conference, held in Brussels, UNICEF "appealed to donor countries to provide $672 million for the response to the needs of children in Syria and neighbouring countries", Touma said.
"We appealed for $20 million over the next two months for UNICEF work in the northwest region of Syria, where about 1.5 million children live, classified by UNICEF as the most needy, and their neediness as the most urgent," she said.