Iran's new ambassador to Iraq, Mohammad-Kazem Al-e Sadegh, is a former high-ranking official in the Islamic Revolutionary Guard Corps (IRGC) intelligence department, continuing a long tradition among Iran's plenipotentiaries.
He replaces Iraj Masjedi, who had been in the post for the past five years.
Al-e Sadegh, whose appointment was announced April 11, was in charge of various departments at Iran's embassy in Baghdad for several years, including the political section. He also served as an advisor to Masjedi.
Like his predecessors, he has a strong affiliation with the IRGC.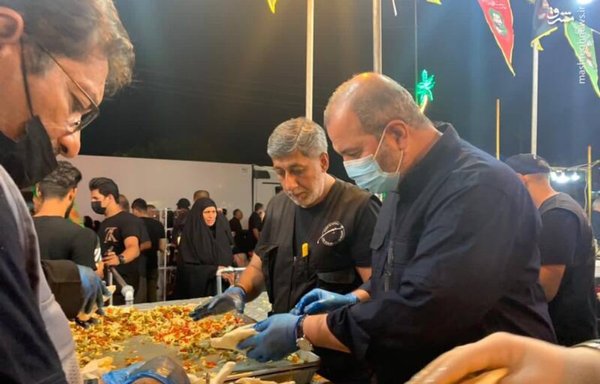 Iran sees Al-e Sadegh as the right person to "manage its influence in Iraq", as he was born in Najaf and is fluent in Iraqi Arabic, Iraqi political analyst Ali al-Baydar told Al-Mashareq.
Other reasons are his familiarity with Iraq's issues and his "closeness to the political scene in Iraq", al-Baydar said.
He said the appointment is an attempt to "court the Iraqi political system" and restore Baghdad's confidence in Tehran's claims to respecting Iraq's sovereignty and practicing the principles of good neighbourliness.
Resentment in Iraq
The Iranian regime is "like a chameleon" that changes its skin whenever needed in order to support its agenda and ambitions, al-Baydar said.
Iran has appointed someone with a direct and strong relationship with the IRGC, in light of Iran's recent attacks on Erbil, he said.
Tensions escalated between Baghdad and Tehran after Iran claimed responsibility for a volley of missile strikes on Erbil in Iraq's Kurdish region on March 13.
The IRGC confirmed it had fired the projectiles, which caused material losses and damage to civilian installations and houses.
Iraq's foreign ministry condemned the attack as a "flagrant violation" of Iraqi sovereignty, and then-Iranian ambassador Masjedi was summoned.
The attack, one of many similar assaults carried out in Iraq by militias linked to Iran, was unusual in that it was directly claimed by Iran.
According to al-Baydar, Iran is seeking to restore its influence and control over affiliated militias and ensure they serve its strategic interests and protect the Iranian regime.
It aims to achieve this by using the deep ties that Al-e Sadegh has with leaders of Shia parties, he added.
But Tehran's choice for an ambassador may have "negative reactions among Iraqis who are very resentful of Iran's behaviour, intervention and activities that threaten all aspects of their lives", he said.
In fact, "Iraqis' resentment towards the Iranian regime is stronger today than it was during the Iraq-Iran war", he noted.
Close ties with IRGC
Iran's choice of a new ambassador to Iraq has been made amid increasing pressure on Muqtada al-Sadr, who is attempting to form a government without the rival Shia Co-ordination Framework, which comprises pro-Iran parties.
The new Iranian ambassador has friendly relations with the leaders of the Shia Co-ordination Framework coalition.
Iraqi political analyst Abdul Qader al-Nayel said the new ambassador is really only a new face, implementing the same policies.
Like his three predecessors, Al-e Sadegh is close with the IRGC's Quds Force (IRGC-QF), he noted, and his appointment reveals that the IRGC is the body that continues to make decisions about Iran's relationship with, and role in Iraq.
Iran appointed this ambassador "to tighten its control over the militias and Iran-aligned parties and direct the political situation in Iraq in favour of its agenda", al-Nayel said.
"The appointment is made in light of the failures of current ambassador Masjedi and IRGC-QF commander Esmail Qaani."
The new ambassador has political experience gained from years of working in Iraq and accompanying late IRGC-QF commander Qassem Soleimani on his visits to Iraq and meetings with militia leaders, he said.
With its continued appointment of IRGC-affiliated ambassadors, Iran "provokes Iraqis and raises concerns among them", al-Nayel said.
The Iraqi public fears these appointments will lead their country to a darker place and complicate political, economic and security crises caused by the influence of Iran and its proxies, he added.