BEIRUT -- In Lebanon's Bekaa Valley, darkness blankets the displacement camps and informal settlements where about 70,000 Syrian refugees reside.
Until March 13, the settlements had received electricity from 5pm to 11pm each day though a monthly subscription with owners of private generators.
But after an increase in the price of mazout (fuel oil), the private generator owners suspended the supply, and complete darkness ensued.
The proprietor of al-Zalloum generator subscription service in the town of Arsal issued a statement announcing that al-Zalloum would suspend operations.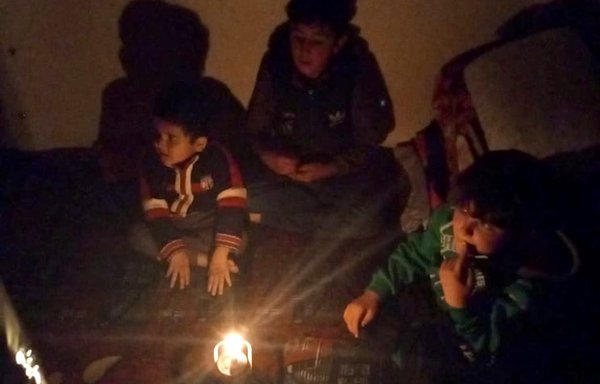 He attributed the suspension to the decline in value of Lebanese currency and the "outrageous price of mazout on the black market".
Lebanese Generators Association director Abdo Saadeh described the situation as dire, saying that if no solution is found for the mazout issue "generator owners will be forced to shut down their generators in some areas".
Blackout disrupts life, services
"The shutdown of the generators has deprived our children of remote learning [and] spoiled the food in refrigerators," said Syrian refugee Husn Ibrahim.
Abu Ahmad Saiba, director of the Voice of Syrian Refugees team in Lebanon, said the Syrian refugees in Arsal "are suffering more every day" amid the stifling economic crisis that has adversely impacted services and daily life.
"The electricity issue is one of the most complex problems," he told Al-Mashareq.
"The refugees in Arsal are facing the worst economic crisis since they first sought refuge in Lebanon," he said.
Children who were already unable to return to school are unable to access distance learning, he said, and household chores such as washing and cleaning cannot be done, resulting in an unhygienic and unhealthy environment.
Many patients with chronic conditions are in a "deplorable condition, especially those suffering from pneumonia and asthma who need periodic nebulisation sessions", he said, as well as those who need dialysis.
Crime also has risen as a result of the power outage, he said, with a spate of thefts carried out in the camps under cover of darkness.
Meanwhile, the Medical Authority Hospital in Arsal is having difficulty providing medical services due to the continuous outages of electricity supplied by private generators, director Ahmed Abdul Haq said.
More than 100,000 residents -- Syrian refugees and Lebanese citizens -- count on these services, he said.
Power outages have especially affected dialysis services, the newborns' ward, operating rooms and oxygen equipment, he added.
Talal Bakour, director of Al-Amal Medical Centre in Arsal, said all health centres in the town "are warning of an impending health disaster due to continuous power outages".
The current situation is endangering many patients, especially those with chronic diseases, he said, also warning of the possibility of rampant infections.
Darkness 'in hearts and tents'
The lights have gone out in Majdal Anjar camp, according to Mazyad Ali, a Syrian refugee who works with the Beyond Association, a local humanitarian organisation.
"We have been living in darkness in our hearts and in our tents for two months, since the generator owners raised the monthly fee," he said.
"No refugee is able to pay that much money."
"We used to pay 500,000 LBP ($330) for electricity supplied between 4pm and 11pm, but the fee has doubled, causing us to discontinue the subscription and get lighting from small batteries that we charge during the day with sunlight."
"The United Nations High Commissioner for Refugees (UNHCR) used to allocate $27 to each person per month, which it has reduced to $15, while a barrel of mazout costs $230," he said. "This means we will remain in darkness."
UNHCR spokeswoman Dalal Harb told Al-Mashareq a large number of Lebanese citizens and refugees are "suffering from the repercussions of the deepening economic and social crises".
She said UNHCR still provides assistance to help refugees and the most vulnerable Lebanese, amid the power and water outages in many areas.
Many Lebanese blame Hizbullah for the dire conditions they face, which include extended power outages, with new revelations of its corruption coming to light on a regular basis.
Some warn that Hizbullah is looking to exploit the crisis to invite Iranian offers to build power plants that would allow the presence of Iranian experts and technicians from the Islamic Revolutionary Guard Corps (IRGC) on Lebanese soil.