BEIRUT -- Hizbullah's corruption, both inside Lebanon and in its dealings abroad, is at the root of Lebanon's economic collapse, politicians and observers said.
The party's subservience to its main backer, Iran, has invited the imposition of US sanctions on its leaders -- and the Lebanese people are paying the price.
Close to 75% of Lebanon's population is mired in poverty, while 82% live in "multidimensional poverty", which also takes into account access to healthcare, education and utilities, according to a September 2021 United Nations report.
"The entire Lebanese population is obligated to pay the price" for Hizbullah's national and international lawbreaking, said political activist Bishara Khairallah.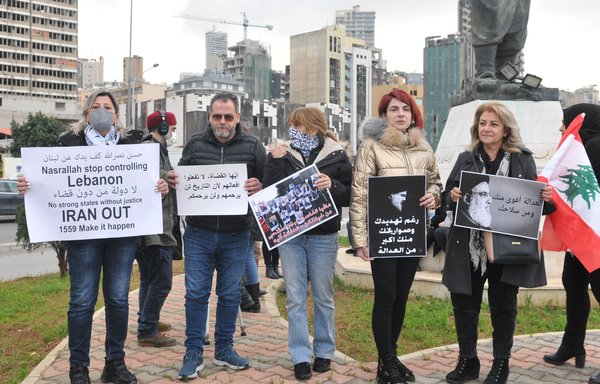 Hizbullah chief Hassan Nasrallah's admission that the party's food, money and weapons come from Iran and that he owes his loyalty to the Iranian regime, has "thrust Lebanon into the circle of US sanctions", he said.
This situation also has put Lebanon at odds with the Gulf states and the rest of the Arab world, he said.
"Under the pretext of the 'resistance' and securing its road from Lebanon to Iran through Syria and Iraq, Hizbullah legitimised illegal crossings, and smuggling flourished," Khairallah said.
The party's actions also "provided cover for the illegal crossings and smuggling by other parties, which contributed greatly to the collapse of the Lebanese economy", he added.
Last April, Sheikh Sadeq al-Nabulsi -- a cleric close to Hizbullah -- went so far as to admit that smuggling is an integral part of the party's work.
Iran's interests come first
Hizbullah's weapons "are a main symbol of the corruption in Lebanon", Khairallah said.
"And what's new in this regard is that it is threatening Shia candidates opposing it in its areas of influence, preventing them from running their electoral campaigns."
Rival candidates have been beaten, targeted with Molotov cocktails, accused of blasphemy and of taking orders from foreign embassies, as well as having their cars set on fire, he said.
The party's violent actions "could force [political candidates] not to run, and instill fear among Shia voters who oppose it", he said.
One of its most recent corruption scandals involves forged diplomas issued by the Islamic University, which the Supreme Islamic Shia Council oversees, said Hassan Qutb, director of the Lebanese Centre for Research and Consulting.
Hizbullah "is fully bound to the directives of the Islamic Revolutionary Guard Corps (IRGC)", he said.
The party carries out Iran's instructions, placing the Iranian regime's interests ahead of the interests of the Lebanese state and people, Qutb said, even amid a steep decline in funding from Iran, partly as a consequence of US sanctions.
Hizbullah makes up for the shortfall in Iranian funding via its control of border crossings and the airport, and its manufacture and export of narcotics, he said.
Hizbullah does not care about Lebanon
Hizbullah is "organically linked to Iran, and it is part of [Tehran's] grand project and its system", university professor and political writer Hani Safi said.
"It is Iran's military and political arm in Lebanon and the region, and it engages in terrorism and corruption in all countries within the grand Iranian strategy of confronting the US-European and Sunni influence in the region," he said.
"Hizbullah is the cause of the economic collapse and poverty of the people, and it is pushing Lebanon into confrontation with the Arab and Gulf states," Safi said.
A large number of Lebanese earn their livelihoods in the Gulf states, he added, and inside Lebanon, Hizbullah's position has created an unhealthy political and security atmosphere that chases away Arab and international investment.
"Hizbullah has put Lebanon at the centre of the confrontation, starting with the airport road, which is lined with the portraits of Iran's and of the party's leaders," he said.
Hizbullah "has not and will not take the initiative to have the international sanctions imposed on it lifted" but is rather pushing its confrontation with global powers to an extreme, said Safi.
"As long as Iran is flouting the world order, Hizbullah will not care about Lebanon's stability and prosperity," he said.
The party's greatest corruption "is covering the corruption of its allies in order to engage in all kinds of smuggling, including [illegal drugs like] Captagon", via Lebanon's land, sea and air borders, Safi said.
Hizbullah is not only breaking the law but also depriving the Lebanese treasury of customs duties that the state needs, he said.
It has used its ill-gotten gains to fund its own base, he said, while other constituencies in Lebanon teeter on the brink of bankruptcy.