GENEVA -- Russia's full-scale invasion of Ukraine, and its well documented campaign of indiscriminate violence in Syria in past years, has renewed concerns of war crimes and human rights violations against civilians.
Russian forces Thursday (February 24) launched the invasion of Ukraine, unleashing air strikes and sending troops deep into the country, after weeks of diplomatic efforts failed to deter Russian President Vladimir Putin from launching the military operation.
Putin, who ordered the attack, appears intent on overthrowing the Ukrainian government.
As of Friday, Ukraine has confirmed that hundreds of soldiers and civilians have been killed so far, and more than 100,000 people have been displaced.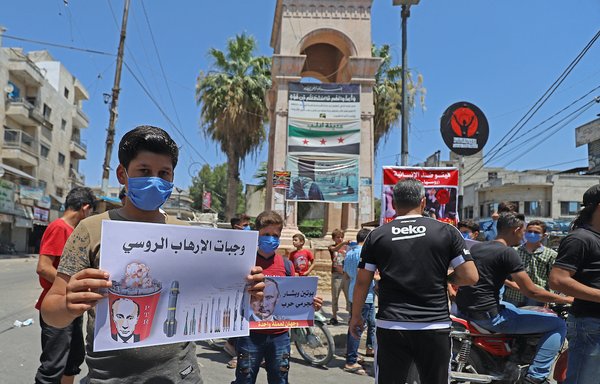 Russia's indiscriminate targeting of civilian infrastructure and residential buildings in Ukraine is reminiscent of its war crimes strategy in Syria, Human Rights Watch (HRW) warned this week.
Many people in Syria -- still living under the spectre of war -- are voicing solidarity with Ukrainians, saying that what is happening now in Ukraine is nothing but a continuation of Russia's policy.
Putin's government has been a major ally of Syrian President Bashar al-Assad during the ongoing war in Syria, which began in 2011.
Russia intervened in the Syrian civil war in 2015 by launching air strikes to support the regime's struggling forces. Its military support helped turn the conflict in al-Assad's favour.
In a telephone call with Putin on Friday, al-Assad praised the Russian invasion of Ukraine, saying it was a "correction of history".
'War crimes strategy'
Ukrainian President Volodymyr Zelenskyy said Friday that Moscow's forces were targeting civilian areas and praised his countrymen for their "heroism".
"They say that civilian objects are not a target for them. But this is another lie of theirs. In reality, they do not distinguish between areas in which they operate," he said in a video.
The Ukrainian army also said Russian soldiers were "increasingly choosing to target civilian infrastructure and residential buildings", echoing Zelenskyy.
In Obolonsky, a northern district of Kyiv, what appeared to be an advance party of Russia's invasion force left a trail of destruction.
Pedestrians ran for safety and small arms fire and explosions were heard.
A dead man in civilian clothes lay sprawled on the sidewalk, and nearby, medics rushed to help another man whose car was crushed under the tracks of an armoured vehicle.
HRW earlier on Tuesday highlighted Russia's history of bombing civilian infrastructure in Syria's conflict and voiced fear such a "war crimes strategy" could be repeated in Ukraine.
Following Putin's unilateral recognition of two self-proclaimed republics in eastern Ukraine on Monday, HRW chief Kenneth Roth cited the behaviour of Russian forces in Syria's civil war to Geneva-based reporters during a video briefing.
In late 2020, HRW issued a report on how the Syrian government and its Russian ally "showed callous disregard" for civilian life as they strived to retake Idlib province and surrounding areas in northwest Syria.
The nearly year-long Idlib bombing campaign that began in April 2019 "gives us a sense of the way the Russian military has been fighting recently", Roth said.
HRW, he said, had found "repeated instances of deliberately targeting civilian institutions, that is to say hospitals, schools, markets, apartment buildings".
The report documented 46 cases of direct attacks on civilian infrastructure "where there was no evidence of opposition military weapons, equipment or personnel in the vicinity at the time of the attack".
Roth said that, in those cases, the strategy was "blatant".
Russian bombers were "deliberately attacking civilian institutions to try to make life unliveable and make it easier for the Syrian military to roll in".
During this time, he said, "Putin had command responsibility", and had given top honours to the "commanders who were overseeing this war crimes strategy".
"We are deeply concerned that this war crimes strategy [could] be replicated in the case of Ukraine," Roth said.
United Nations (UN) High Commissioner for Human Rights Michelle Bachelet voiced similar concerns.
Bachelet said in a statement that she was "deeply concerned" following Putin's decision to recognise the independence of eastern Ukraine's Donetsk and Luhansk separatist republics.
Putin announced that decision Monday, three days before invading Ukraine.
"Any significant escalation in military action creates a heightened risk of serious human rights violations as well as violations of international humanitarian law," Bachelet said Tuesday.
Syrians stand by Ukraine
Given their own experience of surviving Russian shelling and air raids in their country, many Syrians have expressed their solidarity with Ukraine as the crisis escalated.
Graffiti artist Aziz al-Asmar, a resident of Binnish city in Idlib, told Al-Jazeera that "the Syrian regime and its Russian allies turned our houses into ruins for the past 11 years, causing many people to be displaced from their homes and villages".
"What is happening now in Ukraine is the continuation of Russia's policy," he said.
Idlib resident Fiaz al-Daghim also recalled when Russian bombing forced him and many others to flee from their towns and cities towards the Turkish border.
"It was a similar scene" to what is happening now in Ukraine, he told the media outlet.
"Who gave Putin the right to kill people and drive them away from their land? Is there no one in this world who will stop Russia's crimes and put an end to them?" he asked.
The war in Syria is estimated to have killed nearly half a million people and displaced millions more since it began with a brutal crackdown on anti-government protests in 2011.